Personal finance apps can prove to be your best friend in long term. Mobile apps are easy to use and save a lot of time for you. You don't need to visit different personal finance firms.
Moreover, you can compare the different offers and schemes related to various financing companies and make your decision. Everyone needs to manage their personal finance. Good savings and investment plans can enhance your future lifestyle. That's why the demand for an ideal personal finance app is rising in the market.
In this article, we'll talk about 6 popular Budgeting Apps to Manage Personal Finance. Keep reading!
What is a Personal Finance App & How does it Work?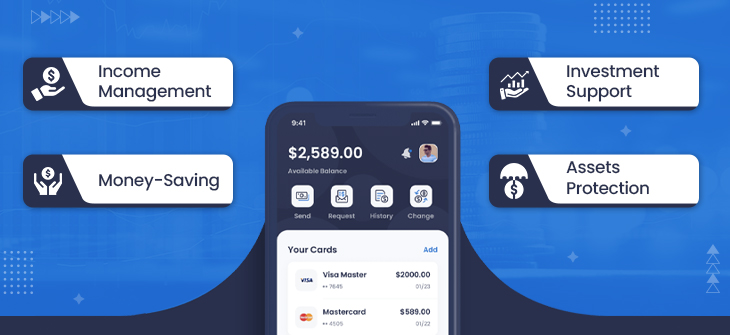 Personal finance apps are used to strategize personal wealth. Everyone has a personal wealth that needs to be saved and nurtured over time. It works as financial aid in old age when most people are not able to work properly and take retirement. Nowadays, a personal finance management app can help you start saving and fostering your money while doing your job.
Enlisted are some major functionalities of personal finance apps that the users prefer to go with as per their budgeting plan:
1. Income Management
The mobile app can be used to manage your provident fund which is a part of your job income. Everyone earns an income for doing a specific job. However, people don't have control over their expenditure at times. They need to save their income for essential use in the future. So, they surely need a money management app in this context.
2. Investment Support
A Budget app can also encourage users to invest in a financial scheme. Users can take benefit from such schemes in the future. There are systematic and non-systematic investment plans in the mutual fund and stock market. Certain investments can bring you impressive returns in the future.
3. Money-Saving
The foremost benefit of using a finance app is that you learn to save for your future. The mobile app company suggests various saving schemes. These schemes can be associated with 3rd party service providers. The mobile app can also redirect users to a government-regulated scheme for public welfare.
4. Assets Protection
Some finance management app companies also protect you against any loss and fraud in the stock market. People often get in touch with fake investment bankers and invest their savings in the wrong place. Mobile applications are quite reliable and represent a brand value. Hence, the chances of fraud are very less.
In this way, a personal finance app works and provides for user welfare. The mobile app market is going to stay longer as user demand will continue to increase!
6 Best Personal Finance Apps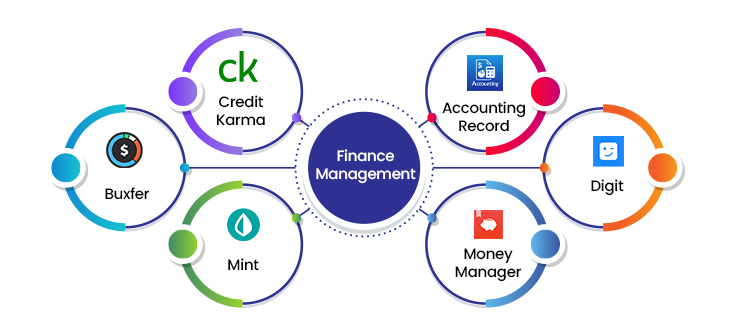 In this segment, we'll talk about the best money management apps you can select and save your monetary assets in 2022. We'll also highlight the various important features available on these finance app for better exposure. Let's proceed:
1. Credit Karma
The app provides great financial security to your monetary assets. It also protects the users against various data breaches. It is among the best personal finance apps in the market. No one can fake your identity using Credit Karma and you stay protected against any fraudulent procedure running on your behalf. However, the application doesn't assist you in scheduling your payment and tracking your savings account movement.
2. Buxfer
You can control various economic expenses using this tool. You can also track your investment strategy and outcome from time to time and grow your financial assets effectively. Using Buxfer, you can schedule your payment perfectly. The personal finance app can help you keep an eye on your bank account to withstand any fraud. The application also provides a user-friendly interface for higher engagement and retention.
3. Mint
The next personal finance app on our list is mint. It offers a credit score to users who want to track their finance management from time to time. This credit score encourages people to save and invest in the right place. It also assists in scheduling the payment of debts. The users remember their liabilities well and plan their future expenses accordingly. The users can easily assign a budget for their monthly expenses using mint.
4. Accounting Record
It is another important option to go with. The app helps you set up reminders of payment and is very easy to download and install. Additionally, the application provides the facility of keeping a record of the date of movement of your monetary assets. Moreover, you can track the amount moved on the corresponding date. The users can track their cash, card, and bank account transfers associated with expenses.
5. Digit
Digit is also a great personal finance app for various types of users. It is mostly used by newbies and fresher employees who just want to start their savings. It is a fine application to develop a habit of savings in the initial years of employment. It is an easy-to-use application and doesn't have any complex design to confuse the users. It is very simple to use and encourages more user actions over time.
6. Money Manager
The last on our list is a money manager and has everything to develop a habit of savings in you. It even lets you create a digital bank account to deposit your income from time to time. The main feature of the application is the categorization of your expenses. You can organize your expenses well and deal with any financing issue very easily.
Final Thought
You can also review the features of Expense Control, You Need a Budget, PocketGuard, and Simplifi by Quicken for wider exposure. By having a personal finance app, you can save a lot and grow your money for future use, and safeguard your family expenses.