Whatever you sell the first time needs some form of marketing. Either you do inbound or outbound marketing for your product. Mobile apps are also a type of virtual product and are sold on app stores and search engines. So, they require a dedicated marketing strategy to optimize their online appearance. The businesses approach a Mobile App Marketing Company after the app launch to promote their product.
We may call it digital marketing and it usually focuses on inbound marketing techniques. Some digital marketing techniques are also outbound like an email marketing campaign. Mobile App Marketing Company suggests the right promotion strategy as per the client requirement and the target app. You may also reach out to an app development company that provides additional app promotion services.
Digital marketing is crucial for both mobile apps and websites. Moreover, it is used for the direct promotion of products and services via social media ads and search engine ads. In this article, we've discussed the top 8 Mobile App Marketing strategies that developers and businesses must follow in 2022. These strategies can help you raise user recognition for your app and your digital products and services. So, let's get started!
Why do You Need Mobile App Marketing?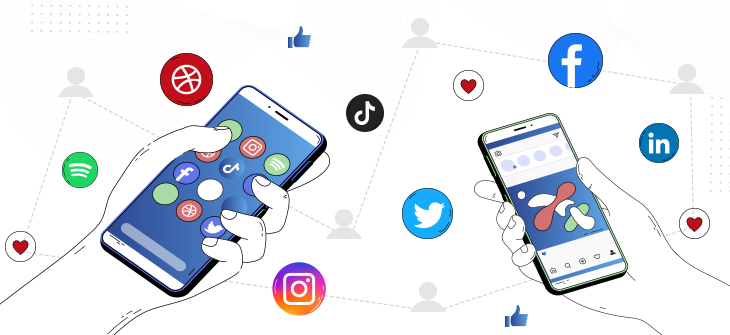 The Coronavirus pandemic has increased global smartphone usage and new customers have emerged in the rural and remote regions of the world. Affordable and easily accessible internet facilities are also becoming normal in different parts of the planet. Therefore, many start-ups and new app companies are approaching the marketplace. They're searching for a trusted Mobile App Marketing Company to compete perfectly in the market!
Given below are the top reasons why you should approach the best Mobile App Marketing Services in 2022:
To compete with new and innovative app companies in your niche
Getting new market exposure and customer opportunity
Introducing new online products or services as per user demand
For bringing the latest app features and functions and attract new users
To expand your business niche and services for targeting new customers
You may have other reasons related to your business growth and expansion. As long as you run a mobile app for your online business, you have to do marketing and promotion for it. So, Mobile App Marketing is an ongoing process!
Top 8 Mobile App Marketing Approaches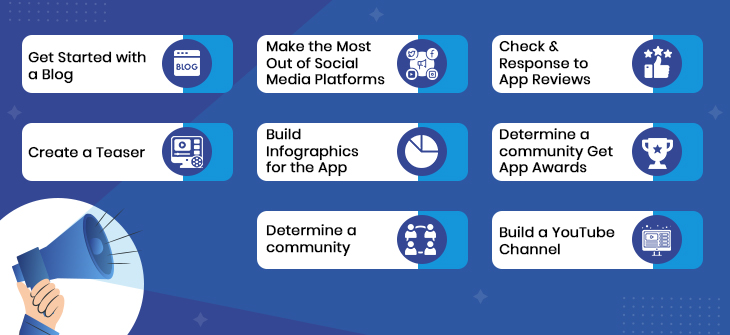 In 2022, new app development trends are coming up and transforming the mobile app market for the future. These trends are expected to change the old app features and functionality to a certain extent. App companies are searching for advanced Mobile App Marketing Companies that stay updated to the likewise trends and business cultures.
Let's know about the top 8 marketing approaches that these app companies should adopt in 2022:
1. Get Started with a Blog
The blogging section is not only for creative people and artistic websites. eCommerce businesses are also adding a blogging section to their app for educating the customers about their main products and services. People like to read about their favourite products before making a buying decision and that's why a mobile app blog is important.
2. Make the Most Out of Social Media Platforms
Social media channels also provide various digital marketing opportunities. Either you can open your goods and product store on such platforms or simply create social media posts to represent your top products and services. Many Mobile App Marketing Services depend on such social media platforms.
3. Check & Response to App Reviews
Marketing should also lead to the improvement of your existing product for targeting more customers in the future. As such, the app marketers must review the user feedback from time to time. They share their views on Google Play Store and Apple Store about their experiences using a particular app or mobile game. The marketers review such feedback and resolve the issues accordingly.
4. Create a Teaser
This is a pre-app launch promotion strategy that many companies are implementing nowadays. The Mobile App Promotion through such a teaser should be in a video format. Further, marketers upload that video clip on different channels before launching the app. So, the app developers should finish the testing process effectively before the app launch.
5. Build Infographics for the App
Infographics are a type of content that gives detailed information about something. It is often used to explain a tough concept in a creative and simple form. The marketers collaborate with designers to create attractive infographics about the company's offers, products, and new services. These infographics can be created to highlight the features of a specific product.
6. Get App Awards
A good Mobile App Marketing Company also approaches organizations conducting app award ceremonies to promote their innovative products and apps. These awards and client testimonials play an important role in improving the business reputation among new and old customers. So, it is an important part of the app marketing process.
7. Determine a community
The app companies approach their top clients and customers to build a community on social media platforms. The members of the community usually get new offers and discounts regarding various goods and services available on the mobile app. The community also suggests new app functions and features to be included for attracting new customers in the future.
8. Build a YouTube Channel
Video content has more demand than text. That's why every online business is associated with a YouTube channel nowadays. A Mobile App Marketing Company can't refuse to generate a channel representing the app products. The relative YouTube channel can bring huge traffic to the website of the company and to the corresponding mobile app.
Wrapping Up
Along with the mainstream digital marketing services, the above-mentioned marketing strategies can optimize your business objective exceptionally. So, we suggest you reach out to a well-known Mobile App Development and Mobile App Marketing Company.