Should I go for cloud app development in 2022? You might face this question while planning to establish a new app business. After all cloud computing is beneficial for data management and maintenance. Many start-ups are also looking for cloud technology to enhance their app development outcome. Meanwhile, you can find various pitfalls concerning cloud application development that could lower your interest.
The Cloud development process may consist of various drawbacks and issues that developers need to overcome. Every technology brings some pitfalls that have to be resolved or ignored. Cloud app development has some disadvantages for businesses. In 2022, many app businesses want to switch to the cloud model. But they're also facing certain difficulties before and after deploying their app on the app stores.
In this post, we're about to review the different pitfalls concerning cloud application development and different ways to overcome such drawbacks. We'll also discuss why you should adopt cloud app development in 2022. Let's get started!
What is Cloud App Development?
Cloud technology is ruling the global database management models. By 2025, Cloud is expected to store over 100 Zettabytes of data. Cloud computing has no competition in the market as the technology is one of a kind and accommodates multiple categories of information worldwide. Still, developers are undergoing certain pitfalls concerning cloud application development. Cloud computing is a technical aspect and does have drawbacks.
In 2021, 94% of the global workload was taken over by cloud data centres. It means more businesses are switching to cloud computing for managing their app business and user data. This rate is going to rise to 100% in the future. There are many examples of cloud-based applications to review in this context. A cloud computing architecture consists of the following elements:
Data Security
Data Management
App Management
Storage and
Service Management
Cloud can manage the flow of and maintenance of technical or non-technical information. Information is very crucial in this age of technology and you're required to protect it in different ways. Cloud computing is one of those ways!
Cloud-Based Apps Beneficial for your Business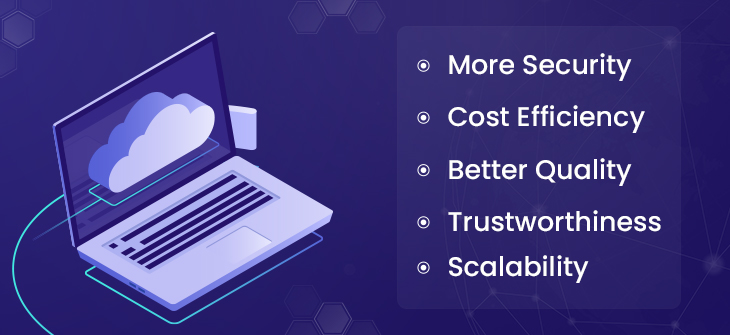 The internet is a huge web of information that keeps flowing across various sources and platforms. Likewise, it becomes challenging to protect a website or mobile app against a cyber-attack. Thanks to technologies like Cloud and Blockchain that are making the internet a safer place to conduct some specific business and tech operations.
Even online money transactions are protected by these technologies nowadays. So, cloud development services are very crucial for emerging businesses in 2022. Enlisted are top reasons to justify this:
1. More Security
Cloud service providers usually take the responsibility for data and information breaches in the future. They do their best to protect the client's data and run proper maintenance regarding client data storage. They also restrict hackers from accessing the client's app database without permission.
2. Cost Efficiency
Cloud storage and data management system is not very expensive as the developers are not supposed to buy hardware or pre-built server infrastructure. It makes cloud application development services cheaper than most developers think. Everyone wants cost-efficient development.
3. Better Quality
Good app accessibility, faster loading, and effective performance usually reflect a high-quality application. You can achieve all 3 app features by integrating cloud technology for database management. A good app quality can help you trigger more user preference, higher traffic, and user engagement.
4. Trustworthiness
Trust is everything for a business to grow among new and old customers. Mobile apps provide both online products and services and the users exchange their personal information and money to purchase those items. They can trust a cloud-based E-Commerce app more than a non-cloud-based app.
5. Scalability
Cloud service development is becoming popular among various app businesses and is attracting a wider audience. Likewise, the scalability of a cloud-based app development project is improving with time. There will be higher competition between such app businesses in the future. Start-ups should be conscious.
In this way, Cloud computing can transform future app businesses like magic. Approaching cloud computing in 2022 can prove to be a game-changer for your budding mobile app business. Though you can face some pitfalls concerning cloud application development. Let's discuss them in the next segment!
Various Pitfalls for Cloud App Development in 2022
Cloud app development is not the almighty app-building solution. It has also got some issues that can lead to a poor app-building outcome. Cloud is getting ample consideration from clients and business owners but app developers understand the truth and are more concerned about cloud-based projects. They're often curious to know what are the pitfalls concerning cloud application development. Here are those pitfalls:
1. Poor Performance
Cloud app performance can also suffer in the long run. The app database expand in the future and cloud computing can face problems analyzing new data over a period. Moreover, the app owner does not know about the associated data centers. This makes it worse in case a problem arises. The app owners must reach out to their service providers on time to resolve the issue.
2. Poor Interoperability & Migration
This is a notable challenge to talk about. Interoperability means flexibility to use a mobile app code in different cloud environments. The developers have to face so many problems when they migrate their client or business app to another cloud environment for a specific reason. Many cloud-based apps examples have gone through the migration issue in past.
3. Unavailability
Even cloud computing can become unreliable at times. Cloud service providers sometimes fail to deliver an around-the-clock facility which is crucial for popular mobile applications having huge traffic. It can impact a social media or E-Commerce application having cloud support. But the app admin can quickly reach out to the developers or cloud-service providers to get it resolved.
4. False Scalability Promise
Some cloud service providers have just started their business and do fake promises to clients to deliver bigger scalability. After the app is deployed on the app stores, it becomes challenging for app owners to facilitate different types of users as accessibility proves to be poor. Likewise, cloud development services result in the failure of the cloud app business.
5. Client Misunderstanding
Cloud is an advanced technique of database management and many business owners are unaware of its complex functions. Likewise, they could misunderstand their service providers many times. The service providers need to communicate well with the business owners and keep them updated regarding any new advancements in the cloud computing sector.
6. Complex Integration
Integrating a mobile app with the cloud for the first time can also lead to some complications and it takes time for the developers to establish a cloud-based app business. The app company can't wait too long to deploy an important product on app stores. When the product is promoted before the launch, it becomes difficult for the app company to face such integration complexities.
Ending Thought
To tackle various pitfalls concerning cloud application development you need to stay in touch with your service provider and do proper research regarding various cloud app development functions. You can also assign this task to your app development company and get a timely report on the app performance. Reach out to an ideal app development company and get started with your cloud application now!