Smartphones are encouraging many start-ups and small companies to introduce a business plan associated with a mobile application. Smartphone users keep looking for new and innovative mobile apps on app stores. They also search for fresh and creative mobile games for fun and entertainment. As such, start-up app development services are gaining importance among emerging app businesses across the globe.
Start-ups are very smart and introduce ground-breaking ideas for modern business capabilities. The new age of entrepreneurs stays updated to technological advancement and brings corresponding solutions for social and human welfare through a mobile app. They need perfect Start-up app development services to convert their business vision into reality.
Mobile apps are the best practical implication of modern business strategies. Mobile apps also facilitate a fine representation of products and services that differentiate a particular business model from others. A start-up app development company can suggest the best ways you can mould your fresh business ideas into a mobile application.
In this article, we'll talk about 6 essential app-building technologies that new entrepreneurs are using to grow their online business. Let's get started!
Leading Constituents of a Start-up Mobile App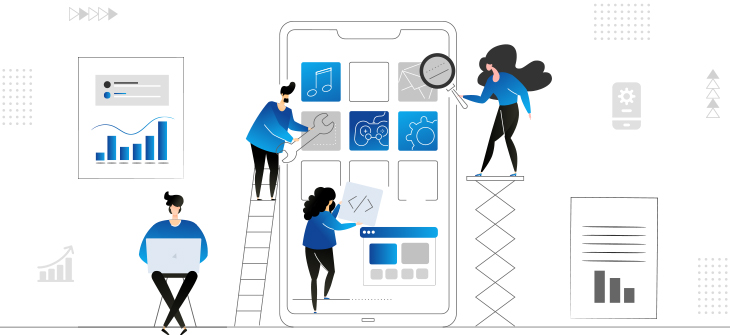 While creating a mobile app for a start-up, you should take care of certain aspects. A start-up business model is very different from a large-scale undertaking. The focus of new entrepreneurs is also very different from well-established and experienced entrepreneurs. Fresh entrepreneurs have got impressive ideas but a small investment plan and lesser opportunities. However, by getting start-up app development services they can bring a good ROI.
Fresh entrepreneurs should take care of the following constituents while developing a start-up application:
Simplistic design
Geolocation
Voice search feature
Gamification
Synced access (online/offline)
App analytics dashboard
Deep linking
High-security measures
Personalized communication
AI chatbot assistance and more.
You can also add more features related to your new business model. For adding such new and revolutionary features you can consult a renowned and trusted start-up app development company via phone or email. Moreover, you can appoint a separate app development department at your workspace for initiating more custom and personalized projects!
6 Leading App Building Technologies to Implement for Growth of Your Start-Up Business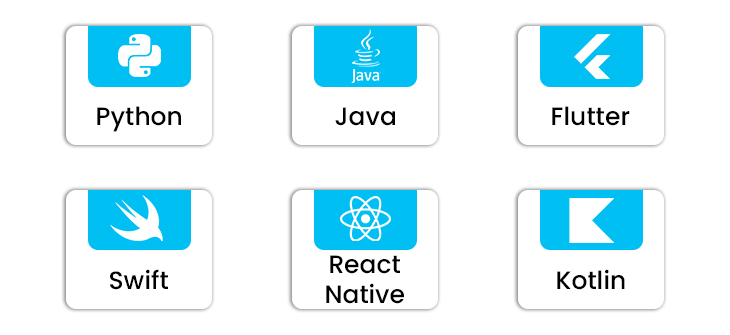 Moving ahead, we'll talk about the different technologies used by start-up app developers that bring growth and advancement to the app business. Start-up app-building solutions are based on certain programming languages and frameworks. These technologies are helping developers create various types of mobile apps for different platforms. The developers can save a lot of time and effort using these tools and techniques to introduce a compelling mobile app.
Developers can build multiple apps using the same codebase and finish their projects on time. Even large-scale businesses are approaching these technologies to improve their business growth in the long run. Enlisted are the 6 best app building technologies that we suggest you grow your start-up app business remarkably:
1. Python
Python is a very safe and secure general-purpose programming language. It can be used to build powerful and reliable mobile apps for various business niches. The language can be used to deploy mobile apps on both Apple and Google Play Store. Moreover, the language supports various mobile and PC operating systems including- Linux, Windows, macOS, etc. It is among the best start-up app-building solutions in the market.
2. Java
Various fresher and experienced mobile app developers are familiar with this programming language. Java is a very popular and easy-to-use language. It is highly famous among Android app developers and cross-platform app-building projects. Companies like Twitter, Spotify, Telegram use Java programming to build and maintain their mobile applications. The developers find a wide range of essential documents and open-source libraries on Java.
3. Flutter
Flutter is not a programming language but a cross-platform framework. Being cross-platform, it can be used to create mobile apps for multiple platforms. The developers don't need to generate new codes to create the same app for different platforms. Many start-up app development services are based on Flutter and it has its own programming language. It works on Dart language and is the most popular app-building framework worldwide.

4. Swift
Swift is a programming language for native iOS app development projects. It is quite tough for learning initially, however, it can be used to create stunning iOS applications. The developers can further use it after the app launch to add new and innovative features to their mobile apps. Nearly 60% of developers use Swift around the globe. The demand for iOS apps is increasing with the demand for iPhones. So, using Swift, you can make your mobile app available to a huge audience.
5. React Native
Moving further, we can talk about another amazing cross-platform app development framework called React Native. After Flutter, it is the most used app-building framework in the world. The framework is itself written in Java, JavaScript, Objective-C, C++, and Python. It allows developers who know JavaScript to create impressive cross-platform apps for their online business. JavaScript is an incredible programming language for start-up app development services focused on the Android audience.
6. Kotlin
Kotlin is another cross-platform app creation framework that concentrates on an easy UI. By creating an easy mobile app UI, you can retain your app users for a very long period. You can hold their attention to your mobile app functionality and features more impressively. Kotlin let you build a very easy mobile application that serves the audience for years. Kotlin was introduced in 2011 and works with Java to let the developers create competent mobile apps.
Final Thought
Using these mobile app development frameworks and programming languages you can grow your app businesses to unexpected levels in the future. Start-up app development services are usually based on such renowned app-building tools and techniques. The developers need to finish the project on time and bring quality along with the ROI. So, you should also decide on a specific technique before initiating your app-building project.