Mobile applications are used by this large community of mobile users for a wide range of activities, from communicating with friends to using services, from researching to reading the news. Currently, the Google Play Store has around 3 million applications while the App Store has 2.3 million. In the twenty-first century, mobile app development has become a big business. Individuals, small enterprises, and major corporations all have a high need for freelance developers and app development companies. Everyone, on the other hand, wants to work with the best.
Appikr is a leading UK mobile app development company that prides itself on its expertise and technological excellence. Hundreds of mobile applications with basic and complicated functionality have been produced by us. We understand your needs and initiatives before adapting to your budget flexibly and decisively.
Of course, many app development companies promise to offer the best and most promising technology to make you happy, but you must choose wisely to ignore disappointment. Below are the characteristics that makes Appikr a top-notch mobile app development company.
Why Appikr Is The Best Mobile App Development Company In UK?
Industry Expertise and Experience
When it is about determining the best, experience plays a vital role. With near a decade of industry expertise, we have become the prime choice for app development in the UK. The development agency you hire must have the expertise with what your customers and target market want. A team that understands how to engage with users is crucial to creating the success story of your mobile app.
The expertise working on various platforms also determines the eminency of a top mobile app development company. Flexibility won't be an issue if the development staff is well-versed in iOS and Android.
Every mobile app development project necessitates the use of coding. As a result, you should make it a prerequisite when selecting one of the best mobile app development firms to work with. Basic coding abilities are acceptable, but a team that adheres to strict coding guidelines is desirable. More significantly, a staff that is comfortable with and competent in a variety of programming languages will benefit your mobile app development projects greatly. You'll have a lot of expertise, talents, and flexibility at your disposal.
Transparent Communication
Transparency is a promising component of adaptability and productivity in any business interaction. Between the clients and the development agency, communication should always be free and transparent. It is something that the best mobile app development firms in the world understand.
Choose a development team that has open and accessible communication channels. It's not enough to be able to freely email each other; you should also be able to phone the team when necessary. Chat, video conferencing, and even SMS are all good options for communication.
Constant communication keeps you informed about the progress of app, web, or software projects.

The level of after-care service provided by each firm is one of the important characteristics that differentiate an average mobile app development company from a top company. It stems from the company's perspective of its customers. Clients are treated as partners by reputable app development companies.
The commercial case for after-sales service is that it may increase brand loyalty and repeat sales; happy consumers are more likely to become repeat customers. Positive word-of-mouth for a firm can also be influenced by good after-sales services.
Top-Notch Service Provider
We handle the development of apps of any complexity and scale, adjusting to our client's requirements.
We use the most appropriate technology for the project based on the requirements of applications. From the initial idea and analysis of your app until its publishing in various app stores, Appikr can assist you in all aspects of its development.
If you're looking for a mobile app development firm in the United Kingdom, we're your best bet. We'll assist you in creating excellent apps using the most up-to-date methods.
Unique Development Process We Follow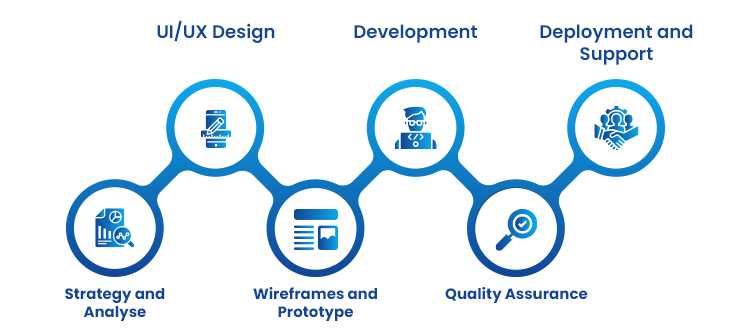 Our clients are happy with us just because of our unparalleled development process. This development process will ensure that the mobile app development is a success, regardless of the size or scope of the project.
The plan for turning your idea into a successful app is defined in the first step of the mobile app development process. We work with customers to study their needs and determine which features should be in the app. This method allows us to create a development plan and turn the client's ideas into a useful and efficient app.
The purpose of app design is to deliver a streamlined, smooth, and effortless user experience. Our developers use successful UI trends to create apps that are not only visually appealing but also intuitive and consistent. Our apps are not only tailored to our client's requirements, but they are also straightforward and user-friendly.
Prototypes are beneficial for modeling the user experience and app operations present in the final product. We design a rough sketch of what the mobile app would look like. It gives us a concept of how the app will appear and feel, and we test how people react to the UI and UX ideas.
We have specialists in every aspect of app development, whether it's Native, Hybrid, or Cross-Platform, and we use languages like Swift, Kotlin, PhoneGap, Ionic, Xamarin, and other languages to create high-quality mobile apps for various operating systems.
Quality assurance (QA) testing is essential throughout the creation of mobile apps to ensure that they are reliable, useful, and secure. Every app is thoroughly tested by our developers to guarantee that it provides a great user experience and meets our clients' needs. Because our apps go through a variety of testing before being released, they are bug-free.
When we publish applications on multiple app stores, we apply best practices to ensure that they are easily accessible to potential customers. All digital solutions may be improved. The deployment of an app isn't the end of the process. We provide post-deployment maintenance and support in collaboration with our clients.
Words to Wrap it Up
The digital revolution is led by mobile app technology. We put special efforts to ensure that mobile applications run smoothly will increase the possibilities of our clients being even more successful. Everything from code standards to user interface, user experience, and content presentation depends on a comprehensive QA. These are the methods used by the best app development companies around the globe.