Can you imagine a city or a town without any social event? You surely can't. These social events promote friendship, human welfare, sharing of thoughts, and entertainment among people. So, a good organization of these events is crucial. People always remember a perfect social gathering. It also raises the importance of Event App Development. Businesses are hiring event app developers to build revolutionary event apps.
The apps are used by both event organizers and people who want to be a part of the event. Moreover, app companies work as a bridge between these 2 parties. People can book a specific event anytime anywhere using a mobile app. So, the demand for event app developers is increasing worldwide. The Covid-19 pandemic restrictions are also lifted back worldwide, encouraging new social events to take place.
As such, businesses and start-ups are coming up with new event app ideas that can transform the app market in the future. People in general use such apps to attend or get tickets for a city or town event. As such, event app development service is becoming crucial in the app market. In this article, we'll discuss how technology is affecting the future of such event app-building projects.
Purpose of an Event App Development
An event app fulfills various purposes as social events can be distributed among various categories. Some events are conducted privately, while others are regulated by a government at times. While approaching event app developers, the event organizing companies must make sure of such factors. They must confirm their businesses model ahead of time. Given below are the various purposes that an event application can fulfill:
Organizing Trade Shows
Organizing Music Events
Planning a conference
Planning Seminars & Educational Events
Providing Easy Event Booking Facility
Organizing Magic Shows
Planning a Town or City Funfair for General People
Sending Invitations to Specific People Regarding a Private Event
Organizing Auctions & Estate Sales, etc.
Besides, the event app development service includes many other aspects. One app can fulfil multiple or a single purpose. Therefore, you need to decide your business model and requirements before consulting a developer.
6 Ways in Which the Technology is Influencing Event App Development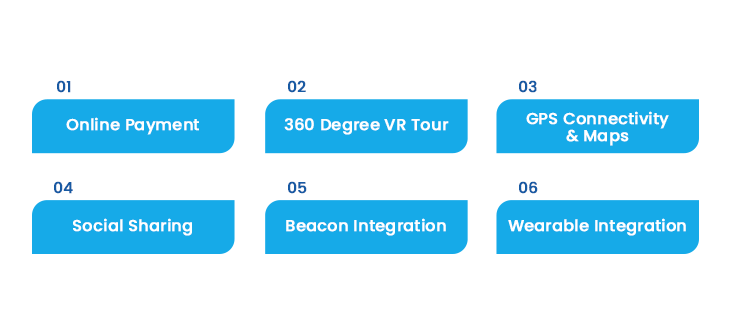 Technology is affecting the entire app industry because it is the foundation of every mobile app. An event app is also an application software created using a specific programming principle. When the corresponding technology changes, you can witness a change in the mobile app functions. You can consult your event app development company regarding new technologies in the market before initiating your app-building project.
However, we've mentioned 6 technological factors influencing event app development in this segment:
1. Online Payment
Nowadays, you can find multiple sources of online payment on mobile apps. These sources increase conversion rate and lead generation for online businesses. An event app business also relies on lead generation. The users can book tickets related to a specific event on a mobile app. So, the developers need to deploy multiple payment gateways for generating income.
2. 360 Degree VR Tour
The events need not be physical every time. Mobile apps are also promoting virtual events for a particular audience these days. Virtual events and meetings have become a trend due to the Coronavirus outbreak. Even if the outbreak is gone in the future, the technology of 360-degree virtual tours isn't going anywhere. This type of event doesn't require any expenses.
3. GPS Connectivity & Maps
An Mobile app development company also adds features to promote geo connectivity. People who are visiting the event first time may face problems finding the exact location of the venue. As such, GPS and online maps can help them trigger the location right after booking on their mobile app.

4. Social Sharing
People visiting the event can also share their status on social media platforms integrated with the event apps. They can also share their live location to inform people connected with them on various social media websites like Facebook, Instagram, and LinkedIn. People also share their interests by promoting their visit to a live event on social media platforms.
5. Beacon Integration
This technology is working for people who need to move to another city or state to attend a social event. Using the Beacon Integration technique, the app companies inform the users about the various places they visit on their journey. When they arrive at the place, where the event has been organized, they get a notification right away. Event app developers don't forget to include such features.
6. Wearable Integration
You can also get instant information regarding a change in the event timings or venue on a smartwatch or a smart ring. You simply need to connect such wearable devices with your event application and you're ready to go. Event App Developers include such revolutionary features to raise the worth of mobile apps over app stores.
Final Words
Besides selecting the right Event App Developers for your app-building project, you must recall a unique and futuristic business idea that could generate a temporary monopoly condition for your business objective. An event app building plan can surely bring you a considerable outcome. Initiate your business plan today.