Do you have a real estate company to facilitate tenants and landlords in your city? Then creating a mobile app can surely raise your business potential and company revenue after a specific period. You simply need to reach out to a Mobile App Development Company and share your real estate service model with the experts. Some local services don't need a company app as such, but most renowned real-estate businesses are heading toward creating a mobile app these days.
These real estate apps have got different types of users to target. That's why the traffic on such apps comes from various directions. People have different needs for property buying or selling. It is crucial in every city or town. Therefore, many start-ups and large-scale enterprises are searching for a Mobile App Development Company to set up their real estate business effectively.
If you don't have a real estate app representing your online business, you should also connect with an experienced app development company. The company can suggest to you the best Real Estate App Building Solution as per your business model. Moreover, they can suggest multiple ideas for initiating a real estate app business. You can choose the idea that suits your business plan.
In this post, we've mentioned 8 great ideas for your real estate app-building plan. Go through these ideas and you'll surely come to a perfect conclusion for your app development project,
Components of a Perfect Real Estate App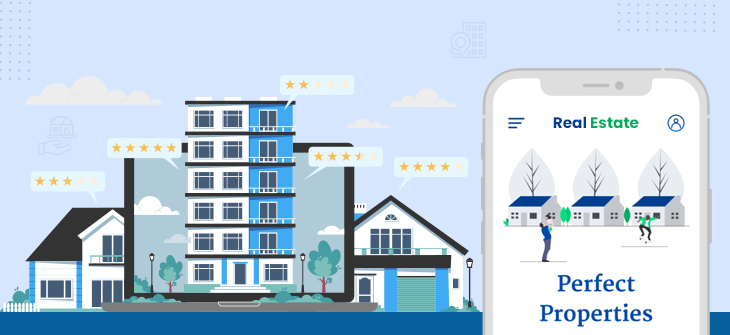 No matter what app development idea you select for your real estate business, you have to include certain essential components in your app. These components together constitute a better mobile app for the real estate sector. The Mobile App Development Company that you consult knows about those basic components and suggests you the best solutions available. Mentioned below are the main components of a real estate app:
Various profiles of tenants and landlords
List of properties that tenants and buyers want to review
A simple on-boarding process
Filters for specific search
The option of search bar
The facility of interactive maps
Users' favorites list
Property Details and information
Calendar for specific property sale
Calculate the cost of a particular property
Communication (Telephonic, Chatting and more)
Push notifications for providing frequent information to the top customers
Any Real Estate App Building Solution is incomplete without deploying above mentioned components!
Read Also – The Influence of Technology on Future Real Estate App Development
8 Amazing Mobile App Ideas to Start Your Real Estate Business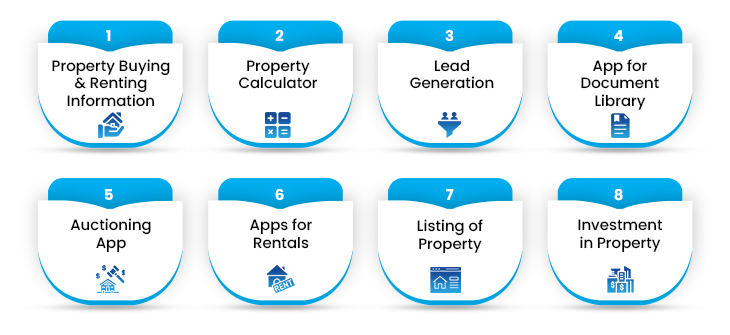 To start a real estate business, you should make up your mind ahead of time. You may face uncertain challenges related to your app or competitors' app. You can face bigger competition if targeting a single market. Instead, you should focus on an entire country. Real Estate App Development can't bring effective ROI against your project investment until you target a bigger audience.
Moving further, here are 8 incredible ideas that you can follow to create a new app for your real estate business:
1. Property Buying & Renting Information
Some property seekers are not sure about making a purchase. They plan the purchase in the future. They just need a piece of information on a particular property. Similarly, landlords want to search for the best buyers or property investors for selling their place in the future. So, Real Estate App Development providers suggest creating an information app that doesn't support the sale and purchase of the property.
2. Property Calculator
These types of apps are used for property evaluation and fixing the right price of a property. These apps come with an advanced AI technology that allows them to calculate the right value of a property based on its geo-location. The apps also calculate the age of the property and other items associated with the property like furniture, art, craft, etc. Property calculators also include- Mortgage and Repair Calculator facilities.
3. Lead Generation
Lead generation is associated with a purchase decision. Real estate app companies have to convert their user traffic into customers. The more properties they're able to sell, the better commission they will earn from landlords and clients. As such, a good presentation of the property is equally important. So, the Real Estate App Services you get should focus on lead generation and conversions.
4. App for Document Library
You can also create a separate app for storing and maintaining various documents related to a property. These apps are very helpful for the online sharing of documents. If a property dealer wants to review some property papers before deciding on the purchase, the property owner should be ready to send the documents right away.
5. Auctioning App
Due to the global Covid 19 pandemic, property auctioning has become a virtual event. The auctioning is happening virtually and many renowned property owners are taking part in such events. These events happen like a webinar and Mobile App Development Companies are encouraging clients to build such apps to promote their real estate business.
6. Apps for Rentals
With such an app, you can only highlight various rental properties in your city. The demand for such properties in a city is way higher than the properties for sale. So, various real estate businesses require such apps for targeting tenants and rental property owners in the city. The app company gets huge traffic related to customers searching for rental homes and apartments in the city.
7. Listing of Property
This type of mobile app also promotes properties for sale and purchase. A proper list of properties delivers various options to the users. The users can select from a variety of rental properties listed out there. A list of properties can also be filtered based on specific user demand. It makes the experience more personalized. Every Mobile App Development Company has experience creating such listing apps.
8. Investment in Property
The users of such apps are different from others. They want to invest in a particular property and build shopping malls, amusement parks, and corporate offices on the relative lands in the future. They want to further increase the value of such properties and they could shake hands with another company to invest partially in the same property.
Final Thought
Generating a real estate app can be a time-consuming process. So, you should make up your mind on a particular app development idea earlier. Or else you can find problems getting back to another idea in the future. Discuss a particular real estate business idea with our experts.