Digital devices have revolutionized the customer experience drastically over the last decade. Many people have started shopping online. Now most of them trust online shopping apps and websites and find a great variety of products as per their likes and tastes. As such, AI App Development is also inspiring people to go online shopping and enhancing their experience. AI is a technology that lets a mobile app or website understand the user instructions more effectively.
The technology has got a unique mind that triggers various user commands and instructions and comes up with a solution accordingly. The app owners and support team don't need to talk to the users and customers all the time. AI App Development aims toward bringing automated solutions to user issues. The AI chatbot is the leading app integration solution to consider in this context.
Customers can share their doubts and issues with the chatbot regarding their experience on the mobile app or website. Apps and websites that feature some sort of online tools also provide the facility of chatbots these days. Before using the tool for the first time, the users can talk to chatbots and avoid any confusion. Therefore, app businesses are searching for an AI App Development Company to enhance their mobile app.
In this article, we'll discuss how AI and Machine Learning are changing the way customers explore a mobile app or website.
What is AI & Machine Learning Technique?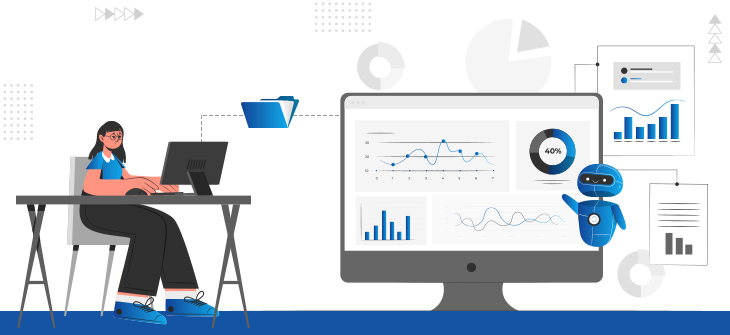 AI means Artificial Intelligence and it is based on the machine learning (ML) concept. The aim is to automate a machine, device, mobile app, or website for better user assistance. Every business is focused on a specific customer group and that's why mobile apps and websites provide customer support and assistance. Earlier, the support was completely manual but now it is becoming automated. That's what AI App Development has given to the world.
Artificial Intelligence focuses on making mobile apps, websites and machines work automatically regarding certain features. An AI App Development Company can suggest better features to be deployed on the corresponding apps. Machine Learning is a special programming technique through which you can make your smart machines learn how to respond to the user or customer demand in the future.
Machine Learning is also used to handle repetitive tasks in manufacturing plants and in the future, the app companies are going to assist such manufacturing projects remarkably.
How is Artificial Intelligence Expected to Change the Customer Experience?
Various online shopping apps are also providing AI features nowadays. Customers often face problems using a shopping app and want instant solutions regarding that. Moreover, many of them hesitate to communicate with the support team and leave feedback on the app store or Google. AI Mobile App Building Services also focus on facilitating such customers and users.
The support team doesn't need to contact every customer or user for resolving the issues. The AI chatbot talks to the customers on behalf of the company. Here are the different reasons why AI is anticipated to transform the user and customer experience on such mobile apps in the future:
1. Predicts the Customer Behaviour
There are many colours of customer behaviour. Customers are not machines and they have different preferences. The app companies need to bring solutions according to multiple preferences, likes, and dislikes of the users. AI technology is replacing various human jobs based on repetition. It can predict customer behaviour and therefore AI Mobile App Building Services are becoming popular among new businesses and app companies.
2. Better Business Operations
Modern business operations need to be fast, quick, and more profit-oriented. The app companies are also adopting new ways of generating multiple business opportunities. As such, AI is emerging as a powerful solution to automate the support process. Earlier, online companies had to spare several hours talking to the customers about their problems. It is not a smart way of doing business because the companies had many other things to handle.
3. Effective Communication
Communication requires a big-time from app companies to resolve the customer issues. Either, the company needs to appoint a separate team for handling the client and customer problems. But, there's a condition, the service providers should have knowledge of everything the customers are about to ask for. This creates a problem when your app company grows well and targets millions of customers. That's how AI App Development comes into the picture.
4. Better Product Addition
By listening to every customer's problem and issue, app companies can introduce better products in the future. AI technology can allow your mobile app company to review every customer issue thoroughly. In fact, you don't have to revert them all. The advanced chatbot system can talk to them itself. Collectively, you can improve the user experience on your app and get higher user recognition on app stores and SERPs. Better products attract a better audience.
5. Interested Customers
You can figure out several customers who are purely interested in your company and your product. Some customers keep checking for other options and don't even complain about your mobile app's drawbacks. You must avoid those customers and target the ones who could become loyal to your brand value in the future. For this, you should stay updated on the customer issues with your mobile app and try to resolve them timely. AI App Development can surely help.
6. AI & ML Brings Simplicity
A new mobile app should be free from complicated and over-creative design. Moreover, it should promote a simplistic approach for resolving customer problems. It can really help your app business to impress the initial users and customers. AI makes it very easy for the users to get answers to their queries associated with the mobile app features and functions. The developers can also use the AI technique to automate some repetitive operations.
Wrapping Up
Following this, we suggest you get an AI App Development solution if you're targeting a future-oriented audience. App development is a great way to represent your innovative business ideas and solutions for smartphone users related to different niches and categories.