Apple is a renowned tech corporation executing multiple business operations around the world. As such, the iOS operating system has become very popular among millions of smartphone users out there. iOS has got a powerful brand value and even selling the most expensive products, iPhone has got a huge consumer demand in the global market. Meanwhile, Custom iOS App Development has also become popular among developers and app companies.
Apple represents a higher standard of smartphones and provides premium services to device users and customers. That's why the standard of iOS apps must also reflect a high standard. Custom iOS App Development also raises the standard of the mobile app. It focuses on adding very unique features related to the corresponding business. Such mobile apps often target a unique set of audiences.
Through building a custom iOS App you can bring specific business opportunities for future growth and advancement. You can also differentiate your new business ideas and investment plan from the competitors and hold the market for a long period. So, you can reach out to a trusted iOS App Development Company and initiate a custom iOS app building project anytime.
Let's discuss how creating a custom iOS mobile app can contribute to your business growth like a pro!
About Custom iOS Mobile App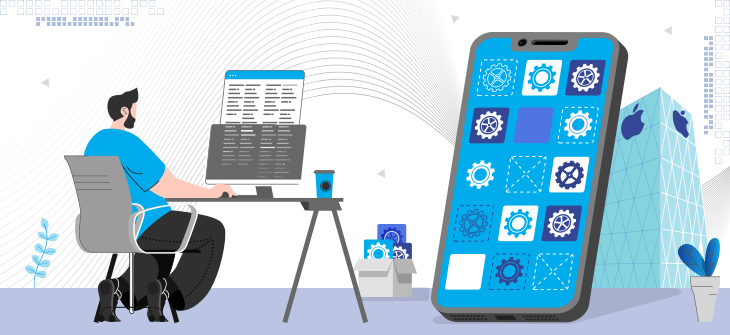 iOS apps are not the only custom apps in the market. Custom apps can also be created as native for Android platforms. Custom apps are the apps created for a specific organization. So, these apps are very unique and have got personalized features. These apps are not focused on a wider audience. Custom iOS App Development is focused on a specific business model. It can't be copied because a specific organization has certain copyrights on it.
People working in an organization often use these custom apps. Coming back to iOS, you can create a custom and native mobile app for iPhone users. However, it doesn't happen in an office environment. People use different types of devices and that's why the iOS App Development Company has to go for a cross-platform custom app building model.
In the approaching segment, we'll talk about the various benefits of custom iOS app creation for business growth. Let's proceed!
Why Creating a Custom iOS App is Good for Your Business Growth?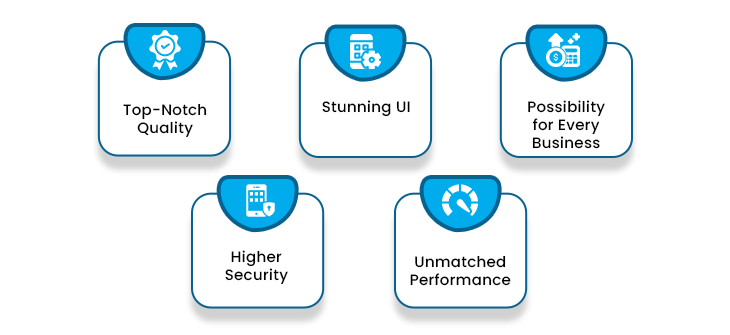 Online businesses are consistently growing throughout the world. Even small and local businesses have got an option to list up on the local SEO space provided by various search engines such as Google, Bing, and Yahoo. So, nowadays every small, medium, and large-scale business is connected to the internet in some way or another. As the competition is rising in the mobile app market, businesses are searching for more uniqueness and customization.
That's why custom iOS App Development Solutions are becoming important for various clients and businesses. Let's see how these solutions are contributing to global business growth and advancement:
1. Top-Notch Quality
The quality of custom apps is usually up to the mark. These apps are far better than ordinary apps in terms of performance and features. These apps are becoming important for experienced and large-scale businesses that don't need to focus on initial user traffic. Their brand value is enough for attracting old and loyal customers to their mobile apps and relative products. They also create separate versions of their mobile apps for customers and employees.
2. Stunning UI
Custom iOS App Development is always focused on a ground-breaking UI that retains the users for longer. A custom UI design is not complicated yet unique and eye-catching. Moreover, the developers are instructed to target the trending user preferences, likes, and dislikes. Every mobile app design should encourage the users to participate in the app functionalities. Custom iOS applications also do the same with mobile app companies.
3. Possibility for Every Business
Customization can be done up to any level. Developers can mould your mobile app to any type you like. You can make it as unique as possible. Therefore, building a custom iOS app can be a little costlier. But you can generate impressive results through building such mobile apps for your online business and withstand huge competition in the market for years.
4. Higher Security
Custom iOS App Development concentrates on more security against external threats and cyber-attacks. Remember that you need to target a specific audience that could be more conscious about its privacy on your mobile app. So, you must hire an experienced app development company to bring your better results as per the project investment. Custom apps are more secure and safe to use than the other apps on app stores.
5. Unmatched Performance
If you want to grow your mobile app businesses impressively, you should make sure of a compelling performance throughout. As long as you run your online business through a mobile app, it should work faster, and smoother. The performance of a custom mobile app is surely top-notch and that's why iOS app companies are also looking forward to the relative customization projects.
Closing Words
Choosing a Custom iOS App Development approach can bring you several benefits to raise your brand value and grow your business in the future. You can know about many relative app development techniques and improve your ROI by getting in touch with a well-known mobile app development company on the internet. Bring your ideas to life