iOS is one of the leading smartphone OS in the world. Moreover, iPhone has a great market share in the smartphone industry even being an expensive product. The reason is brand value and unmatched quality. Consequently, Apple has become a renowned tech company and is listed among the top 10 American corporations. Likewise, the demand for native iOS apps is also rising among users and clients. So, iOS App Developers are also getting ample job opportunities in the market.
Besides doing a job, the developers are also freelancing and initiating their own app-building company. iOS App Developers have high client demand in the market and could bring more opportunities for online businesses. iOS apps are built for several niches including Education, Cab-Booking, Food Delivery, Gaming, Health, Fitness, and more. So, many start-ups and new app companies are targeting native iOS app users.
Besides getting 3rd party iOS App Development Services, some businesses are also setting up a new department at their workplace for building custom native apps for iOS and other platforms. If you run such a business, you can go through our detailed guide comprising the iOS app building process. Let's proceed!
Why You Should Build an iOS App?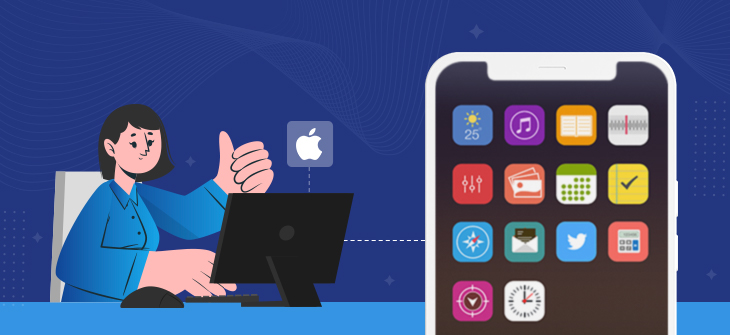 It is not necessary that you must build a native app to deploy on the iOS platform. You may go for a cross-platform app as well. What you need to remember is that the performance of the app should be remarkable. Moreover, the purpose of building a native iOS app is to specifically serve iPhone users. iOS App Developers are aware of their tastes and preferences. Even if you're not targeting Android users, you have ample audience to serve.
There are over 1 billion iPhone users in the world and they established a perfect market opportunity for your mobile app business. You just need iOS App Development Services that could convert your vision into reality. Additionally, iOS users are associated with other Apple devices like MacBook and iPad. It raises your mobile app usage to a better extent.
As such, iOS App Development becomes a perfect plan for your online business growth. You simply need to approach a skilled app development company or follow a comprehensive guide to get started with your app-building project!
Guide to Initiate Your iOS App Building Project
iOS apps provide a faster and smoother user experience to customers. There's almost zero possibility of glitches and buffering as the platform has got higher standard compared to Android. So, the app companies must fulfil the corresponding standard before deploying their app on the Apple store. But before deployment, the iOS App Developers need to undergo a systematic process as mentioned below:
1. Plan the Development
Planning may or may not lead to an expected outcome. In the future, the developers may change their development approach due to uncertain reasons. However, planning is very crucial for the flexibility of the project. If Plan-A fails, the developers must have Plan-B. The developers note down the business requirement and analyse their project scope. Moreover, they also conduct resource planning to accumulate whatever's needed for project completion.
2. Design the Components
Besides app designing the developers also need to build an early model of the mobile app called a wireframe. Wireframing includes everything to be added to the app's functionality and appearance. However, it is not real and can be simply drawn on a paper before initiating the iOS App Development project. The developers also create a visual prototype of the actual mobile app before getting started with the app development project.
3. App Development & Integration Action
After creating the wireframe, it's time for practical implementation. The developers gather various tools and components to generate a tech stack for the relative project. This tech stack comprises different app-building frameworks used to build the architectural design of the app. The developers are also concerned about the proper functional implementation of the app elements. These functions further differentiate a native iOS app from others.
4. Quality Check
The mobile app quality should match the standards of the iOS platform. At the time of app deployment, many new developers face problems adjusting to the iOS protocols. An experienced iOS App Developer takes care of the functional, integrational, security, performance, and various other aspects contributing to the app quality in this context. The developers also take care of Test Automation and User Acceptance Testing in this context.
5. Distribution & Launch
A poor app launch can affect the business objective drastically. That's why the app company has to make sure that the app distribution is stable and free from mistakes. Furthermore, enterprise approval is equally important for the app launch. For a perfect app deployment, you can also start promoting your mobile app 1 month before the occasion. The developers should understand the timeline and accomplish the project accordingly.
6. Post Launch Maintenance and Support
Post app launch monitoring process is equally important for the future performance of the iOS app created. The app functions and features need to be updated over time. The app users always wait for new updates and features. Apart from app updates and maintenance, the developers also have to find digital marketing assistance for promoting whatever they create among iOS users. Every mobile app and website need such digital marketing services.
Digital marketing services include- Search Engine Optimization, Social Media Marketing, Email Marketing, Content Marketing, Search Engine Marketing, and other relative services!
Final Thought
As such, you can conduct a successful iOS app-building campaign for your client or company. Hiring the perfect iOS App Developer company is crucial for generating a notable outcome. Moreover, you can appoint your app development team and establish a separate department at your workplace if running a corporation.