Taxi booking apps are facilitating different user categories in the world. Apart from urban regions, taxi booking apps are also targeting rural and remote audiences. Because mobile internet is improving in remote areas. Likewise, Taxi Booking App Development facility is also gaining popularity among relative businesses and companies. These apps are used regularly and are very useful for local traveling.
In a country like India, such apps are replacing the local transportation service because of more safety and affordability. Moreover, Local transportation agencies have started approaching such Cab Booking start-ups to improve their daily sales. As such, the demand for Taxi Booking App Development is increasing among start-ups and large-scale businesses. Taxi app like Ola a Ridesharing company is a good example of such start-ups.
Established in December 2010, it has become one of the most used taxi booking apps in India. Though it mostly provides services in urban areas and cities, it has inspired other Taxi Booking Applications to emerge in small towns and cities like Fasttrack Taxi App, Meru Cabs, Carzonrent, etc. People living in small towns are getting cheap and safe traveling facilities from such apps.
So, the potential of such ride-sharing and booking apps is growing better in India. If you're also planning to incorporate such a cab booking app business and are concerned about the total cost involved in the project, proceed through this article. You can also hire Taxi App Developers for perfect results if not familiar with app-building skills.
Constituents of a Taxi Booking App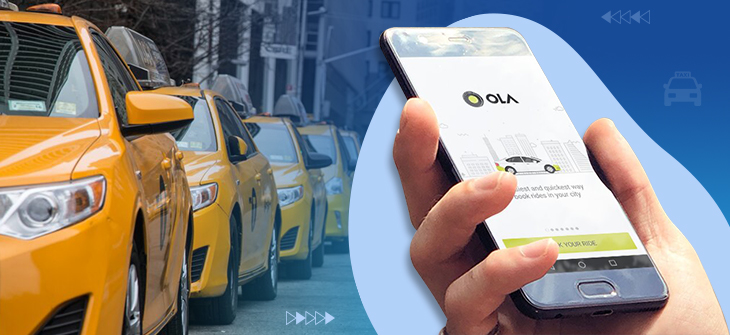 Before deciding the cost of a Taxi Booking App Development, you should know about the various components and elements that constitute such apps. These components have their unique cost of deployment and contribute to the overall app development budget. Mentioned below are the 4 leading components of a taxi booking app that no app business is required to overlook:
GPS Integration
Payment Gateway Integration
Communication Options and
Information Regarding the Ride
These constituents are mandatory for Taxi Booking Applications and contribute to the foundation cost of the development project. Further, you can add various modern features and functions to your mobile app and target more customers and users in a particular region. These components can be distributed among the drivers and passengers through 2 different versions of the app!
Determining the Ola like app development cost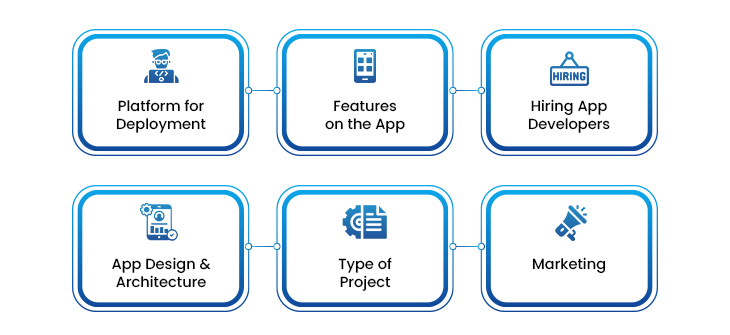 The cost of building a taxi booking app like Ola can vary according to your business needs and requirements. You're not supposed to copy the Ola app, you must introduce a unique app for users. However, to compete with Ola or other renowned taxi booking businesses in India, you must deploy the top features on your app.
Enlisted are the different factors affecting the app development cost of a taxi booking app like Ola:
1. Platform for Deployment
Every mobile app needs to be deployed on an app store. We can also call it an OS platform and it could be related to Windows, Android, iOS, Mac, and more. The developers and app companies need to pay some amount to such platforms while deploying their products on the same. Android app deployment usually charges higher than iOS deployment. App like Ola Building Solutions are incomplete without an app launch platform.
2. Features on the App
We've already discussed the mandatory features and components that every taxi booking app developer must include in their product. However, to make your app perfect you must focus on adding new and modern features that bring you more traffic and customers. These features include- User Profile Creation, Push Notifications, OTP Evaluation, Geolocations, Data Syncing, AI Assistance, Image Manipulation, and more.
3. Hiring App Developers
If you have no idea about creating a profitable app for your online business, you can hire an experienced app developer. However, a proficient app developer is going to charge a particular fee for his services and efforts. You can also connect with our experts for more impressive outcome.

4. App Design & Architecture
The app design attribute is equally important for a good user experience. An app design is divided into 2 categories- UI Design & UX Design. The developers need to spend a specific amount on these designs. The app design has a special role in the Taxi Booking App Development process. A good design brings more user participation and engagement to the app. Where UI represents the overall app layout and content organization, UX indicates user accessibility.
5. Type of Project
The app development projects that start from scratch require more budget as compared to already built apps. So, you need to ensure, if you're working on a fresh Taxi Booking App Development project or an old one. Preparing the app from scratch often takes time and effort and therefore the developers can charge accordingly from the clients. However, you can demand a simple UI and limited functionalities until your mobile app get popular on the app stores.
6. Marketing
Marketing and promotion are used before and after the deployment of the app. So, it requires the taxi app company to invest even after the app launch for years. In fact, marketing is an ongoing process. But the time has changed and online businesses are switching to digital marketing solutions. Digital marketing is a cheaper and smarter way to promote any type of online business. It is mostly based on an inbound promotion model which is cheaper.
Wrapping Up
Further, Taxi Booking App Development encourages post-app-launch maintenance and support. It can raise the overall cost of app building throughout a lifetime. Companies are hundreds of years old and need to be nurtured and maintained throughout. So, a lot of costs and investment plans are awaiting your app-building project.