How much does Mobile App Development Cost in India?
India has a great potential for mobile apps and online start-ups in the future. The reason is the cost of app building in India. It is very economic and super affordable. That's why global clients approach Indian app development companies to accomplish their projects.
The cost of app development in India can start from $10 per hour to $50 per hour depending on the developer's experience level and the company's popularity in the market.
App development costs can also vary depending on the team's strength. A team of more app developers can charge more from the clients. However, those projects differ from other app development projects. Such apps have a huge database and promote complexity in design most of the time. As such, the cost of app development in India can fluctuate from one situation to another.
In this article, we'll properly analyze the app development cost in India and also review the different factors affecting such cost. So, stay with us!
How to Control Your App Development Budget in India?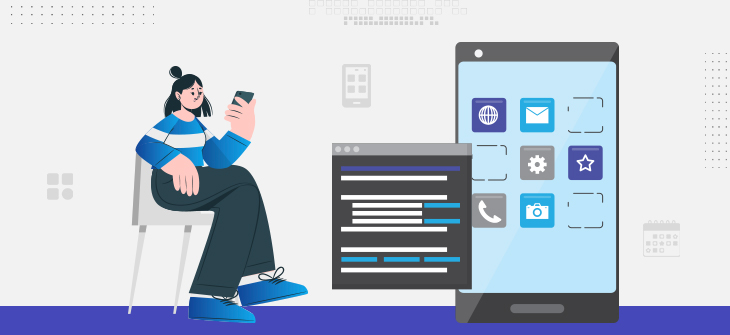 If you're an Indian native, you can also get Indian app development services at affordable rates. You simply need to review various factors affecting your app making cost in India and decide on an ideal app category.
Additionally, you can also control your project budget using a few simple techniques like:
1. Make Your Project Plan
Project planning is essential for all types of app development projects. It helps both developers and app owners control the overall budget. Project planning may include proper wireframing and prototyping of the app. The cost of developing an app in India may also rise using wireframing and prototyping. However, it prevents the app from further failures or mistakes.
2. Conduct A/B Testing
The next technique is performing an A/B test. You can compare 2 different app-building processes to analyze the ideal one. As such, you can also find out the cost involved in 2 different processes. The app development cost India can vary among different development processes. You can discuss those processes with the developers properly before making a decision.
3. Priority Features
Do you know about MVP? It stands for Minimum Viable Product and can surely help you cut your app development cost like magic. The concept suggests that the developers must imply simple and essential features in a new application. They're not supposed to add unnecessary and advanced features to their new app. The app functionality should be limited and simple.
Factors Influencing Mobile App Development Cost in India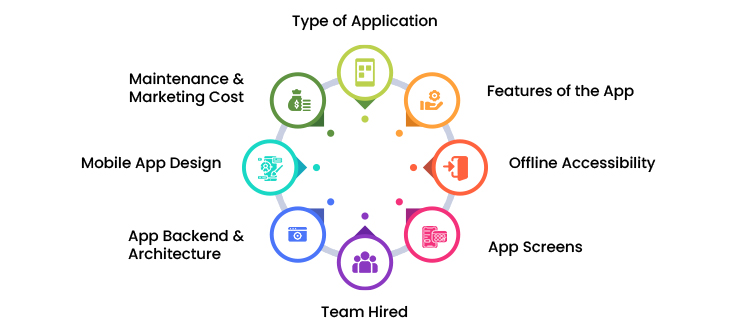 Moving ahead, you can understand your Indian app development cost by considering a few factors. These factors can influence both iOS and Android app development cost in India. So, you should conduct your app development operations considering these factors.
Let's review these factors in detail:
1. Type of Application
You surely know about the various types of applications on the internet. You should decide whether you want to build a Standard App, Simple App, or Complex App. These categories can further be divided into many sub-categories like- Online Dating, social media, Real Estate, eCommerce, etc. To know the cost of development, share your particular niche with your development service providers.
2. Features of the App
Basic features are enough for the initial growth of your mobile app. If you want modern features, you have to bear a higher cost of app development in India. To integrate such features into the mobile app, the developers have to use expensive tools and frameworks. Moreover, it takes additional time to add such features to the mobile app. Consequently, service charges also increase. Modern features may include- AR/VR, Wearable AI, IoT integration, etc.
3. Offline Accessibility
Nowadays, Indians are switching to offline accessibility and don't want to rely on internet-based applications. Therefore, many app companies are promoting offline accessibility for user recognition and popularity. The mobile app development cost estimate India can be high for such a business model. Offline accessibility is related to cloud technology that can be quite expensive as per the budget of most start-ups out there. However, it is an important feature.
4. App Screens
App screens represent various app proportions that are displayed on various devices. If you're creating a large mobile app, it may have thousands of screens and could raise the development cost for you. You can limit the number of screens if you're building a fresh application and save a lot on your project. Mobile app development cost in India can be influenced by the app's appearance to a great extent. Keep it simple for better performance.

5. Team Hired
This can surely bring a great difference in the development cost. If you truly want to know how much does it cost to make an app in India, you can visit an app development team. Some developers charge higher, and some charge economic. It all depends on the region and location from where you want to hire your developers' team. To go a little cheaper, you can reach out to a freelancing agency as well. It majorly depends on your requirements.
6. App Backend & Architecture
Now comes the development part. It is usually distributed among the frontend and backend. Both processes take time and the developers charge hourly, weekly, monthly, or annually. The app architecture can be simple as well as complicated. It is something that small and large brands want. You should decide what sort of brand you're working for. The cost of app development in India can't be considered without a good app architecture.
7. Mobile App Design
Mobile app design can be divided into UI and UX. Both consist of some elements that encourage user actions and participation in the app. Where UI represents the user interface, UX is about the user experience on your application. You may also call it front-end development to some extent. App designing operations can be very expensive at times. Even if you deploy a high-end design to your app, make sure that it is simple and understandable.
8. Maintenance & Marketing Cost
After app deployment, it becomes the responsibility of developers to provide support and maintenance over a period. The company can go for other service providers to maintain their app, but the point is there's some cost associated with the relative app development process. Moving ahead, the developers also need to collaborate with digital marketers for promoting the app, before and after launch.
Types of Mobile App Development Cost in India
Mobile Cost of app development in India is based on these varieties. All these varieties can be distributed into three main categories:
1. Simple Applications
Simple applications include various types of built-in applications and apps having a small size. The apps could have a 10 to 50 MB size. These applications include Calendar, Clock, FM Radio, and similar types of built-in apps. The time taken for creating such applications is 3-4 months and the developers in India could demand from $10,000 to $30,000 for building them.
2. Standard Applications
Standard applications are very popular among regular app users in India and globally. These apps are not built-in and are usually found on app stores. The cost of making an app in India with standard features can be a little higher than simple apps. Moreover, these apps take a little longer to be created and deployed over app stores. The cost of development is between $25000 to $75000.
3. Complex Applications
As discussed earlier in the initial section, complex apps can be very expensive at times. Still, the Indian developers market offers an economic rate to the clients. This type of application consists of highly customized eCommerce apps, high-end mobile games, social media applications, etc. The corresponding app development cost in India goes from $90000 to $100000 or even above.
Final Thought
The cost of app development in India may also grow in the future if the Indian currency becomes stronger than the existing one. So, here's the time for you to start working on your dream project and emerge as a mobile app start-up that has the potential to revolutionize the world. we hope this information will help to start your development project easily.