What is the Cost to Build an E-Commerce App?
There's no online shopping without eCommerce applications nowadays. These applications provide a unique and satisfactory experience to the customers. They can quickly shop using mobile applications from anywhere anytime and find a variety of products to choose from. Hence, E-Commerce App development services has a great demand among new online shopping companies. People are switching from shopping websites to apps.
Some eCommerce websites don't display every product description in detail and request users to install their application. As such, E Commerce App Development is getting more preference over web development. Customers can customize their choices for a better shopping experience using a mobile app. So, the traffic on an eCommerce app is way higher than on the website.
Building an eCommerce app like that incurs a specific cost. Developers must stay updated on such costs and various factors affecting the same. Online Shopping App Development is usually more expensive than other app-building projects. That's because E Commerce apps don't have a minimalistic design structure. These applications have so much content to showcase and require a larger database.
Through this post, you'll get to learn how to determine the cost of app development for an eCommerce business and about various components affecting such costs. Let's proceed!
Why do Businesses Need an E Commerce App?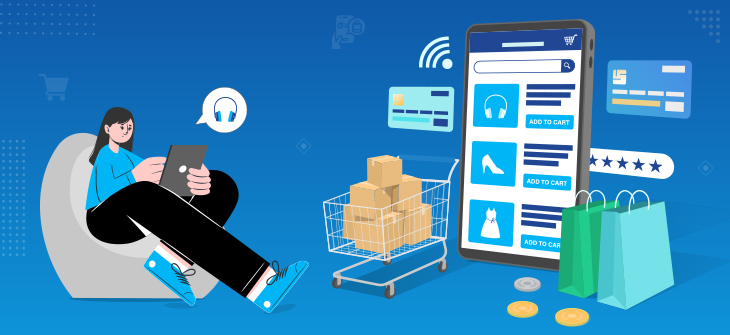 First, let's discuss why a mobile application is essential for your eCommerce business. By building an eCommerce app you can bring better opportunities for your business growth and get more customer attention. But, how does that happen? Earlier, people required a browser to access such websites. So, they used to face various difficulties ordering goods and products from such websites. Consequently, E-Commerce App Development was introduced.
The concept transformed the online shopping trend forever. Today, various eCommerce app companies have emerged across the world and providing their services even in remote locations. Here's why businesses need such applications:
1. Better UX
The UX design of a mobile app is way better than a website. It promotes more user participation. UX consists of various app design elements that encourage user actions. For Example- Interaction Design, Usability, Visuals, Information Architecture, Buttons (CTAs), Forms, Login/Signup, etc.
2. Notifications
Websites don't offer push notifications to users like a mobile app. As long as the user doesn't refresh or open the website, he's not able to see the latest notifications out there. Online Shopping App Development also lets users switch off their mobile app notifications in case don't require them.
3. Enhanced Visibility
Getting an eCommerce app is also essential for better visibility of your business. When people get to know about your eCommerce app for the first time, they hesitate to switch from other applications. However, mobile a mobile application makes it easy for them to review your top services and offers easily and quickly.

4. Better Analysis
The developers or app companies can analyze their performance by simply accessing their app analytics data. An E-Commerce App development services provides a good app analytics feature for client convenience. Moreover, you can use 3rd party platforms or websites for your app analytics.
5. Higher Conversion Rate
As discussed earlier, having an enhanced UX design, mobile apps get more user traffic and engagement as compared to websites. Consequently, the conversion rate of a mobile application increases effectively. It doesn't mean websites can't bring any conversions but mobile apps often do it faster.
Hence, developing an eCommerce app is very crucial for your online business, especially nowadays. You should also review your niche before initiating an app-building project. Some business models don't require a mobile app, so you should better make up your mind!
E-Commerce App Development Cost: Classification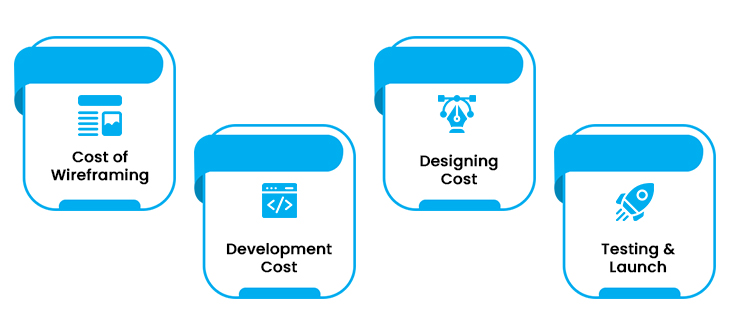 The cost of relative app development projects can be classified into various operations. App development can't be accomplished in one day. It takes several weeks or months for developers to introduce a product in the app market. App development is a process and the process requires some cost. Likewise, the cost can be classified into various app development steps as explained below:
1. Cost of  Wireframing
Wireframing and prototyping are one of the very initial steps of an app-building process. When clients and developers agree on starting a corresponding project, it gives birth to wireframing. It is generally a pre-mature model of the entire mobile app to be built in the future. Developers conduct their operations according to the wireframe. Building an advanced wireframe may cost somewhere between $500 to $2500.
2. Development Cost
An E-Commerce mobile App development Company has to perform various frontend and backend development operations to build a compelling product. Competition is increasing in the eCommerce field and your app development outcome must have the potential to overcome competition. So, you need to do some good business investment for that. To develop a simple eCommerce app, you may invest $10k to $30K on your project. The cost may vary on advanced features.
3. Designing Cost
Designing operations take place along with the development. The operations consist of UI/UX elements to be deployed for better performance. A normal app design operation may require $2000 to $2500 amount and even rise in the future after the app launch. The developers need to add more functionalities after the app launch as per user demands and preferences that keep changing.
4. Testing & Launch
After the design and development phase comes to the app testing phase. Without conducting a dedicated test, the app developers can't proceed with deployment. Or else, the users may face errors and mistakes in the future. It often leads to negative reviews and a poor reputation for an eCommerce company. The testing and deployment may also cost $1000 to $20,000 for your project.
Likewise, E-Commerce App Development requires a budget of $50K to $90K for creating a perfect product for the target audience. After the app launch also, the companies incur various maintenance and support costs related to user convenience!
Closing Words
Besides, E-Commerce App Development costs depend on various factors like- Target Platform, Location of Developer, App Features, Design, and Maintenance. You can reach out to a trusted mobile app development company and get detailed advice regarding your eCommerce business.