The cost of creating a mobile app depends on various factors. Business niche is one of the top factors to recall in this context. Taxi booking is also a renowned and successful business niche. Many emerging entrepreneurs are using this business idea to fulfill the traveling demand of the locals and tourists. But they have to face certain app development cost while investing in such taxi app-building projects.
Start-ups and new businesses are highly concerned about such costs. They have to find investors sometimes to accomplish their development project. As such, they become answerable to the investors regarding overall app development cost. Taxi booking applications are doing good business in various segments of the online market.
It is a business opportunity that many developers are crazy about but the project cost becomes a challenge for them if not regulated properly.
To build a taxi booking app like Bolt you can face certain cost challenges. But you've got some solutions to overcome those challenges. In this post, we'll address the different factors and features responsible for the development cost of taxi booking apps like Bolt. Let's proceed!
A Brief Introduction to Bolt- A Taxi Booking App
Initially known as Taxify, Bolt is a successful on-demand taxi and cab booking app company from Estonia. The company was established in 2014 and today has become a multinational on-demand mobility provider. It is providing taxi booking services in more than 45 European, African & Asian countries. The app development cost required to build an app like Bolt can go higher than your expectations. That's because of the different user segments you're going to serve.
Taxi booking apps are usually divided among ride bookers, drivers, and company owners (admins). So, the developers have to build 3 different applications related to one business. Likewise, the cost of building such taxi booking apps may go higher than expected. But the developers can use a cross-platform or hybrid approach to build such an app and save the client money.
Essential Features for Creating a Taxi App Like Bolt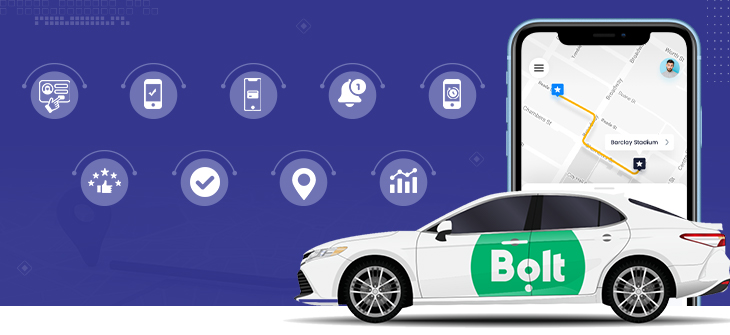 The business model of Bolt is nothing special compared to Uber or other famous cab booking service providers. So, the app owner has to invest at least in the basic app features and functions. App features and functions cover more than 70% of the entire development cost. For developing an app like Bolt, you must make sure of the below-mentioned features:
1. User Registration & Profile
The most important feature profiles creation and registration. Without this feature, you can't build a database of your top consumers and app users. You can further pitch to those users regarding your new offers and discounts for long-term retention. Though it doesn't have a huge impact on the cost to make an app, it is a very important feature to draw user engagement and participation.
2. Ride Booking & Vehicle Selection
After successfully creating a profile on a taxi app, the users keep looking for a nearby ride. While booking a ride, they can select a particular vehicle and that's an important feature to consider. You can offer different types of rides and vehicles including- Luxury rides, Mini Ride, Auto Rikshaw or a Local Ride, Ride-Sharing, and Two-Wheeler rides. Different rides have different charges.
3. Payment Gateway
Customers who don't have cash use various payment gateways. Nowadays, they can pay through UPI, Bank transfers, and other mediums. This factor also impacts the cost to build an app as the payment gateway is considered an advanced feature and takes time and effort to be deployed successfully. Moreover, the developers have to make sure that the payments are safe and secure.
4. Push Notifications
Adding push notifications can cost differently for different projects. It is an amazing feature to reach out to the customers again and again. You can offer new products and services to old users and get their loyalty over a period. Push notifications are among advanced mobile app features and could be more costly at times. The feature can cost up to $100 per month.
5. Travel History
It is a type of record that app companies and users want to maintain to compare their traveling expenses over a period. Tourists often like to maintain such traveling records and even share their travel expenses on their YouTube channels. The feature can raise the mobile app development cost slightly. Travel history gets updated over time, hence needs some cost of maintenance.
6. Rating & Feedback
Passengers also share their travel experience with others who want to install a relative taxi app. This helps others decide whether to install or uninstall a mobile application. Users can also share their views regarding a drawback in the mobile app and the company can work to resolve that issue accordingly. Hence, it becomes an important feature to consider.
7. Accepting & Rejecting Booking
This feature is available to drivers only. In case, they get 2 orders simultaneously, they can decide to pick or drop anyone of them. Customers can't book the ride unless accepted by the drivers. Any taxi booking app development project is incomplete without this feature. The drivers can also choose among nearby or distant orders.
8. Geolocation
It is one of the most expensive features of a Taxi Booking Application. A taxi app development can't be imagined without Geolocation these days. App companies integrate with various digital map technologies to add stunning Geolocation features to their app. A Geolocation-enabled app development cost can start from $35,000 and may rise further along with other features.
9. Analytics
The app analytics and reports can be distributed among Driver's and Passenger's apps. Another version of the app is Admin and it doesn't require such Analytics or performance report. Making different reports on app analytics can be expensive at times. The report also needs timely maintenance and therefore contributes notably to the mobile app cost.
Factors Affect the Cost of Developing a Taxi Booking App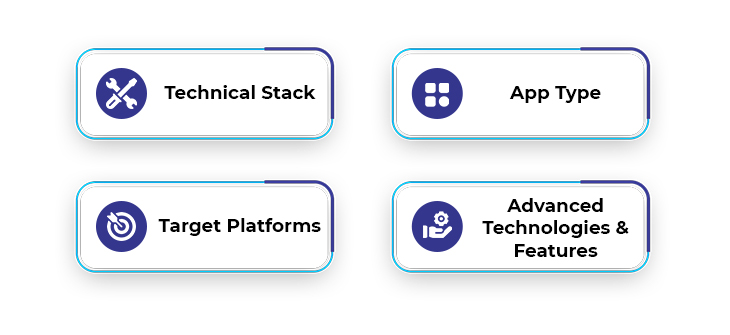 If you understand the different factors affecting such app-building costs, you can decide better regarding your project budget. You can decide whether to consider one factor or another for your development operations. Likewise, you can minimize your app development cost and bring more ROI for your on-demand taxi booking product. Let's recall these factors in detail:
1. Technical Stack
Technical stack is the leading factor to consider in this context. Various tools and techniques are needed to build a mobile app. These tools and techniques also have a cost that the developers and app owners have to bear. Technical Stack for a Taxi Booking App consists of- A Backend Tool, Frontend Tool, Database, Cloud Server, GPS API, Payment Gateway, etc.
2. App Type
Most mobile app development services are based on certain development approaches including- Web-App, Hybrid App, and Native and Cross-Platform approaches. These approaches form a particular app type. Generally, the Native app type is very expensive to be created and leads to a high-performance product for various user segments.
3. Target Platforms
A mobile app development company usually deploys client applications on Windows, Android, Apple, and Linux Store. Some app businesses like on-demand taxi and cab booking want to target a wider audience. So, they make apps compatible with different platforms. The Cross-platform development approach is perfect and highly cost-effective to consider here.
4. Advanced Technologies & Features
Advanced technologies and features improve the usability of the mobile app. Every app company wants to bring more user engagement and participation to their app. That's what these advanced features are capable of doing. Taxi app development can also have advanced features like- Geolocation, Live Tracking, Multiple Online Payment Option, etc.
An average per hour rate of developing a cab booking app can go up to $50. Considering that, you may calculate the whole project cost depending on the total time taken for project completion. The starting price of developing a cab booking app like Bolt can be $30,000 but could further rise beyond $90,000 depending on the client and business requirements.
Ending Note
A taxi booking app like Bolt should have a simple design and MVP in the initial years of incorporation. It can bring you a lesser cost and more users and help you establish a perfect online business. You can minimize your app development cost by considering a highly experienced app development agency. The expert developers and project managers working at such companies can give you better advice for your project!