The development of mobile apps will always be difficult for both new and seasoned app companies. This is so because a mobile app is a virtual good whose shape, look, and functionality are constantly changing. As a result, app developers take on a variety of mobile app development issues and keep up with the market's escalating rivalry. Start an app business today to encounter more difficulties with app development!
To reduce costs, around 60% of multinational corporations favor software development in offshore locations. The top countries where software development might profit you the most are Ukraine, Brazil, India, and Egypt. For your next app development project, you can still save 40% to 70% of the total development cost even though offshore developer prices vary by nation.
Having an app for your company is now more of a need than a benefit. If you don't have an app, regardless of the goods or services you provide, your complacent approach to business could spell the end of your trip in this fiercely competitive online business market.
Top 8 Factors That Impact Your Mobile App Development Cost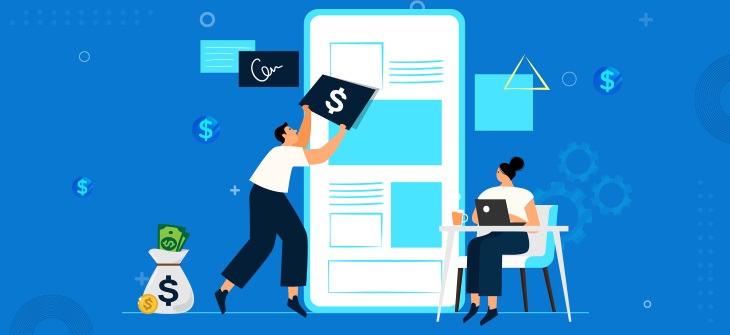 The cost to develop mobile apps in Egypt depends on several important aspects. You may make the most cost-effective selections and get the most return on your growth by being aware of these cost-affecting elements. Additionally, it will assist you in sticking to your spending plan.
Let's now explore the main elements that have a large impact on the entire cost of developing mobile applications.
The complexity of mobile apps
A straightforward app typically costs $5,000 to $50,000 to develop. A straightforward app has certain fundamental user features including a login process, user profile feature, dashboard, and restricted administration.
A medium-complexity app will set you back $50,000 to $120,000. An abundance of options for user interaction and app monetization is included in a medium-complex app.
A complicated software may cost between $100,000 and $300,000 more. The most recent technology, including AI, machine learning, and AR/VR, is integrated into these apps.
Features and functions of apps
The features and functionality you incorporate into your app will have a significant impact on how much it costs to design an app. With the addition of additional features, the base mobile app development cost for the kind of app you want to create keeps rising.
Type of Application
The cost of creating an app varies significantly depending on the genre. The number of users, functionalities, security requirements, and other factors all change as we move from one category to another, which eventually results in varied app development prices.
Animation and app design
App design is the next element that influences the cost of creating an app. It is important to pay close attention to app design if you want consumers to spend time using your app.
We typically have two choices when choosing an app design: Custom and Standard UI. Customized UI costs extra since it is more expensive to create and build than the Standard UI.
Platform
It's crucial to select a platform before beginning the process of developing a mobile application. You can opt to create an iOS, Android, web, or cross-platform application depending on who your target market is.
App Maintenance
Unquestionably, costs continue even beyond the last step of developing a mobile application. To stay up with shifting market trends and new device & OS versions, businesses will have to continually update their apps, which has a cost.
Annual app maintenance costs are estimated at 20% of the total cost of developing a mobile app.
Code Reuse
It's one of the elements that lower the price of developing mobile applications. The cost of developing mobile applications decreases significantly when companies choose to include the code of an existing app on their own while only changing the branding components.
The Size of the Development Team
Who you select to develop the app for will have a significant impact on the overall cost. A competent app development business, a local team, an internal development team, or a freelance developer are all options at your disposal.
However, when it comes to creating high-end applications with top-notch features and functionalities, a skilled mobile app development company can do wonders for your business app.
Advantages of App Development in Egypt
There are numerous advantages to picking Egypt for your prospective app development project. For you to advance in your app development project, we've included some here.
Post Launch Technical Assistance
Any reputable and skilled Android app development firm in Egypt will provide you with thorough post-launch technical support for your app so that it operates without interruption on the app stores and your users may download it without any issues. You'll get off to a great start right away with this, without a doubt.
Affordability
Worldwide, Egypt is renowned for producing software at competitive prices. The entire cost of developing your app can be reduced by up to 30% to 55% compared to what you would have paid in the UK, US, or Australia.
App Maintenance
Egyptian app maintenance development companies are committed to keeping their clients happy with top-notch assistance and services. They provide the greatest deal for your app's complete maintenance costs over a year or other set period. They'll continuously update your app to reflect the newest styles and user preferences.
Always innovative
Any mobile app development business in Egypt prioritizes ongoing innovation in app development technology and implements the most cutting-edge methodology to offer quick-loading, completely secure apps.
Final Words
What is the cost to develop an app in Egypt? When they start a project to construct an app, app brands and developers probably need to know the answer to this question first. The price of establishing your e-commerce website or mobile application in Egypt depends on a variety of factors.
The simplest and most important part of any budget for a mobile app development project is an app development cost estimate.