In terms of meeting human needs, on-demand services are a blessing in disguise. Without leaving your house, you can order food, groceries, or medications and have them delivered the same day. The convenience of having your daily necessities delivered right to your door is a blessing that is valued by both the numerous customers who request them on demand and the countless business owners who want to stand out in the booming market.
More than 22.4 million people have been drawn into this lucrative profession, which has generated revenues of $57.6 billion, or roughly $4.6 billion in the food and grocery sectors. Some of the well-known names in grocery shopping and delivery services include Instacart, Postmates, and Doordash.
The question on everyone's mind is how much it costs to develop an on-demand grocery delivery app, regardless of the class these aspiring entrepreneurs are from. And in this blog, we'll talk about the creation of on-demand apps like Instacart, how they function, and their pricing structure and business strategy, which we'll be analyzing today.
Is the grocery app a good investment now?
Since the year 2019, the market for grocery apps has consistently expanded. The global market for grocery-related apps has a valuation of $135.2 billion as of 2022 and is predicted to rise to $187.7 billion by 2024. Consider an app like Instacart, which saw a 200% increase in downloads this year.
The best part is that Instacart is a typical retailer. Many grocery delivery apps are already breaking income growth records. Additionally, due to the widespread COVID-19 outbreak, people preferred to stay inside, which raised the demand for grocery app development services.
How the Grocery App Works?
Most grocery delivery applications work in a pretty straightforward manner. That makes it possible for all kinds of users to access the app easily. Nearly all supermarket items are available on these applications, which let users create filters to streamline their search.
These apps essentially operate as a virtual supermarkets where customers can conduct hassle-free cashless transactions, quickly place order requests, and browse for products based on their needs. The process is made simple and convenient for users by an on-demand grocery buying app in this way.
Models for the Development of Grocery Delivery Apps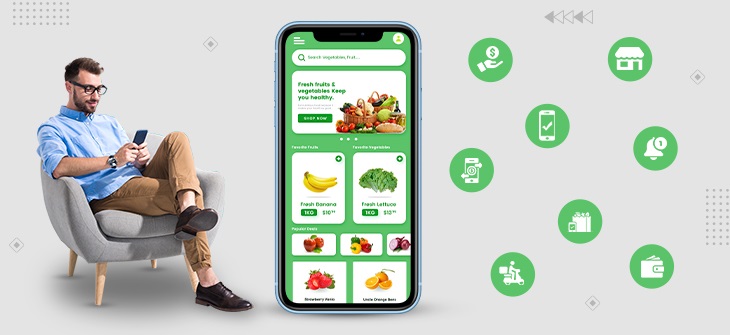 Brick & Mortar and Store-pick Model
The aggregator model, which employs partnerships with supermarkets, is frequently used by grocery retail or wholesale businesses that either operate their grocery stores, like Tesco, or that partner with them.
In the aggregator business model, companies work with current supermarkets to gather orders and then distribute them using their chosen delivery method. Since the goods are readily available at the supermarket the company has partnered with and there are no additional warehouse expenditures, this strategy is relatively inexpensive.
Pure-Play and Warehouse Pick Model
Companies like FreshDirect, which don't own any physical supermarkets or partner with any of them, operate under this paradigm. Instead, they conduct their warehouse operations, where they store the goods and directly purchase from manufacturers and suppliers.
Model hybrid
This model combines both the store-pick and warehouse-pick models.
Money-making Models for On-Demand Grocery Delivery App
Three options are included in the business plan for an on-demand grocery delivery service that can boost your income. The best business or monetization models for an on-demand grocery delivery app are listed below:
Commission Model
The sellers and the business owner both profit from this kind of model. Let's examine the commission model's operation. The seller receives a portion of the commission from each sale that occurs on the app, and only a very tiny amount is deducted from the seller's commission for signing up for the app and the buyer's commission for purchasing goods through the app.
Advertisement Model
The advertising approach enables the sellers to properly position their ads on the platform. Vendors and sellers manage their advertising campaigns through the admin in this monetization approach.
Subscription Model
This type of business strategy is built on the subscription technique, as the name would imply. This includes several promotions that change depending on the subscription plans individuals choose to purchase. In a subscription model, users pay a one-time fee to become members and enjoy the benefits of the premium services.
Essential Features to develop a grocery delivery app
Create a profitable grocery delivery app by including the most in-demand features and making it user-friendly enough without confusing them.
What are some of the key components that most customer-facing grocery applications have?
Virtuous Shelving
We must first create a catalog of all the products, each of which should be categorized separately. Product cards with descriptions, images, nutritional data, suggestions, tags, and everything other information the client would require to make a purchase would be available here.
Grocery Checklist
For organized shoppers who want to organize their shopping lists before they start spending their supermarket budget, this is a need.
Market Pricing
It doesn't seem like a necessary function to be able to compare costs amongst stores. There will always be certain groceries that are more expensive than others.
In the center of the shopping experience will this choice have a chance to offer significant value. Like when a customer wants to buy groceries at the greatest pricing from various stores and have them all delivered at once. But the hassle of setting up an efficient delivery behind this business logic is too expensive.
Shopping Kart
What could appear to be a small option is an essential component of any mobile shopping app. Customers spend as little time as possible and make the most purchases when using a shopping cart.
The experience must be flawless, allowing users to swiftly remove or add products, obtain suggestions, and choose their preferred method of delivery.
Scheduling/Tracking for Deliveries
It's crucial to give clients a few delivery options (diverse time windows) and a pickup option when it comes to delivery. We can also include a map there so that we can follow the delivery.
By the way, while developing a grocery delivery app, location awareness is necessary not just for enabling clients to shop at their preferred nearby stores and far-situated establishments with unique products, but also for tracking couriers.
Signup/Profile
Without developing a user profile where users can enter their contact information, address, payment information, etc., we obviously cannot create an online grocery app. We also compile information on their activity to create individualized suggestions and organize marketing initiatives.
Personalization
We must largely rely on personalization features to create a grocery list app that is successful (powered by machine learning algorithms). And I'm not talking about preferences or other simple subjects.
Customers should be able to set up recurring orders, and we ought to give news and reminders, make repeat order options available, and make suggestions based on savings. Integrating with Siri or Google Assistant would be another wise choice to provide voice search or a fast purchasing experience driven by Siri shortcuts.
Some clients adore establishing spending caps. A grocery budget app that includes spending caps for each category (such as sweets, common, and deli items) would therefore enable them to further customize their shopping experience.
Social Shopping
Customers should ideally be able to read product reviews from other customers and leave their comments. Social elements like cart sharing and shared shopping lists can also increase the average order size.
Seamless App Features for Out-of-the-Box Grocery Delivery App
Customers' App
Streamlining the procedure for bridging the user-market gap
Filter for Search
Customers can order groceries from several businesses in various locations across the world using app solutions for grocery orders.

Placing an Order
Customers can place orders from their preferred store for their go-to item with only a few taps.
Live Monitoring
Customers can follow the progress of their order on a geolocation map. It helps to increase consumer confidence and trust in grocery delivery services.
Financial Integration
Due to a seamless interface for payment gateways, users can pay for their meal orders using Debit/Credit Cards, Internet Banking, and other methods.
Discounts and Reviews
Customers like using coupons to save money, so you should add this function to your app.
Driver App
The app keeps drivers in mind and is intended to make ordering simple.
Registration
It is easy for drivers to log in or register using the app using their phone numbers, Gmail accounts, or other social media profiles.
User Login
The delivery person can edit or add personal information to their user profile via the driving app. Only when the ID evidence has been presented should any changes be permitted.
Alerts
Drivers are notified when new orders have been placed with them using the grocery order tracking feature.
Management and Order Updates
The delivery person is in charge of updating the status because he or she will be the one to pick up the groceries from the shop and will therefore have access to more recent information.
Payment and Expenses
The delivery agent can access both payment and meal delivery order history using this capability.
Option to Call
If there is a problem, the delivery person can get in touch with the customer by phone or chat.
Store Module
Grocery delivery orders from customers are managed through the store management dashboard, and owners can accept or reject them using the partner app.
Profile
It enables business owners to sign up and create a profile that contains their firm's address and contact details as well as a thorough menu with prices and delivery options.
Store Management
Shops can create new menus or modify old dishes based on the preferences and items of their patrons.
Real-Time Tracking of Drivers
Drivers' whereabouts can be tracked in real-time by stores using their location. They can also see the delivery routes and the entire delivery time.
Manage Promotions and Discounts
To assist customers to save money when they buy meals, retailers may create new discount deals and offers or modify already existing ones.
Payment History
All orders can be managed by stores in one location, and they can see a complete list of all orders, including those that are being processed, sent, picked up, and scheduled right now.
Push Notification
Online payments, new orders, the status of accepted or delivered goods, and other important information are all notified to stores.
Admin Dashboard
Control all aspects of the grocery delivery process.
Managing Customers
The dashboard shows the information on the customers, their preferred cuisines, stores, and orders.
Manage Drivers
It includes all of the drivers' data, such as their profiles, licenses, and other crucial details.
Administration of Commissions and Payments
Store owners can easily create and manage payments and commission rates from the panel.
Timing & Catalogue
Stores can create and maintain many catalogs at various times using the admin panel.
Regulating the delivery area
The panel allows business owners to monitor and control all supermarket deliveries.
Analyzing
Identify potential areas for growth and expansion by acquiring current knowledge from reports and other data.
Promotions
You can manage your promo on this panel.
Cost to Develop a Grocery Development App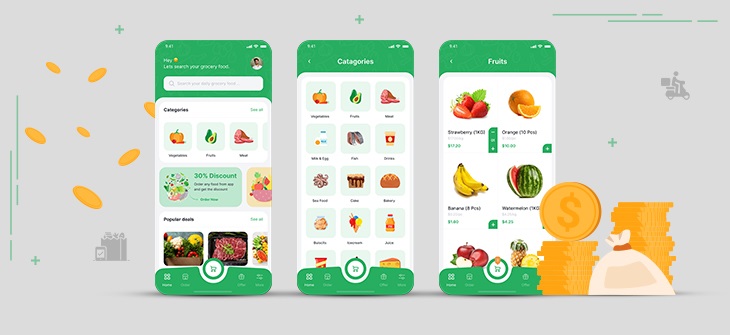 The precise cost of developing an online grocery app is a question we can only answer after thoroughly examining your project's requirements and goals.
The amount may change depending on a few elements and how your needs change. Let's examine each factor in greater detail:
Team Size for Development
The size of the development team has a major impact on the cost of developing an on-demand grocery delivery app. QA testers, project managers, team leads, app developers, and app designers should all be on a development team. To ease the hassle and make the app development process a cakewalk, hiring a grocery app development company can never go wrong.
Characteristics and Features
The two key components that have the greatest impact on the development cost are features and functionality. Simply said, the cost of your on-demand grocery delivery application will increase as you add more features.
Platform
In general, you won't incur much expense if your app is solely created to serve a single platform. However, it may cost a little bit extra if you want your software to work on two or more platforms. You can choose cross-platform grocery app development if you want to attract customers from both platforms.
 Maintenance and Support
Once you start using your grocery delivery app, the cost of designing it does not end. You'll need to update the app regularly to keep your users interested in new features. There would be extra maintenance and support fees as a result.
Marketing
The app must be uploaded to the App Stores for listing when it has been developed. Along with the one-time charge that you will be forced to pay, the app will undergo professional evaluation and scrutiny to see whether it meets the App Store standard.
For the MVP, you'll need about $300K to create a grocery delivery app similar to Instacart. Otherwise, depending on the size of your product, the range could be broad. To build a grocery app (in its MVP form), $150K might be sufficient in some circumstances, but $400K+ may be needed in others.
Words to Wrap
To launch your on-demand grocery delivery business with the assistance of the development of an on-demand grocery delivery app. Make a list of everything you need to incorporate into your grocery delivery app following the fact that costs rise as you add more features.