Did you realize that there have been mobile banking apps for more than ten years? Consumers prefer mobile to internet banking, did you know that? Did you know that industry titans like Google and Apple have already entered the fray?
As per Statista, today, around 2.043 million people utilize online banking services globally. Additionally, this number will rise to 2.551.8 million by 2024. Does this suggest that banks should work tirelessly to develop software solutions that cater to the demands of a modern client and migrate certain offline bank branch services to the digital sphere? Undoubtedly, it does.
Even the simplest financial activities in the past needed a trip to the bank branch during business hours. You can now hold everything in the palm of your hand. Users now make decisions based on the functioning of the conventional bank's app, and for good reason.
Mobile Banking Apps: Worth the Hype
Let's begin our examination by looking at market research for banking applications. By 2022, approximately 80% of all US millennials are anticipated to regularly use banking applications, according to Statista. It indicates that the younger generation almost cannot envisage life without such technological advancements.
Regarding the advantages for you as a bank or financial institution, an app is beneficial to you because the worldwide capitalization of the banking application industry is expanding quickly every year. Only $0.6 billion was in 2015; it increased to $3.6 billion by 2020. Is this not a sign that each bank needs an application to operate? The solution is easy to see.
Generation Z and millennials are taking the lead since they are accustomed to handling their finances through smartphone apps. Millennials in the US alone use their bank accounts 8.5 times each month using a mobile banking app (versus 3.1 times for non-Millennials). To create a credit card account, 61% of Millennials choose to use their smartphones.
Why Should You Invest in Mobile Banking Apps
Banks without a dedicated mobile application are at threat of being thrown out of business very shortly. Users love such applications because of the provided convenience and instant access to banking services. Mobile banking apps work as a bridge a balance between advantages for users and businesses. It's not enough to know how to create a banking app. You need to understand what business benefits you want to get.
A larger clientele
Nothing can stop the popularity of mobile banking from increasing. Your clientele will increase dramatically as a result of the convenience offered.
Tailored services
Artificial Intelligence and Machine Learning are two technologies that can power mobile applications. The data the systems gather may be utilized to give mobile users a highly customized experience. The information gathered will also assist in developing user behaviour models to determine how to develop a banking application further.
Fresh marketing avenue
By developing a mobile application, a new marketing channel will be made available. The information gathered may be used to develop special deals, advertise other services, and alert clients of changes to your operations.
Lowering operating costs
Significant operating cost reductions result from moving some or all processes online. You don't have to set up a branch or many in each place where you have customers.
Enhanced users loyalty
Banking services are available to customers everywhere in the world. They can instantly pay their bills, obtain customer service around the clock, check their balance, and do more. A better customer experience is produced by combining all of these factors, which boosts user loyalty.
A profitable investment (ROI)
Reducing the number of offices, employees, and branches allows banks to make significant financial savings. By going online, you may improve ROI and save costs.
Must-Have Features in a Mobile Banking App
Your app had better meet up to client expectations if you're just starting to create it from scratch, and the developers have had plenty of time to develop them.
Here's the list of must-have features to add to a Mobile Banking App.
Transactions And Balance
The main features of a bank-produced mobile app are now balances that can be seen at a glance and transaction history. Showing users what they possess and making it easy for them to locate and recognize transactions is typically the first thing they see after installing an app.
Payments
Everyone enjoys banking from their couches because of mobile payments. Integrate with as many service providers as you can to provide your consumers with the ability to settle debts and mortgages, pay for daily costs, and send money to friends and family. They ought to be able to pay for anything, in theory.
Push Announcements
Nobody wants to miss these notifications. Notifications may also request authorization for a planned transaction in addition to providing account status updates, which users may grant with a simple touch. That is the ideal method for persuading someone to enrol in automatic pre-scheduled payments.
Control Cards
Customers ought to be able to block their credit and debit cards, transfer them to other accounts, establish limitations, modify the PIN, and perform a variety of other actions that their banks support.
Authentication By Bio
Particularly when it comes to personal finances, security is everything. Make your consumers feel safe and at ease at the same time by introducing support for fingerprint and FaceID sign-in. And everyone prefers to tap or quickly scan their phone to sign in.
Amount Tracking
I'm not sure about this one, to be honest. On the one hand, all of the top banking applications for smartphones display graphs or bubbles that categorize the user's costs. On the other hand, if you're just getting started, it's unlikely that your consumers require that.
Advanced Features to Stand out from the Competition
Let's say you want to design a banking application that will stand out from the competition. If so, think of some distinctive traits that might add value. And if you want to be among the best, at the very least, think about including the following capabilities.
A Voice Assistant Or Chatbox
A powerful chatbot or voice assistant might be the icing on the cake for your app. Only 1% of Bank of America's 27 million+ mobile clients switch off Erica, the company's AI-enabled chat and voice assistant, according to their statistics.
ATM Access Without A Card
It's a huge thing to be able to make a cash withdrawal if you leave your card in your car. Some applications will allow you to use ATMs even if you don't have a card by using QR codes or another type of interaction.
Personalized Alerts
You may improve the app with alerts that activate depending on certain parameters in addition to regular messages notifying users about their most recent transactions and balance condition. When certain sorts of transactions, etc., exceed their daily or monthly expenditure caps, such warnings will appear.
Track Other Branch Services
You will receive the most value per client if the remainder of the bank's goods is easily accessible via a mobile app. Customers may also apply for a loan straight now, without having to travel to an actual location, wherever they are.
Personalized Services
According to projections, mobile e-commerce will account for 72.9% of all e-commerce revenues in 2021, reaching $3.5 trillion. Take advantage of the cashback feature today. A benefit like this will entice bank customers to use in-app purchasing. Furthermore, cashback serves as a helpful foundation for your loyalty program.
Consumers may develop trusting, valued connections by using coupons, discounts, and special offers. Without a doubt, they will attract more customers and boost revenue.
Step-by-Step Guide to Develop a Mobile Banking App
Do your homework and develop a plan.
To create a distinctive value proposition or business model, it is crucial to be aware of your rivals, the status of the industry, development trends, and the demands of your consumers.
Create and test a prototype.
To make your concept a reality, you must first develop a prototype that shows the logic, organization, and arrangement of the app's design, aesthetics, and content. Additionally, it is ten times less expensive to remedy a design mistake during prototyping than it is to do so later in the development phase.
Establish the foundation for security
DevSecOps integration into the development process and collaboration with a team that is familiar with the most common risks (such as OWASP's top ten vulnerabilities) are the best ways to keep your app safe.
Create the UI/UX.
The best practices in banking app UI/UX design include that you should provide a customized customer experience, making the account practical and beneficial, aim for usability, and make sure the app is transparent and secure overall.
Pick a stack of technologies.
Since each project is unique, there is no one-size-fits-all stack for online or mobile banking development. However, a well-chosen tech stack will aid in cost reduction, accelerated software development, and shorter time to market.
Develop the app
Either an internal team or a software development outsourced provider can help you implement the app. If you have the time and money to engage banking software development experts, the first strategy works.
Integrate third-party solutions
Best practices for data integration let you add external features to your program rather than creating them from the start.
Release and maintain
The most spectacular and satisfying part of the trip is when the application is released. However, only if you work with vetted banking app developers or have pros on your staff. They will assist you in finalizing your app and getting it ready for upload to the Google Play and App Store.
Promote your app and gain user reviews.
For a seamless app submission, banking app developers must adhere to numerous guidelines set forth by Google Play Market, Apple App Store, and Microsoft Store. After the app is released, the first reviews, ratings, and stars should appear.
Enhance, maintain and modernize
Reaching out to your audience for insightful comments, working with reviewers, and asking influencers and opinion leaders to try out (and subsequently promote) your app are all fantastic ideas. Spend as much time and energy as is necessary on enhancing your app.

Challenges in developing banking apps
The market for banking applications has expanded significantly since that time. Today, almost all large banks have their apps. The challenges stated below will undoubtedly make the process of developing a mobile banking app easier.
Security
One of the most significant issues that banking app developers must consider is security.
KYC adherence
Know Your Customer, Know Your Client, or KYC check are acronyms for these terms. The term "KYC procedure" refers to the evaluation and monitoring of risks as the verification that your clients are who they say they are (and are not likely to be involved in organized crime). Through the use of Proof of Identity (POI) and Proof of Address, KYC procedures assist in reducing fraud and preventing and identifying money laundering, terrorism funding, and other corruption schemes (POA).
Password Safety
Make people develop complex, one-of-a-kind passwords. After a given time, you can also insist that they change their passwords.
Storing pointless data
Maintaining corporate data is equivalent to spinning the cybersecurity die. The dangers of data security exposure increase when there is an excessive amount of information kept without a valid legal or economic cause. Monitoring IP addresses, geolocation, in-app activities, activity logs, and device data, however, is a very different matter.
Using two factors to authenticate
Using two-factor authentication, you can confirm that your customers are who they say they are. 2FA frequently combines a password, pin, smart token, mobile signature, or biometrics for greater mobile banking security.
Payments Barrier
Setting blocking to restrict the use of payment cards to dubious channels or particular circumstances is another way to combat fraud. To unlock these transactions, enable 2FA.
Regulations
Launching the creation of financial software necessitates adherence to several rules, norms, and regulations.
Cost to Develop a mBanking App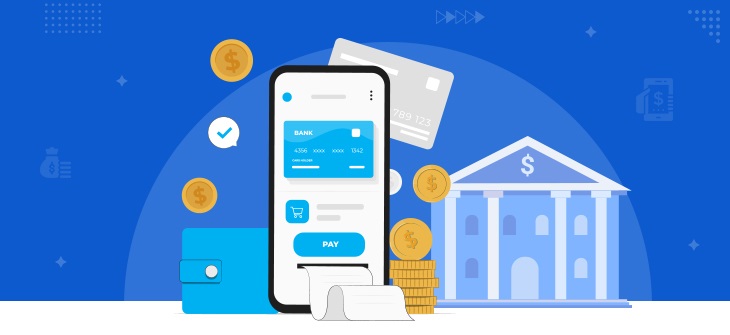 The question doesn't have a precise solution. The ultimate cost of mobile banking app solutions is influenced by the scale, complexity, technology, and urgency of the project. The price to design a banking app can range from $100,000 to $500,000+ based on several factors:
A few of the elements influencing the realistic budget are as follows:
Technology stack for the Work Breakdown Structure (WBS)
anticipated deadlines
API integration services engagement framework
time and Resources,
Dedicated team and team augmentation
Building an MVP might take six to 10 months. The length may vary depending on whether you require a simple project with minor adjustments to your existing application or a complicated one requiring the creation of a unique banking app from start. It will take longer to build mobile banking apps with better functionalities.
Words to Wrap Up
Digitalization alters the fundamental structure of the financial industry. Although it takes a lot of work to create an effective and safe mobile banking software solution, the market is receptive to new difficulties and a seamless financial experience. Without allowing customers to access your services through a mobile device, you will no longer be able to attract new customers and retain existing ones.
A successful mobile banking app depends on its enhanced security, appealing design, and accessibility to bank services and goods. When developing an app of this size, it's crucial to plan out the essential feature set for the initial and subsequent app versions and to ensure that the MVP aids in identifying any significant design or product-market fit issues.