Mobile applications can compromise user details and information in multiple ways. Cyber attacks are happening everywhere these days and mobile applications can't stay untouched from them. Mobile applications are based on internet surfing in specific way. As people surf the web for getting information or purchasing or selling something online, they're using mobile apps to do so these days. Likewise, mobile app creation services are also getting famous.
You can find multiple ways to enhance the security definitions of your mobile application. Your mobile security can raise the worth of your online business to a higher extent. People like to use mobile applications with the best security measures. They don't want their personal information to be used and accessed here and there. That's why Mobile App Creation Services need to be safer than earlier.
Through this post, we'll discuss the different ways you can safeguard your mobile app for user protection and recognition. You can raise the value of your mobile application and online business by using the below-mentioned tips for creating a safer mobile app. Let's have a detailed discussion over this.
10 Ways You Can Create a Safe Mobile App for Your Audience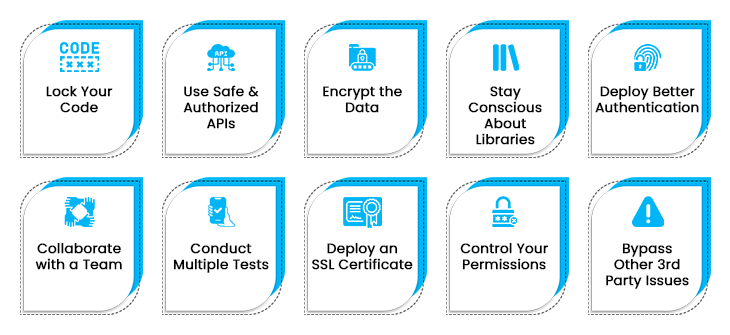 Moving ahead, you should know the different ways you can safeguard your mobile application for user convenience. By knowing these ways, you can improve your app security to the next level. The more secure is your mobile app; the better is your business reputation in the app market. Mobile App Creation Services can be very helpful in terms of app security.
You can hire an app development service provider for getting better insight into what makes your mobile application more secure and safe. Mobile App Safety and Security is essential for both the App Company and the users. To make your mobile application safer, you can follow the enlisted ways or ask your app developer team to do so:
1. Lock Your Code
The top thing that you're supposed to do is to lock up your back-end code. Your mobile app back-end is the foundation of your mobile app content. If someone conducts a cyber attack on the same, it could become a problem for your entire mobile application. For overall Mobile App Safety and Security, it is important that you should lock your mobile app back-end code.
2. Use Safe & Authorized APIs
Unauthorized APIs can surely bring a cyber threat to your mobile app business. On the other hand, authorized APIs are safer and very easy to use. An API stands for Application Programming Interface. It is a software interface that provides different services to other software. It works as a medium between a system and a system user.
3. Encrypt the Data
Encrypted data is translated data. It consists of all the back-end information of your mobile application translated into cipher text from plain or ordinary text. Without an encryption key, an outsider can't see the information in a corresponding text. The user will always need an encrypted or decryption key to review the relative data. As such, Mobile App Creation Services can safeguard your app product.
4. Stay Conscious About Libraries
You can either use a 3rd party library or an integrated one for creating a mobile application. These libraries include various functions and features that could be deployed on the mobile app. However, Mobile App Building Company has to be more conscious while using 3rd party libraries. These libraries are not a part of a mobile app framework and are extremely insecure at times.
5. Deploy Better Authentication
Additionally, you can provide high-level authentication to your mobile app. A better authentication means that you should pay focus on secure passwords and user id for your app admin and users. These passwords can safeguard the user or admin access against anonymous interests. Though, cyber attacks usually take place in the case of monetary transactions, deploying better authentication is a must.
6. Collaborate with a Team
A mobile app company can also employ a team providing security and maintenance assistance. By collaborating with a team, the app developers or App Company gets multiple security ideas and solutions. A Mobile App Building Company can suggest various app security and safety solutions if accommodates a separate security team. This team provides planning, research, and brainstorming the app-building process.
7. Conduct Multiple Tests
Before deploying a mobile application on various app stores, developers need to conduct proper testing. The testing process can vary among different time frames depending on the tools and techniques used. Mobile app testing is simply about undergoing the user experience on a mobile application. By conducting multiple tests before launching a mobile app we can easily enhance the app's security.
8. Deploy an SSL Certificate
An SSL certificate is a gateway to a mobile app or web access. It represents an icon of a lock on the top of the web page and indicates that the website is safe to use or share your credentials with. Many app users and website visitors check the SSL certificate before reaching out to a website and using it to fill up a form. Various Mobile App Creation Services also come along with such SSL certificates.
9. Control Your Permissions
A mobile application can give different permissions to the app users. It can also block such permissions in case of outside threats to the mobile application. Therefore, app developers need to minimize various app permissions over time. These app permissions can give birth to new cyber attacks in the future. People access a mobile app from various devices that could become a security threat.
10. Bypass Other 3rd Party Issues
While building a mobile app the developers often deploy various 3rd party features as integrated solutions. People like these new-age mobile app integration features and functionalities. These functionalities include- AR/VR Integration, Beacon Integration, Bluetooth Integration, Payment Gateway Integrations, and more.
Wrapping Up
By creating a safe and secure mobile application, you can target a huge audience and retain their interest in your app features for longer. Reach out to the corresponding Mobile App Creation Services and enhance your app security like a pro. Raise the user interest and recognition for your mobile application today.