How to Create App Like WhatsApp in 2022?
Before WhatsApp, Facebook was the leading online chatting and messaging website in the world. The audience majorly used web surfing those days and mobile applications were not very popular. WhatsApp came as one of the initial applications on iOS, Android, Windows, and Symbian and changed the private chatting and messaging trend forever.
The demand for such apps doesn't come down and these apps additionally work as social media platforms for private conversations. People in a family can generate group conversations and stay updated on one another's life. To make a App like WhatsApp, you have to go through their business model. You can get inspired by many other app companies in the market. WhatsApp has encouraged other online businesses to introduce their chatting app ideas and they have become successful locally and globally. Facebook Messenger, Telegram, Viber, WeChat, and Skype are some notable examples to consider.
In this post, we've mentioned how you can Create a app like WhatsApp.
So, Let's proceed!
What is WhatsApp Chat App?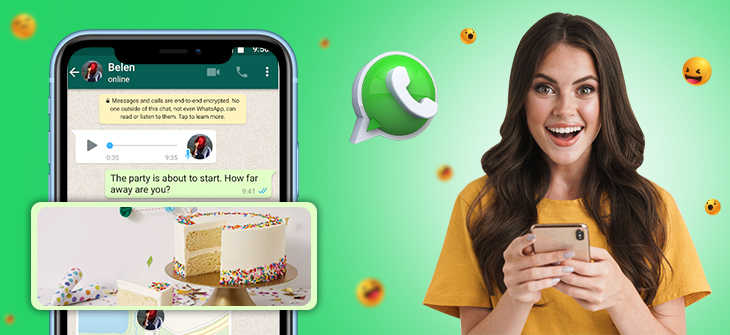 Before developing a new chat application, we must get an insight into WhatsApp's business model. It doesn't mean you're supposed to copy their business strategy but you can get many ideas for your business establishment. WhatsApp was introduced in 2009 by Jan Koum and Brian Acton as a social media chatting platform. The application arose into prominence in 2011 with the rise in sales.
Businesses want to invest in an instant chat app because these apps require a lesser budget and have got minimalistic features. As such, instant chat apps differ from social media apps. Social media apps have got more functionalities and seem stuffed with different forms of information. WhatsApp is a cross-platform application and is available for both Android and iOS users.
WhatsApp Features and Amenities
WhatsApp is providing for more than 1.5 billion users globally. Its popularity has increased over time and its ground breaking features are responsible for that. It has got a simple UI with minimal components that have got a huge user attention over time. Mobile App Development Services are also improved over time following WhatsApp and its incredible features. Enlisted are some leading features and facilities available on it:
1. Exchange of Text
Before 2010, there was no trend of chatting but just emailing. People used to share important messages and documents through email which were not personal. Then came Facebook and Orkut and people started having written conversations with friends and family. WhatsApp even further simplified such conversations and provided a faster and more convenient chatting facility to the users.
2. Sharing of Multimedia
As WhatsApp started growing in the app market, it introduced sharing of various multimedia files and components such as Images, Videos, Infographics, and GIFs. Nowadays, Mobile App Development Services is also providing new Emojis and Sticker ideas to clients and corresponding app companies.
3. Exchange of Geolocation
People who are traveling to a new and unknown place are finding this feature amazing. They can share their location with their friends or cab booking services for getting picked up and reach out a destination safely and timely. They can also go to a specific location suggested by someone on WhatsApp.
4. User-Friendly UI
As discussed earlier, WhatsApp comes with a user-friendly interface that encourages more user participation and engagement. App like whatsapp Development Company always makes sure that the users don't find it complicated using the app. The interface should be easy to adopt and understand.
5. Top Quality Video Call
WhatsApp delivers one of the best videos calling facilities in the market. Now, it is being used as a video calling platform in the corporate workspace. Moreover, users like it for private calling and sharing of documents. Students share their documents via WhatsApp in schools and colleges.
In this way, WhatsApp has simplified online chatting, messaging, and sharing of documents by providing various advanced features. You can also introduce new ideas and features associated with your messenger app business and target new and aspiring users!
How to Build a Chat App like WhatsApp?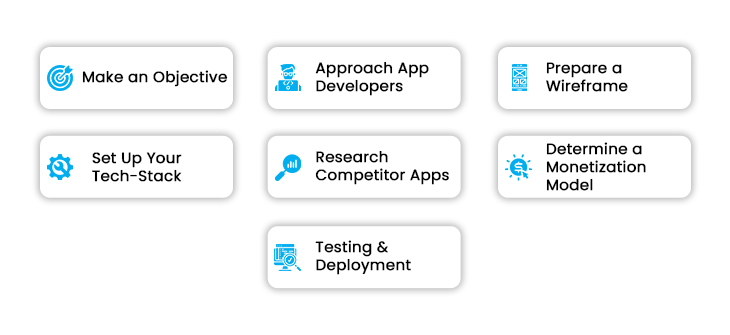 WhatsApp might seem to be a simple chatting application but you could face some issues developing your messenger app accordingly. Things have changed and app users keep looking for the latest features and functionalities. After the app launch, you should keep updating your mobile app for user convenience and overcome the competition.
In this segment, we'll thoroughly discuss how you can build a chat App like WhatsApp. Have a look:
1. Make an Objective
A messenger app represents a specific business strategy. Not just a messenger app but every mobile app has a business strategy. The developers are supposed to generate a good return on investment against the client investment. That's why they need to know the client's main objective before initiating the development project.
2. Approach App Developers
If you're clear on your app-building objective, you can communicate your idea with a trusted app development team. You can also reach out to an app development agency for better advice and assistance. Today, you can find a freelancer agency on various platforms like Upwork, Freelancer.com, Fiverr, etc. App developers should be experienced and skilled enough to understand your business model.
3. Prepare a Wireframe
You should create a blueprint of your app development operations before getting started. You need to overcome future discrepancies and make your project flexible. A wireframe is a raw design of the mobile app or web operations drawn on paper. Most App Development Companies use a wireframe to manage the entire development project.
4. Set Up Your Tech-Stack
Tech-Stack comprises various tools and frameworks used to create a website or mobile application. Without using such tools, the developers can't achieve the client's objectives. A good technology stack can help in the timely submission of the project and eliminate various errors. You will need- A Programming Language, Database, Server Support, Hosting, OS, and Framework.
5. Research Competitor Apps
Competitor apps are very crucial for learning customer trends properly. App users can provide several hints without saying anything. The top messenger apps in the market provide exactly what users are looking for. WhatsApp didn't have a video calling feature initially. Further, users encouraged the company to introduce the feature.
6. Determine a Monetization Model
Now let's talk about earning. Mobile applications are made to earn and you can't waste your business investment right away. The Chatting App Development Service providers can suggest different ways to monetize your app. Moreover, you can also represent a unique idea to them regarding the monetization of your messenger app. The leading ideas are- In-App Purchases, Advertising, P2P Payment, etc.
7. Testing & Deployment
Messenger apps don't need high-level testing operations; however, they've got certain bugs too. The users won't endure any errors and mistakes as they've got WhatsApp. Moreover, there are many other instant chatting apps available on Google Play and App Store. You must also get development assistance after the app deployment for maintenance and updates.
Final Words
Instant messaging apps have transformed personal communication to the next level. The concept is still fresh for many app businesses and users. So, have you decided to establish a chatting app business, or still thinking? Get in touch with a renowned App Development Company.