Electronic Vehicles (EVs) reflect the future of transportation and traveling around. These vehicles are encouraging more technologies to emerge over time. Electric vehicles are a part of IoT and could be accessed through the internet in the future. So, online businesses are searching for a Mobile App Development Company to create competent Charging Apps for EV stations. Mobile app developers stay updated on such technologies and integration solutions.
You can visit and show them your business plan related to such futuristic applications. They will suggest to you the latest integration solutions and features be added to your mobile app. You can also create a new app from scratch having the same innovative features. Get in touch with a trusted Mobile App Development Company to generate the best outcome for your investment plan.
Investment in EV Charging Station Finder Apps is a good move toward future opportunities. Many app businesses are initiating a mobile app associated with an electric vehicle. Some electric vehicle and automobile companies are developing separate mobile apps to let users track their nearest charging stations while traveling around.
In this post, we'll discuss how you can build a perfect mobile app for your EV Charging Station business model. We'll also analyse such mobile apps in detail.
About an EV Charging Station Finder App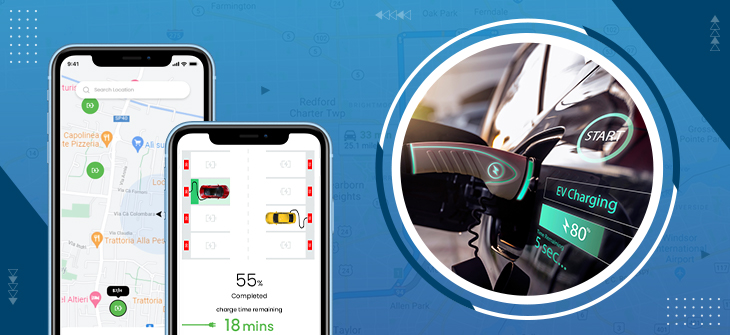 If you have a smartphone or stay updated on the tech news, you might have heard about Tesla and its revolutionary electronic vehicle division. The multinational corporation has anticipated the future of transportation and has inspired many automobile companies to come up with an electric vehicle plan for the future. Such automobile companies need a Mobile App Development Company and its support to create a corresponding app.
The customers who are approaching electric vehicles are getting updated on the relative mobile apps and their functions. Though advanced charging stations are still not much active in many regions of the world, the demand for EV Charging Station Finder Apps is surely going to rise in the future. If you're living nearby a place where such charging stations have already been installed, you can establish a perfect app for local usage.
Here's how these mobile apps work:
The user can sign up or register on the mobile app
Then the user has to fill up his/her local address or a particular city
This will let the users activate their Geolocation
The app now has access to your location and recommend all nearby charging stations
Users can also access some important information associated with the corresponding charging station like- Images, Cost, Active or Inactive status, etc.
Users can also book a specific time slot for charging their vehicle
They can also check the total amount they're expected to pay accordingly
Both iOS and Android App Development Services are open to relative app-building projects. The automobile app businesses should stay updated to the latest trends, user demands, and preferences!
Developing a Mobile App for Tracking EV Charging Stations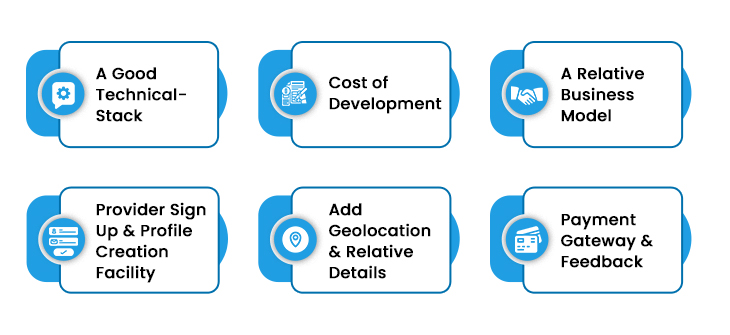 While creating an EV charging station app you need to take care of certain things. With the right app development strategy, you can build such apps from scratch without any hassles. Moreover, if you're approaching a Mobile App Development Company, make sure that the developers also take care of the below-mentioned points:
1. A Good Technical-Stack
Every app development company has a technical stack used to create various types of mobile apps and games. In this case, also, you need a perfect tech stack for your app development project. You can prefer different tools and frameworks depending on your app Front End, Back End, Database, Platform, Servers, Cloud Facilities, Payments, Push Notifications, and Analytics. Experienced developers will select the best options as per project requirements.
2. Cost of Development
The cost of development depends on various factors. Firstly, EV Charging Stations are very new to EV owners and customers. Secondly, many app companies are still learning how to integrate such features into an automobile app. Therefore, the cost of app development can go slightly higher in the existing era. You need to reach out to a skilled and experienced Mobile App Development Company and get better suggestions.
3. A Relative Business Model
If you're not interested in the automobile industry, simply skip the development plan. A business model helps you monetize your mobile app. Therefore, you must decide ahead of time. There are other profitable mobile app business solutions you can think about. However, if you surely want to build an EV charging station tracking app, you can integrate some eCommerce components and advertising elements to the same.
4. Provider Sign Up & Profile Creation Facility
Without such a facility, no app company can build its customer base. The customers use the app frequently and therefore you need your customers to create an account on your app. Doesn't matter if they uninstall the app shortly. You'll be able to notify them further. Every Mobile App Development Company suggests different sign-up functionalities and features to app companies. You must deploy a feature that provokes user participation.
5. Add Geolocation & Relative Details
Without the geolocation feature, you can't run a corresponding mobile app business. This feature helps users track a particular place depending on their location. They get the option of an online map to navigate where they're supposed to reach. This feature is mainly found in Taxi-Cab Booking Apps, On-Demand Food Delivery Apps, and Traveling and Tourism Apps.
6. Payment Gateway & Feedback
If you want to create an EV charging station app, you can't proceed without a decent payment gateway integration. The users will need to make payment at the charging stations and they would go cashless many times. So, it is the responsibility of app developers to add different online payment functions to the mobile app. Moreover, the users need to share feedback regarding the app's performance and the developers should keep that in mind.
Final Thought
You also need to include features like- Charging Slot Booking, Billing History, Push Notifications, AI Chatbot, Navigation, Rewards, etc. As such, your Mobile App Development Company can generate a compelling EV Charging Station app for your target audience and customers. For more information, you can consult a trusted and reliable app development company out there.