Mobile apps are compromising data privacy in different ways. The internet is becoming more threatful over time. What's the reason behind that? Mobile internet is becoming more assessable and flexible. Likewise, the demand for smartphones is increasing worldwide. But how does that affect global mobile app security? Mobile apps become a pool of information and data and that's where the threat starts winning.
As the smartphone demand is increasing throughout, mobile apps are expecting more traffic and user access. Hackers and malware attackers keep looking for such data and want to influence the user's actions on the app. That's a clear threat to mobile app security and the app company needs to overcome it. It is essential for the online reputation of the company.
However, you may find various solutions to such problems. If you're running a mobile app, you have the support of various app development companies that have expertise in security testing. But if you're an app user, you can also follow some tips and tricks to withstand any external threat to your data, and information on the app. In this post, we'll talk about those tips and tricks in detail!
How Active are Data Privacy Threats on Mobile Apps?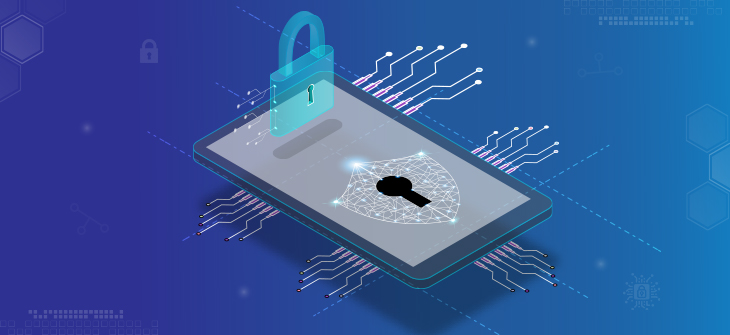 More than 5 billion people use smartphones across the globe. The number is expected to rise in the future. Android devices are very cheap and affordable and attract an audience in remote and rural regions as well. Hence, mobile apps could become a source of cyber threats for most of them. The mobile app security will be affected and hackers will keep searching for more important information.
In 2019, more than 43% of organizations compromised mobile app security. Many app companies think of cutting the cost by bypassing the app's security operations. But it doesn't help them in the long run. According to the Guardsquare analysis of the same year, less than 50% of financial app security for Android was also compromised.
Apps based on finance or online monetary transactions are comparatively vulnerable to various cyber-attacks. That's why blockchain technology is showing added interest in such mobile applications. Global governments are warning people against malicious sources of app download and installation!
Tips for Digital Security Against Mobile Data Privacy Threats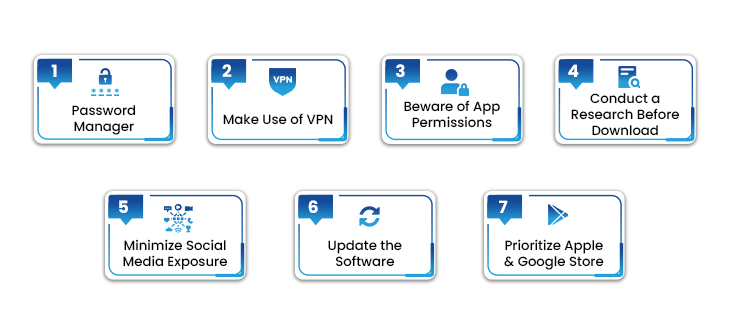 Data security threats can be of different types including- Malicious Apps, Ransomware, Malicious websites, MitM Attack, Phishing, Advanced Jailbreak, and more. Malicious apps are so much responsible for the app security for Android and iOS. Users spend a hell of a time on mobile apps and games. The chances of threat rise accordingly. In the words of Joe Baker-
"It is smart to avoid an app if it is the only one created by a developer or if the developer has produced another unreliable app before."
Joe Baker is a well-known IT system administrator at Anderson Technologies. Besides, here are some tips and tricks that you may follow to protect your mobile app and device against various data privacy threats from malicious apps:
1. Password Manager
Passwords protect your mobile apps and websites from being hacked. Consequently, the user data and information stay safe against various threats. By using a password manager, you can easily set up different passwords for different mobile app accounts. Password Managers suggest the best and strong passwords for your account and you can change them anytime. You can also make your own passwords but make sure they are very hard to crack.
One of the top Password Managers that we can recommend is- LastPass, Bitwarden, Dashlane, LogMeOnce, and RememBear. You can also try other options available online.
2. Make Use of VPN
If you have a private WIFI connection, that's fair enough. But a public WIFI connection could be threatful in many ways. It can ruin the app security for iOS or Android devices. By applying a Virtual Private Network (VPN) to your device, you can easily overcome such privacy threats from open-source WIFI networks. By applying VPN, you can also experience a little improvement in the app speed and performance at times.
3. Beware of App Permissions
The best thing is to go for Google Play and App Store for installation. The app security for iOS or Android is not compromised on these app stores. These app stores are associated with globally renowned tech companies and are totally trustworthy. If you're giving various permissions to 3rd party apps available on search engine results, you may invite various aspects of privacy threats and cyber-attacks on the app. Your personal information gets leaked.
4. Conduct a Research Before Download
We understand how essential a mobile app feature or product could be for you sometimes. But you're required to keep calm and conduct personal research before installing a mobile app and giving it various permissions. Research is very important to get beware of future security threats associated with a mobile app. The app security Android and iOS can be essentially affected if there's no research conducted as such. Search if there's a scam or data scandal related to the same.
5. Minimize Social Media Exposure
Social media sites can also bring threatful elements into the picture. Remember the Cambridge Analytica case associated with Facebook? The company was known to have breached the security of many users and companies having an account on Facebook. It could happen again on any social media site that affects the app security Android and iOS. It is advisable that you should limit your mobile app information shared on such social media platforms.
6. Update the Software
Mobile apps are also a type of software that needs to be improved over a period. Mobile app updates can be very helpful for both users and app companies to tackle security issues. The developers can withstand various hacking plans and protect the app users in the future. Therefore, mobile apps need timely maintenance and support from relative developers. They've got the experience to use various security testing tools before and after app launch.
7. Prioritize Apple & Google Store
Moving ahead, you must prefer to go with either Apple or Google Play Store. You may also go for the Windows app store for installing certain apps. These app stores are not 100% safe but you can find more trustworthy applications on them. If you're a gaming enthusiast also, you may find the best options on the relative app stores. Apple and Google Stores introduce new protocols for app companies to deploy their product from time to time.
Just like search engine protocols, app stores introduce new standards to promote high-quality app deployment on them. As such, mobile app security can be enhanced over a period!
Final Thought
To protect an application from unforeseen malware, spyware, and ransomware threats you can take various mobile app security measures or talk to your app development service providers for suggesting a solution. They have a detailed knowledge of tools, techniques, and security experts that could assist in protecting the app against such privacy threats. Secure your application today!