When it comes to eBooks, cutting-edge technology has made it much easier for millennials to access books and read more. The popularity of eBook applications is growing, and consumers are finding them engaging and enjoying reading books on them whenever they want. Businesses occasionally reach a breaking point when they must look for new, effective sales channels. No matter how prosperous a firm is, it must expand its consumer base.
Due to the substantial revenue generated by mobile applications, the number of apps being released in the app store is growing. It holds for organisations of all sizes, from a small startup showcasing its product to a large publisher seeking new methods to connect with people online and offline booksellers considering coming online.
Everyone startup plans to get online and reach more clients, whether it is a small startup, a large publisher, or an offline book shop.
Why are eBooks Platforms booming?
Due to the tech inception, our hands are packed with cool and handy devices with good screens to read. Mobile phones, iPads, tablets, and devices like Kindle are just a few examples of the technological disruption we are surrounded with. Therefore, consumers are always happy to have a convenient app where they can read and purchase books.
Better Consumer base
An app may increase consumer identification and brand exposure. The possibility that users will choose to support your brand is increased through in-app marketing, which delivers highly focused user communications.
Growing Potential
According to research, the eBook market's revenue would amount to $23.12 by 2026. You may avoid hauling bulky books by using eBook reading applications. Even while there are specialised devices for reading eBooks, such as the Kindle, they have limitations due to their one-use nature, as opposed to modern smart gadgets, which can solve a variety of problems.
Increased Brand Loyalty
When you create a website or mobile application for reading books, brand loyalty increases. If you maintain improving your application's internal structure and external aesthetic, your clientele will expand and users will continue to use it with loyalty.
Extra benefits for customers
By using your application rather than simply browsing online, your customers will have another option to communicate with your company and a more convenient way to buy books.
Customizability
People are accustomed to reading paper books, which cannot be altered. After being published, they will remain unchanged for all time. Mobile services, however, provide a new set of circumstances. You may choose the font, background, and more. The audience may, in essence, customise their book.
Features behind a robust eBook Reading App
For concept testing and creating an MVP of your eBook Reading app, basic functionalities are helpful. Adding more features will differentiate your application from that of your rivals.
For a better understanding, let's dive straight into it.
A Simple List of Books That Are Available
A work well started The book listing is where the eBook reading app experience begins and is frequently anchored. It is crucial to have a fantastic method for listing available books, including those that can be sourced as well as those that have been downloaded and are ready to read. Along with the standard genre classifications—nonfiction, romantic, historical, professional, and so forth—the state of different books—in-progress or finished—as well as length or rating sorting or other methods of title separation—are also anticipated.
Support Various Formats
The reading applications are compatible with a wide range of file types, including EPUB, MOBI, PDF, TXT, Word documents, and even encrypted eBooks like those protected by Adobe DRM. Their adoption has been influenced by a variety of factors, some of which are the capabilities they offer and others which are the backing and promotion from well-known platforms. However, it is still true that customers will have a variety of eBooks in various formats. Supporting as many formats as possible is therefore quite logical.
Keep Your Favorite Books in Synchronization
The local storage of an eBook for speedy offline access by a contemporary eBook Reader software is practically a given. These eBooks are often given to the user directly. The user will be able to clear the device's local cache without being concerned about the state of their cherished eBooks, though, after they have been added to your app's library and saved to a cloud backup mechanism. All that would be required is a call to action.
A Reader-friendly Interface
The next component of a good eBook Reader software is a user interface that is easy to use and well-designed. To provide a wonderful experience, the interface has to be well thought out and built. Every little thing counts. The real-world experience of reading physical books is the foundation for many interactions that are used often. Many developments have also been made based on the platform's capabilities at the same time.
Various Reading Resources
The next step is to enhance the reader's fantastic reading experience with tools and services that make it enjoyable. Standard and even anticipated facilities like bookmarking, a built-in dictionary, the ability to attach notes to selected text, and others can be used for this. Adding capabilities like the ability to add text to external programmes and the option to favourite particular areas are a logical extension of this.
Reading through gaming
These days, very few apps do not incorporate gamification in some way. There are several activities that may be employed to provide consumers an active, gamified experience in eBook reading applications, which are not unaffected by this trend.
Integrating Social Media
All applications will eventually have to acknowledge how social connections permeate every aspect of what we do as people. Modern applications with social integration have made it simpler to do so with people all over the world, replacing traditional practises where books were frequently lent as recommended reading or people came together to read and discuss a book.
Develop a Standout eBook Reading App Using More Features
Here are some extra features to improve the aesthetics of your app.
Personalization is your Best-friend
According to Deloitte research, over 36% of US customers choose personalised items, and almost 48% are ready to follow the same path.
Therefore, you may let customers select their favourite reading material through your app, including books, genres, subjects, and more.
1. Use a Captivating Design
Your mobile reading app's UI has to be appealing, simple to use, and intuitive so that users will keep returning.
Make Your App More Accessible
Users may use any OS and a variety of phones to access your app. You must design your app's cloud or online version to make this feasible.
You can scale up your app if it already has a web version.
Offer Reading Statistics
With detailed graphs and statistics, you can help your app users stay encouraged and monitor their progress. Users may view their reading statistics to see what books they are presently reading, how much time they have spent on them, how many books or pages they have previously finished, and more.
Make the Audible
While conducting other tasks, some consumers would rather listen to audiobooks than read them.
If your app doesn't already include the idea of an audiobook, you may add a text-to-speech feature to let users listen to books.
Regular Maintenance and Updates
A traditional book cannot be updated, but a mobile application can. As a result, keep upgrading your app to boost and improve its performance.
Offline Mode Must Be Considered
Naturally, there are locations on the planet where network signals are weak or nonexistent.
Your app's offline mode will look to the readers as a lifesaver and a godsend in such a situation.
Allow users to use your mobile reading app even when they don't have an online connection.

Monetizing Strategy of an eBook Reading App
The prime reason app developers release their products on the market, is to make money. If you don't have funding, you may still make money and create income with your eBook reading app by monetizing it. Most reading applications use the freemium business model. In simpler words customers download your app for free before purchasing books from your shop. To monitize your app, you may use integrated applications and newsletters. However, these additional strategies for monetizing your app are more potent.
Selling In-App Advertising Space
To allow them to post their adverts and make money from them, you may rent space in your app to relevant marketers.
You may provide users free access to your eBooks using this business strategy.
Paid App.
Paid applications, sometimes referred to as premium apps, are those that users must pay a one-time price to get from the app stores.
You can see how a mobile reading software makes money by charging customers up front. They'll compensate you for the individual book downloads or the app downloads from the app stores.
Any of these methods to create money are acceptable, but make sure the procedure is simplified.
Freemium
The most aftersought method to monetize an ebook reading app, where users are not charged for downloading apps. However, customers are given the choice to acquire premium features, virtual products, or extra material through in-app purchases.
Consider the "try before you purchase" option for the customers of the online book reading app, where you may provide certain fundamental features and books without charge. However, you may offer them a premium subscription now so they can access the unique features.
Subscription
Users must make ongoing payments to access premium features, content, or services through subscription-based apps. You may use this revenue strategy in on-demand book reading applications by selling monthly or yearly memberships, even if you charge for individual books or give anything out for free.
Additional Services
The book authors on your app may benefit from your cover design, marketing, and editing services by having better books. While you maintain quality control over your eBooks, it will guarantee premium material.
Partners & Sponsors
By collaborating with the same clientele, you may monetize your app. You may simply ask your partners to include your adverts in their applications by adding partner advertisements to your app. Later, you may offer an integrated user experience and incorporate features from other apps into your own.
How Much Does It Cost To Make An ebook App?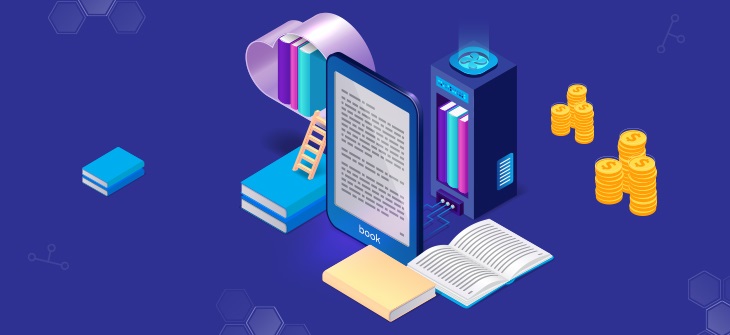 The price to create a mobile reading app depends on a variety of elements, including the level of complexity, the number of features, the developer's location, testing, etc.
Since many organisations employ various methods and have various criteria while developing apps. As a result, no one solution fits all situations.
The cost of developing an ebook reading app is truly dependent on several variables. The complexity of the software, features and functions, UI/UX design, app testing, choice of the operating system, and more are the main cost-influencing aspects. A little adjustment in these variables has the potential to significantly alter the cost of developing an app.
Project Manager
UX/UI Developers
Platform Developers (Android, iOS)
Backend Developers
QA Experts
Therefore, if we calculate the cost of developing an ebook reading app similar to Kindle, it will be in the range of USD 20,000 to USD 25,000+. App development might take 4 months to 9+ months, depending on the complexity of the app and the business needs.
Therefore, we advise scheduling a free consultation appointment with professionals before you make any decisions.
To get the best out of your e-reading app, you must consider consulting a reliable mobile app development agency for developing an eBook reading app.
Conclusion
A simple way for users to discover new books in a certain speciality and for independent writers and publishing houses to make money, reading applications linked to online ebook stores will continue to expand in a specific market area. While starting an eReader business is difficult and expensive in terms of time and money, the likelihood of success is also not remote.
You should take into account several factors while creating a mobile reading app, including a new product and new sales channels. To build a strong, devoted user base for a longer period, try to develop an application that will provide a comprehensive reading experience to your users.