As Covid19 pandemic restrictions are lifting out worldwide, Airbnb like apps are becoming active again. Airbnb has emerged as a great vacation rental app in the past 4 to 5 years. It allows the users to rent someone's house in case the house owner is out. Tourists prefer to go for such private properties instead of hotels and resorts.
Companies are looking for creating vacation rental mobile apps like Airbnb because the demand for such apps is rising among global tourists. An Airbnb house rental is much more affordable than hotel accommodation. It helps travelers and tourists in finding affordable rental homes that provide more privacy and affordability.
In this post, we'll thoroughly discuss how to develop a rental app like Airbnb. Let's get started!
What is an Airbnb? How does it work?
Airbnb is a US-based company that operates an online marketplace for primarily homestays for vacation rentals, and tourism activities Their business model primarily focuses on homestays and private properties. The tourists can book an entire villa, house, cottage, or cabin at a traveling location.
The landlord provides the keys to the property and the tenant can rent it for a few weeks to months. Airbnb is a fine example of such vacation rental app development and growth.
It is an American mobile app company that was established in August 2008. Besides the mobile app, the company has got a website for PC users. The company is specialized in providing personalized lodging and hospitality services to the users!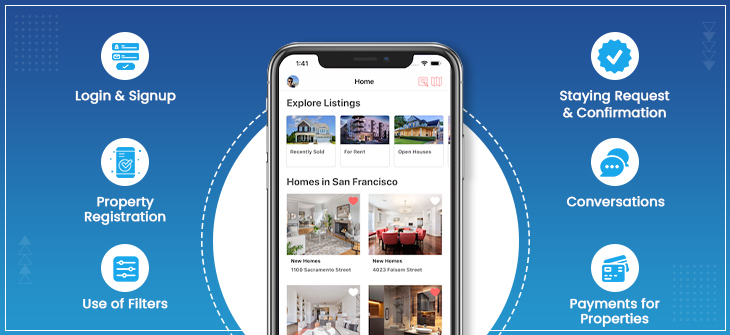 Airbnb provides its services through two mobile app versions- One is for Guests and another is for Landlords. So, the mobile application works accordingly. If you're planning to build a relative mobile application, you should also focus on both landlords and guests accordingly.
You can add different features related to the guest and landlord app. A Mobile app like Airbnb is generally based on 2 parties.
Enlisted are the different points that depict how Airbnb works for landlords and tenants:
1. Login & Signup
First of all, the mobile app lets the users sign-up and create their profiles. It is an identity of the app user that brings him several benefits over general users. After creating a profile on the app, the users can access various important features and functions of it.
2. Property Registration
Moving further, the property owners can register their property on the mobile app or website for user access. They can add photos and written information related to their property for getting more consumer recognition.
3. Use of Filters
For guests and customers, Airbnb app provides the facility of filters using which they could personalize their results. The filters consist of- location, price range, type of property, etc. A Mobile app development service is usually focused on such personalized functions.
4. Staying Request & Confirmation
Mobile app like Airbnb has got different aspects to work on. It allows the guests to do a staying request to which the landlords revert. They need to inform the guests and tenants way ahead of time. Landlords can confirm a tenant request using their mobile app version easily.
5. Conversations
Before booking a specific home stay the app users can get in touch with one another. The mobile application provides various modes of communication like- telephonic, chatting, video calling, emailing, etc.
6. Payments for Properties
Airbnb provides a payment gateway for app users and guests to make easy payments before deciding on a particular property. Travel and vacation app development is incomplete without such payment gateways these days.
In this way, the Airbnb app works for guests and landlords to collaborate and make out a property deal for vacation rental!
How to Build a Vacation Rental Mobile App like Airbnb?
The process of Mobile app like Airbnb development could be time-consuming and include various aspects to remember. Mobile apps like Airbnb are encouraging many other companies to come up with a home-stay or vacation rental plan. Enlisted are some points that you should follow to build a potential vacation rental app like Airbnb:
1. Build a Business Plan
Vacation rental and home-stay is an emerging business niche for traveling enthusiasts. They don't want to spend higher on a trip and keep searching for affordability. So, you need to build a business plan like Airbnb that focuses on more affordability for guests and users.
2. Reach out to Developers
If you don't develop mobile apps yourself, it's better to communicate with mobile app development service providers. App like Airbnb can't be executed without experienced developers. It may also take time if you hire a single freelancer at times. It depends on your mobile app content.
3. Introduce a User-Friendly Design
A mobile application design can surely bring higher ROI for your app business. Every mobile app has got a design that may or may not affect the user experience. Further, the user experience could be negative or positive. Therefore, you should include a user-friendly design on your vacation rental app.
4. Add Innovative Features
Introducing new-age and innovative features is another essential aspect of mobile app development for vacation rental. For example, adding a 360-degree virtual view of the property, a chatbot for quick solutions to queries, and more. Vacation rental app development is itself a very innovative concept.
5. Mobile App Testing
After conducting mobile app development, the app developers are supposed to execute proper testing and analyze mistakes. These mistakes can affect your mobile app performance in the future. You should conduct your mobile app test considering the guest and landlord experience in the future.
6. Launch & Updates
Decide early, whether you want to launch your vacation rental app on Google Play, Apple Store, or both. The developers face certain challenges while deploying their mobile apps on app stores. Moreover, the vacation rental app needs to be updated frequently based on the emerging user requirements.