Smartphones have become the best online shopping instrument these days. They are compact, portable, provide decent internet access, and are very easy to use. Users can review their favourite products and make a purchase decision anytime anywhere. As such, eCommerce App Development Services are getting popular among smartphone users and clients. Many eCommerce businesses are looking at creating a mobile app.
Earlier eCommerce websites had more demand in the market. Then the businesses realized how smartphones are transforming the online shopping trend. Today, we can't imagine a smartphone without such applications. Likewise, the eCommerce sector is also interested in building innovative apps to showcase its products and services.
Online shopping companies are searching for a trusted App Development Service to raise their business potential along with the app market. These services include pre-app-launch services to post-app-launch support and maintenance. eCommerce apps also undergo certain updates after the launch and the developers need to take of it.
An eCommerce App Development Company can suggest to you the best app building approaches as per your business requirement. Let's discuss the different reasons why your eCommerce business requires a mobile app!
Benefits of Getting a Mobile App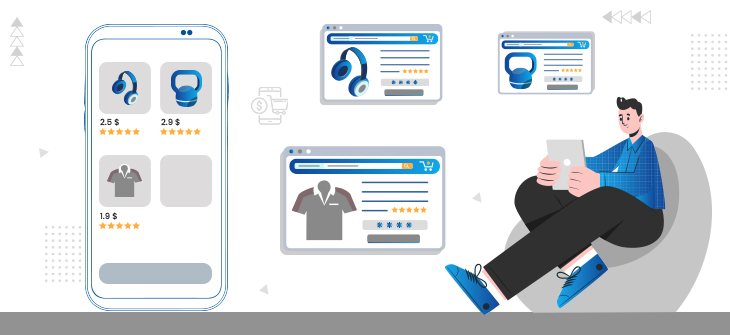 Some business models don't require a mobile app and the companies work accordingly. For example, a sole proprietor business that's regulated by a single person. However, such businesses are also listing their name on Google's local SEO. They don't need any eCommerce App Development Service as such. But, other business sectors, especially online businesses must get a mobile app to showcase their products and services perfectly.
Enlisted are some benefits of using a mobile app for an online business:
Mobile apps attract more user traffic than websites
Mobile apps have responsive design and therefore provide a better user experience
These applications offer more features and functions than websites
More user engagement and participation
More chances of conversions for your online goods and services
You can provide more value to your customers
Better mutual connectivity for both app users and app owners
Therefore, businesses are also approaching an eCommerce App Development Company to implement their online shopping ideas. eCommerce apps also provide certain benefits to the relative businesses. Let's recall those benefits in the next segment!
Why You Should Build a Mobile App for Your eCommerce Business?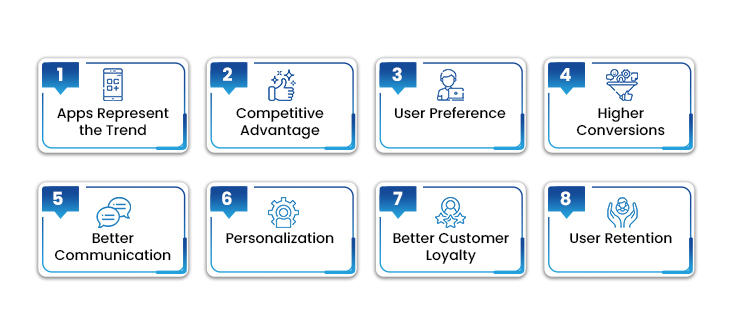 eCommerce businesses surely need a mobile app these days. Or else, they can face bigger competition to establish their eCommerce idea in the market. People don't need a website for online shopping today. They simply open their mobile app and purchase their favourite products right away. So, eCommerce App Solutions are becoming common among different online businesses. Here are the other important reasons why the eCommerce sector needs such mobile apps:
1. Apps Represent the Trend
The contemporary online shopping trend is incomplete without a mobile app. Customers can find such apps easily on app stores and the apps are often free to install. Some mobile apps also offer special discounts and coupon codes on the first sign-up of the user. Mobile apps also notify about new items and products whenever available as per user demand.
2. Competitive Advantage
New eCommerce businesses can't survive the competition if don't have a mobile app. Because every eCommerce and online fashion store is related to a mobile app today. Mobile apps are bringing more business opportunities to the eCommerce industry. So, you can hire mobile App Developer on the internet near you and face the competition for years.
3. User Preference
The customer is the king and the eCommerce business is entirely based on customer convenience. Therefore, mobile apps are considered important for business growth. Customers don't want to visit the eCommerce sites until accessing a laptop or PC. Smartphones are not made for web surfing alone. They've got an app for everything the users do on the app.
4. Higher Conversions
Developing an eCommerce app is not enough. These apps are made for online shopping and therefore represent a notable income model for businesses. An eCommerce App Development Service is also focused on bringing more and more conversions out of the total app traffic. The app owners also suggest innovative ways to developers for increasing conversions on the app. The developers implement the client ideas on their app.
5. Better Communication
The advanced AI chatbot feature is integrated with the eCommerce app these days. It helps the users communicate with the company regarding their problems and issues without getting in touch with any human being. As such, the users don't hesitate to share their problems with the app company. It improves the relationship between the app users and the company.
6. Personalization
Mobile apps provide better customization options to the users. They can filter very unique results as per their shopping preferences. eCommerce websites and apps have a huge database of products and items that need to be personalized for a great user experience. That's why the companies are approaching a good eCommerce App Development Service in the market.
7. Better Customer Loyalty
Experts suggest that customer loyalty is comparatively less in web users than app users. Mobile apps often have a unique logo that generates a good first impression among the users. They remember the company logo for a long time. Moreover, using a mobile app, they remember things better than the websites. As such, mobile apps become responsible for enhanced customer loyalty.
8. User Retention
Some users like a particular product but aren't able to purchase it right away. So, the mobile apps provide them the facility of the online cart and retain them for a longer period. The eCommerce company tries to maintain the stock of that particular item in the kart until the user has an active account on the same app.
Final Thought
In this way, an eCommerce App Development Service becomes crucial for the corresponding business model. So, many eCommerce companies are preferring to go with a mobile app along with a website.