How Do Free Apps Make Money in 2022?
You might have used at least one free mobile app before. In fact, Google Play Store is filled with such applications. On the other hand, App Store consists of paid applications and the users have to pay some amount before installing such apps. That's why many Play Store apps are not available on Apple Store. However, every mobile app is created to make some money. So, how do free apps make money? You can find various answers to this query.
It is not mandatory that you always charge the users at the time of app download. Hence, there are many answers to how do apps make money, App companies already make their monetization strategy for their business convenience.
In this article, you'll know how do free apps make money apart from installation charges. We'll also discuss other amazing features of such mobile apps that give you money in detail.
So, keep reading!
Difference Between Free Apps  & Paid Apps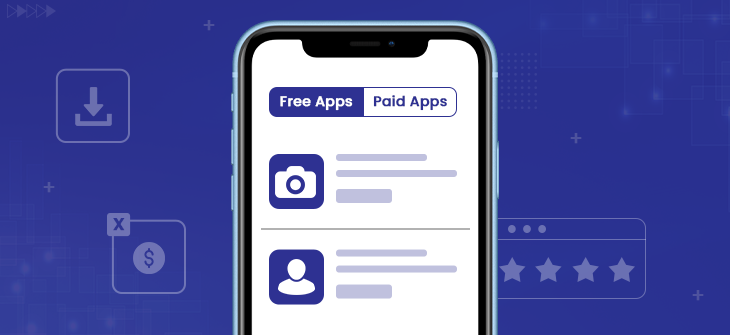 Before knowing how free apps make money you should get an insight into the main difference between free and paid apps. Enlisted are some parameters that articulate differences between the two. Take a look:
1. Platform
The platform used for deploying the app projects the first difference. Some platforms charge very high from the app companies for deployment, while some charge very less economically. Likewise, the app companies decide whether to implement installation charges or not. Usually, mobile apps on Apple Store take ownership and install charges.
2. Freemium
Free apps generally come in the freemium category. To know how free app make money, you can go for a freemium application and examine its features. A freemium app takes charge to make its application ad-free. That means such applications are involved in 2 ways of earning- 1 is affiliate marketing and another is offering a Freemium Subscription. Paid apps don't have such features
3. Direct Earning
Free applications are not involved in direct earning. But paid applications charge directly from the users. These applications don't give access to even basic features and demand a subscription plan right away. On the other hand, Free Apps focuses on an indirect-earning model. So, that's how do free apps make money through various means.
How do free apps make money in Different Ways?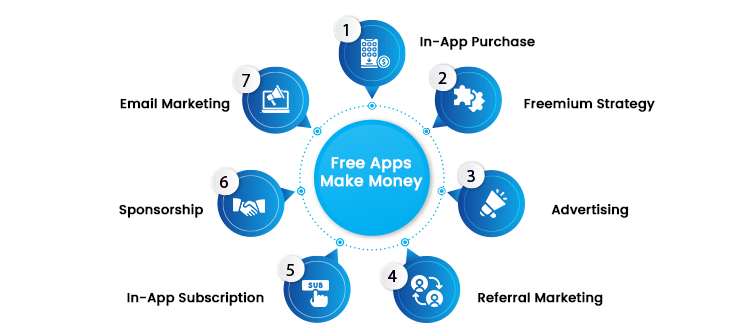 The app developers and marketers work on various strategies for mobile app monetization. Free apps don't mean the app owners aren't going to earn anything. In fact, they earn much better than paid applications at times.
To understand how an app earn money in this context, you can review and apply the following strategies to your app-building project:
1. In-App Purchase
This is one of the most common monetization models for free apps. In-app purchase means the developers and marketers offer a virtual or physical product for sale in the mobile app. The users may download or install the app for free, but if they're willing to purchase an online product or service, they have to pay through a payment option available.
2. Freemium Strategy
For a better understanding of apps to make money, you can try the freemium approach. YouTube and MX Player are the top examples of freemium apps. If you want to adopt such a strategy, you have to introduce some video content for online streaming. You can also offer a freemium plan on a mobile game. It helps users avoid advertisements.
3. Advertising
Apps providing freemium subscriptions also earn from advertisements. Users who don't want to get a freemium subscription to need to watch frequent ads and the app company gets paid for playing such apps. That's what we call affiliate marketing. These ads can be classified into- Banner, Native, In-Stream, Rewarded Videos, etc.
4. Referral Marketing
Referral marketing has emerged as a new and smart way of assessing how app makes money. Referral marketing means promoting someone else's application, product, or service on your app. You promote someone's brand and product on your app and even provide a purchase link to the users. The brands pay you for doing that if your mobile app gets ample user traffic.
5. In-App Subscription
This is one of the best answers to how do free apps make money. You can offer various unique plans and facilities to users by letting them get a subscription to your online content. This content can be in the form of text, video, audio, and animation. In-app subscription plans can be distributed on a weekly, monthly and annual basis.
6. Sponsorship
If you're looking to provide a B2B service through your application, sponsorship is the best money-making idea to go for. For example, if you start a food delivery app, you provide service to both customers and restaurant businesses. That's a B2B and B2C business model. You can earn money from various restaurants for sponsoring them.
7. Email Marketing
It is a technique that promotes subscriptions from outside. The marketers collaborate with designers to create attractive graphics used in email advertisements and get paid subscriptions right away. However, it is not that easy to let users spend on your subscription plan. You should offer very attractive and unique amenities related to your mobile app product and services.
Wrapping Up
We hope this information helps you understand how to earn money with apps. Now you can also create your free app and strategize your app monetization model perfectly to make money with free apps and also get in touch with the top mobile app development company.