E-Commerce is consistently changing the lifestyle of people in urban as well as rural regions. E-Commerce companies are making an incredible profit and getting huge customer traffic from various cities and villages. People get a variety of products on such applications and that's how E-Commerce businesses become successful. But the owners have to pay a higher app development cost while creating such E-Commerce apps.
E-Commerce applications like Noon are doing great business in the UAE and middle eastern region. Likewise, people depend on many local E-Commerce businesses around the world. Such business models have facilitated huge online shopping during the Covid19 outbreak period. Similarly, app development cost has fluctuated continuously over time.
We can see into its business model to analyze the ideal cost to build an app like that. In this post, we've mentioned the average cost of creating a relative E-Commerce app like noon. We've also mentioned the various factors influencing such costs.
Let's dive into the topic!
About Noon App
Established in October 2017, Noon is considered to be one of the most successful E-Commerce and lifestyle shopping app in the UAE. Besides the UAE, the company is providing services in multiple countries and is offering free shipping facilities. Noon has crossed the $1 billion revenue mark in the last 1-2 years. The company accommodates a 20 million product inventory. The app development cost also depends on such factors.
Noon's E-Commerce inventory consists of- Fashion Goods, Baby Goods, Sports, Household, Technology & Gadgets, Groceries, and other lifestyle items. Promoting such inventory can be a challenge if the developers don't deploy an ideal app design and structure. Every E-Commerce app is supposed to attract and retain app users. Hence, the developers must deploy top-notch features on such apps!
What's the Cost to Build an E-Commerce App Like Noon?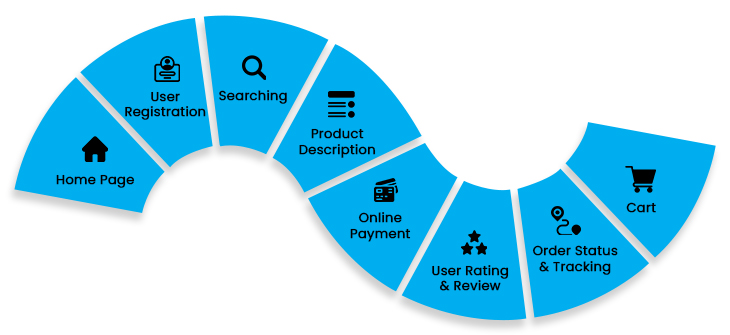 The cost to build an app like Noon depends on many factors including various app features. The developers have to review all those factors before starting the project to estimate the overall cost. They can't calculate the exact cost but make an acceptable assumption about the overall project expenses. These factors together comprise the app development process.
The process includes- App Designing, App Development, App Platform, Development Team Hired and the Time Take for Development. Other costs may also include Security Testing Operations and Post-App Launch Maintenance and Support. It may take 7-8 weeks for an eCommerce app development project to accomplish.
The average app development cost for building an E-Commerce app like Noon is $25,000 to $30,000. It can also rise beyond $40,000 in case you're adding highly advanced and futuristic features. Enlisted are the various aspects and features of Noon. By going through them you can analyze the overall cost of building an E-Commerce application. Check them out:
1. Home Page
If you're creating a website as well, you can face such costs and it takes nearly $1000 to $2000 for doing so. The mobile app can also have a home page that you can link out to various search engines and social media platforms. Homepage attracts great traffic from different sources and must be engaging.
2. User Registration
When you build an app, you must collect your future customers and retain their loyalty for longer. For doing that, registration is important. You can reach out to your top customers through their email addresses and update them regarding a specific product or service.
3. Searching
Furthermore, you're required to let your users search for a specific product easily. You can add an advanced voice search feature if your project budget allows the same. Searching can be customized and categorized as per various user preferences. Adding such features can cost $2K to $4K or higher.
4. Product Description
This is a part of the app content. An E-Commerce app is incomplete without a product catalog. It consists of a variety of Product Pictures, Product Information, Price, and Names. You can collaborate with a photography team to run such app development projects. It usually costs you decent.
5. Online Payment
Online payment integration is today a part of such E-Commerce sites and apps. The features have become basic and can't be overlooked if you're looking to build an E-Commerce app like Noon. The feature consists of an online bank transfer, wallet transfer, or UPI transfer and is very useful for online shopping. The cost of the payment gateway feature can be $75 for installation and $30 for monthly maintenance.
6. User Rating & Review
Users keep rating different products available on E-Commerce apps. These product ratings and customer reviews help new users understand the worth of a specific product. The users can share their reviews regarding drawbacks in the product and the delivery service. So, it is a very important feature.
7. Order Status & Tracking
The users want to track their order until it gets to their place. They expect a live tracking feature on an E-Commerce app like Noon. Based on the live status, they can contact the delivery executive in case of any plan shift or a personal condition. Their order status and tracking details are available on the app.
8. Cart
Most eCommerce apps and sites offer this feature to let users store their favorite products in the cart. They don't need to purchase the product right away. They can buy it further when available with ideal cash or transactional amount. They can remember the product name and brand for a long period.
These features contribute to the cost to build an app like Noon or any other E-Commerce app. You can add more features depending on your business requirement and target audience. But, make sure of the right development cost of your project!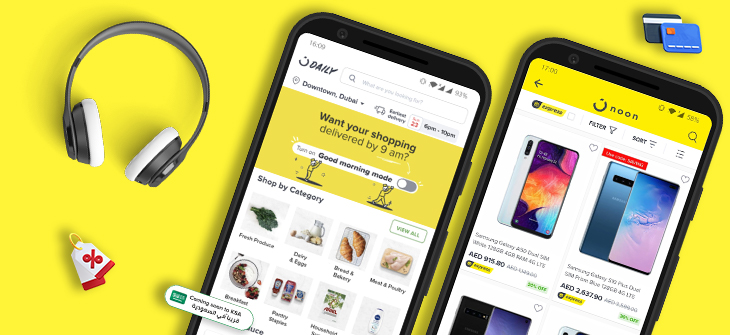 How to Monetize Noon Like Apps?
App monetization is crucial for compensating the total development cost. An E-Commerce app is made to earn money and establish a good business. So, setting up a good source of earnings is equally important. The cost to build an app like Noon continues after the launch. It keeps increasing with time as the mobile app needs maintenance. A good monetization model may also control such future costs.
Here's how E-Commerce apps like Noon are monetized:
1. Sign-Up Fee
These E-Commerce apps provide a special membership plan to people who sigh-up for the first time. The sign-up fee is not very high but the users expect more benefits compared to non-members of the E-Commerce company. This paid sign-up can bring good money collectively for your mobile app.
2. Subscription Fee
Some E-Commerce apps are not in the favor of paid sign-up and provide a subscription plan instead. These subscriptions also offer certain benefits to the members and they can enjoy some discounts and attractive offers compared to general users. To create app like Noon, you must think of such attractive plans
3. Commission
E-Commerce apps are popular for the daily sale and purchase of goods. On each purchase, the E-Commerce apps like Noon earn a commission. That's how these applications earn and raise a new business opportunity. Whenever you create app like Noon you shouldn't miss the commission-based monetization at all.
In this way, you can surpass your app development cost with your commission and even invest further in your business growth. Monetize your E-Commerce app and get higher user recognition in the market!
Ending Note
The best way to control such costs is to approach an e-Commerce app development company or a developer's team having years of experience providing for E-Commerce projects. The team must have client handling and managerial skills for better collaboration. Likewise, you can estimate and control the app development cost for your E-Commerce business just like Noon. All the best!