Mobile games are doing amazing in the online market. The requirement for such games has grown in the past decade in different regions of the world. Some mobile games have also entered the eSports segment and conduct global tournaments annually. Some popular games in that category are- PUBG Mobile, Call of Duty: Mobile, Asphalt 8: Airbourne, Asphalt 9, etc.
In this post, we've mentioned a comprehensive guide for determining various steps for mobile game development from scratch. By going through this guide, you can make a game app of your own.
Let's start!
Current Mobile Game Market Performance
Before 2010, the mobile game market was not so massive and people used to have normal devices with no smart functionalities. Then smartphones came and changed everything for modern consumers. Games like Temple Run and Subway Surfer started having great user attention. As such mobile game app development services have entered a new marketplace.
Today, mobile games are contributing 50% to global gaming revenues. It means mobile games have become equally popular compared to PC and Consoles. By the next 1 to 2 years, the mobile gaming industry is expected to surpass the $100 billion mark with global contributions. Hence, this is a great time to invest in the mobile gaming sector!
Make a Mobile Game : A Comprehensive Guide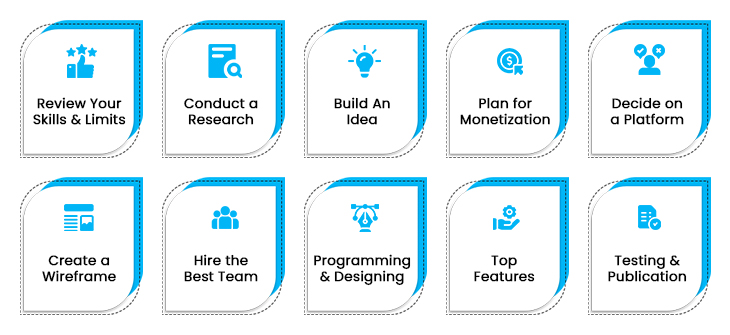 Moving further, you should know how to create a game app from scratch and appoint the right talent for the app building project. The game development process should be systematic and precise. For generating a perfect outcome and ROI the developers should bring proper planning and implementation into the app-building process.
For create a mobile game app, you must follow the enlisted steps:
1. Review Your Skills & Limits
First of all, make sure you've got the right skills to create a mobile game application. Mobile games are also an application software but different from other apps. So, the developers need to have good knowledge and expertise in the tools and instruments used. If you're not skilled enough to undertake such projects, hire a skilled developer and designer companies.
2. Conduct a Research
Before you know how to create game app, understand your target market. Google Play and App Store accommodate thousands of unsuccessful games. These games have almost zero traffic and offer nothing unique to the users. These are just copies of other successful mobile games. Hence, the developers need to stay updated on the new market trends and culture.
3. Build An Idea
Following the latest market trend, you should work on your new and unique game idea. You're not supposed to copy the competitors but get adequate support for generating a new idea by following the latest trend. All other famous games in the market are a result of a great idea. You can ask your developers' team to create a revolutionary idea.
4. Plan for Monetization
Besides knowing how to make a game app, you should set up a good monetization model for your product. Mobile games are nothing but virtual products selling for which the companies and developers earn money. The point is understanding how to sell. You can monetize your gaming application in different ways- One-Time Purchases, In-App purchases, Advertisements, etc.
5. Decide on a Platform
The next important factor is your target platform. Your user traffic depends on this factor. You can either go for iOS or Android to deploy your mobile game. Both of these platforms have huge user traffic and are ruling the mobile app industry. You can also place your gaming application on both platforms but need to spend on the project accordingly.
6. Create a Wireframe
Even if you're not a developer, you can build a raw wireframe of the mobile game and share it with the developers. Developers will suggest if they can proceed with the same or not. You may also ask the developers to create a prototype of your mobile game before initiating the project. To create game app that performs remarkably in the future market, create a good wireframe.
7. Hire the Best Team
When you're not skilled in app development operations, it is better to hire a development company. You can also reach out to a freelancer in case having a little project to accomplish. But we suggest you should go for a mobile game development company for dedicated support and brilliant outcome.
8. Programming & Designing
The use of the best programming tools is very crucial in this context. Additionally, the programmers should be highly skilled and experienced using the relative tools. There are multiple tools in the market and so are the programmers out there. You also need the best game designers for bringing attractiveness to your product.
9. Top Features
You also need to stay updated on the top features available in the market. These days, mobile games are partnering with AR/VR integration services and creating products for the corresponding device users. That's how to develop a game app that targets modern consumers. Modern consumers are excited about such a futuristic gaming experience.
10. Testing & Publication
Mobile games are among those virtual products that require a dedicated and time-consuming testing procedure. Users often face problems playing a new mobile game in the market. That's because the testing is not conducted properly. Mobile games provoke continuous user action and therefore needs to be free from any bugs and errors.
Final Thought
The story doesn't end up here. After the mobile game launch, the developers take care of its maintenance and updates for user retention. Moreover, they need to market the application for adequate user recognition and growth. A well-known gaming app development firm can help you introduce a fantastic product to the market.