COVID-19 raised the demand for food delivery services, resulting in social-distancing measures and the fear of bad health. As a result, it has heralded the start of a golden period for food delivery, particularly for aggregators such as Uber Eats, Deliveroo, and DoorDash. Amid the COVID-19 epidemic, on-demand food delivery apps are enjoying a massive increase in daily downloads and have become a global fad. The only objective of food delivery app development is to give clients ready-to-eat food of all kinds in a timely and at-home manner.
What is a Food Delivery App?
An on-demand food delivery app is a mobile app that allows customers to place food orders from all the partner restaurants using their smartphone or tablet computer. Food delivery app development is the newest rage, with restaurant operators developing their food ordering apps, allowing you to provide food services in the comfort of your home. It is convenient and safe, allowing users to order at any time and pay instantly online without having to deal with anyone.
Advantages of Food Delivery App Development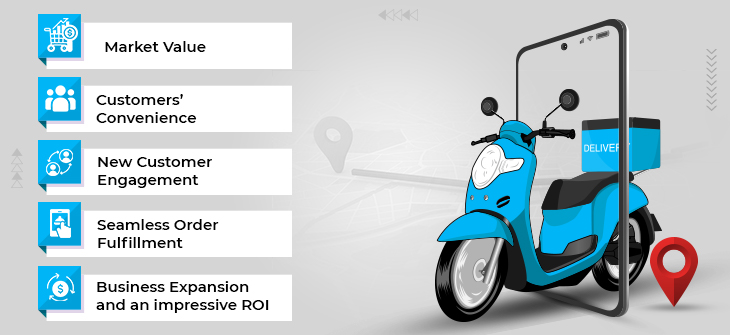 1. Market Value
The global market for food delivery is estimated to be worth $108 billion. Market analysts predict that by 2030, the market will have grown to a stunning $300 billion. Researchers and market experts have predicted a rise in food delivery apps by roughly 16 percent in the next five years. Choosing delivery app development in 2022 could be your best decision ever.
2. Customers' Convenience
Food delivery apps have made the process of ordering and receiving food at the consumer's doorstep easier. The ease of use appeals to a broad consumer base, not just millennials. Parents who have no time to cook can order food online and feed their entire family without turning on the oven. Overall, this simple and pleasant client experience has increased sales and profits.
3. New Customer Engagement
Mobile applications are excellent software for interacting with customers. The food delivery app you plan to build should be quiet. A crowded catalog could harm customer engagement because the app features many built-in solutions for maintaining high levels of engagement. Use innovative offerings to keep your consumers interested in your business. You may now add extra value to your customers by implementing an app-based loyalty program.
4. Seamless Order Fulfillment
Small restaurants may now get into a market that was previously only open to large chains with their delivery fleets. People living on the outskirts of towns believed that online meal ordering was solely available to the wealthy and urban populace. This belief is now gone, and it shows that with a food delivery app, there is no bar for the target audience. You can get a new customer range every second.
5. Business Expansion and an impressive ROI
Restaurants and eateries that use these apps to deliver their meals are gaining a lot of business. On-demand apps are gaining popularity, and the new businesses are now focusing on the process of food delivery app development. These apps are helping businesses reach a broader client base. A wider reach means more customers, which means more revenue. And more business means more money in your pocket!
Challenges of the food delivery app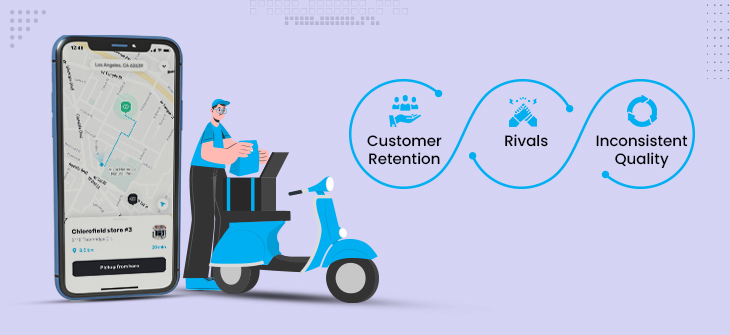 1. Customer Retention
Food apps like Zomato, Ubereats, and Swiggy face a slew of new rivals every day. The food delivery apps are working extensively to retain customers. Food delivery companies employ different marketing methods and approach to maintain a satisfied and loyal consumer base. Customers are already receiving the best services from practically all of them, thanks to rivals and market players that have raised the bar of marketing and delivering services to a higher level.
2. Rivals
It may seem like industrial behemoths like Swiggy and Ubereats rule the market, but that isn't true. During the epidemic, the food delivery industry exploded throughout the world, and they're still growing in popularity. Even so, there is a distinct lack of difference, but the revolutionary process of food app development is changing the game now.
3. Inconsistent Quality
It becomes difficult for delivery partners to bring food of the highest quality to doorsteps distant from the area where it is made. The disparity between the food served on the outlet's tables; the meals delivered to customers' doorsteps creates a significant gap that companies must work hard to close.
Why Invest in a Food Delivery App?
The trend of online meal ordering and delivery is overpowering traditional ordering services. Restaurants have seen a significant boost in sales and income as a result of online meal ordering and delivery systems. Will it surprise you if we say that the food delivery app industry will surpass the $200 billion mark by 2025? The U.S. food delivery industry is about to grow by 79% by 2022, from $43 billion to $76 billion. More than 90% of public restaurant corporations in the United States have adopted this new online food ordering and delivery sector.
Types of Food Delivery Apps Models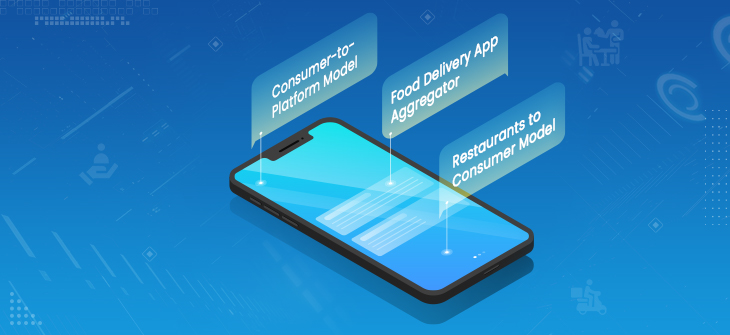 If you want to get into the food delivery app development, you must first learn about the most common food delivery business models.
1. Consumer-to-Platform Model
It is an excellent business model, particularly for new players. In this case, the app's owner links end-users with a variety of restaurants and diners. In other words, the app's owner provides a platform on which numerous eateries may register and provide their clients with meal delivery services.
The restaurant's delivery fleet or any hired third-party courier service provider is responsible for delivering the meals to the clients. Any logistics are not the responsibility of the app's owner.
2. Food Delivery App Aggregator
In the aggregator model, the platform acts as a bridge between a client (user) and several local eateries. They provide customer service on behalf of these restaurants if customers have issues with their delivery or orders. Every successful transaction is assessed at a predetermined cost by the platform. Because restaurants do not have to manage their fleet service, this is a viable business strategy. They can also benefit from the app's current consumer base.
3. Restaurants to Consumer Model
It is a food delivery app that allows customers to order food from the comfort of their own homes and get it delivered. This type of food delivery software works as a supplement to your restaurant's operations. It is best suited for established restaurants that already have a delivery infrastructure in place.
Components Of a Successful Food Delivery App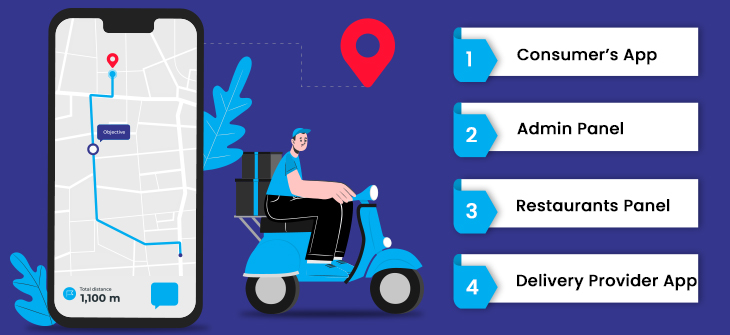 To begin the process of successful food delivery app development, it's crucial to know about the vital components of the app.
1. Consumer's App
The consumer is a crucial part of the food ordering process. The customer will log in to the app search for his favorite hotel or restaurant, place his order, confirm his booking, pay, post reviews, and then enjoy his meal.
2. Admin Panel
The admin panel will oversee the whole application. The program's core component allows you to keep track of all activities, including managing users, deliveries and delivery providers, restaurants, commission pricing, and reporting.
3. Restaurants Panel
A restaurant app with a lot of features is something that any meal delivery app should have. It makes it simple for managers to keep track of all orders and transmit them in real-time to meet deadlines. The restaurant owners will be able to see the orders put on the app and will be able to accept or deny them. If the order is placed, it will be sent to the delivery guy.
4. Delivery Provider App
An app for delivery providers is the final but the most crucial component of any food delivery app. By introducing approved features, this software helps speed the delivery process and plays a critical part in a company's success.
The delivery guy will track all client orders, ensuring that the food is delivered quickly and safely. The delivery panel has features for Checking Orders, Accepting or Reject Orders, Tracking, and Geolocation.
Powerful Features to add to the App
Once you've decided on the model to go with, you need some powerful features to make the food delivery app development successful.
Let's have a look
1. Consumer's App Module
      Search Filter
      Order Placement
      Real-time Tracking
      Payment Integration
      Coupons and Feedback
2. Admin/ Restaurants Module
      Performances Analysis
      Content Management
      Order Management
      Real-time Update
      Payment Management
3. Delivery App Module
      Registration
      User Profile
      Alert and Notification
      Location Tracking
      Order Management and Update
      Call Option
      Payment and Earnings
Process of Food App Development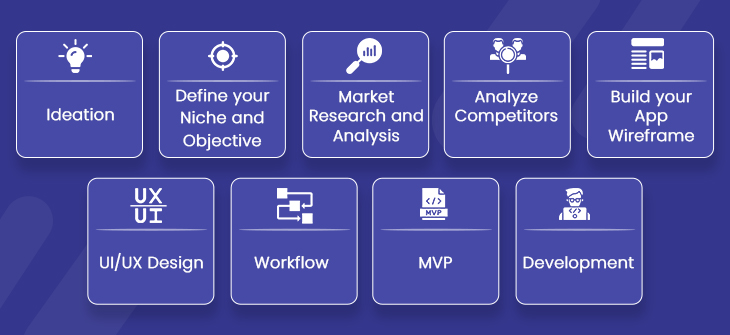 In this, we will discuss the most crucial element of a food delivery app development. The below-mentioned steps are the most important ones that play a vital role in making the process of food delivery app development successful.
1. Ideation
Greatness starts with an idea. Ideation is the most crucial element of app development. Before you proceed, you should answer some questions to ensure that you are not nurturing a wrong and that the idea is worth your time and work. What will be your app's MSP? What audience should you target? How will you stand out? Who are your competitors? And so on.
2. Define your Niche and Objective
Everyone likes eating. So, once your food delivery app development process is done, and the app hits the market, everyone will use it. Right?
When you think about it, you're not entirely wrong. Everyone likes food delivery apps, but there is one little preference you should consider before developing a restaurant app.
To establish your specialty, you must first identify your clients. For whom are you developing the app? What is the demographic of your target audience? Who are the likely users?
3. Market Research and Analysis
Successful business entrepreneurs constantly believe in devoting time to thorough study and analysis. You may have a broad understanding of your company, consumers, and market, but to win, you must delve deeper. The key to success is having loyal clients, which can only be obtained via efficient market research.
4. Analyze Competitors
It's crucial to be aware of the competition while beginning the food delivery app development process. Conducting research allows you to make better decisions by learning about market trends and user needs.
5. Build your App Wireframe
Once you've compiled your list of ideas, it's time to give them structure with wireframes. A wireframe may be thought of as a blueprint for your application. It will show the look of your program as well as its functionality. If you are a non-technical person and working on the technological stack is a concern for you, many experts have suggested to hire a mobile app development company for better assistance.
6. UI/UX Design
The goal of an app's design is to provide a refined user experience that is seamless and effortless.
A mobile app's success is defined by how successfully users accept and profit from all of the app's capabilities. The purpose of UI/UX design for mobile apps is to provide exceptional user experiences that are engaging, intuitive, and user-friendly. While beautiful UI designs will aid in early adoption, your app's user experience must be straightforward to keep users interested.
7. Workflow
The first phase in the mobile app design process is deciding what information your app will display to users, what information it will gather, how users will interact with the finished product, and how users will navigate the app.
Users with various responsibilities and permissions are frequent in enterprise mobile solutions, and these regulations must be included in your app's information architecture.
Workflow diagrams help identify every conceivable interaction a user has with the app, as well as the program's navigation structure.
8. MVP
An MVP is your app's most basic version. The term "minimum viable product" refers to a product that is as simple as possible. It is a condensed version of your produced application that contains only the functionality necessary for deployment and use by early or test clients. MVPs look to determine if you're giving your consumers an engaging experience.
9. Development
Development is the most integral element of the mobile app development process at this stage. It is the stage where the magic happens. If your mobile app design passes the MVP test, you are now in the final stage of development. This stage includes both the coding and actual implementation of your application. Development is often done in phases, and you may expect to receive intermediate builds from your developer that you can run on your device.
This part comprises the database and server-side objects necessary for the supporting functionality of your mobile app. If you're using an existing back-end platform, you may need to make some adjustments to allow mobile functionality.
An Application Programming Interface (API) is a protocol used to communicate between an app and a back-end server/database. This programming interface is also used while creating GUI components.
The native mobile app that an end-user will use is the front-end. Most mobile applications are interactive user experiences that employ an API and a back-end to manage data. When an app allows users to function without internet connectivity in some instances, the program may include local data storage.
10. Testing and QA
Thorough quality assurance (QA) testing during the food delivery app development process ensures that the applications are reliable, useful, and secure. Testing is critical to an app's future success; it accounts for a significant portion of our total food delivery app development process. A complete mobile testing plan is required for providing a high-quality mobile app.
11. Deployment
To release a native mobile app, you must first submit it to the app stores, which are the Apple App Store for iOS apps and Google Play for Android apps. However, before you launch your mobile app, you must first create a developer account with the Apple App Store and the Google Play Store.
12. Post Development Process
Although deployment is the last stage, the process of food delivery app development does not end there. There is still a lot of work to be done after the deployment.
You must plan for post-launch operations and avoid wasting resources on the development.
13. Market your Food Delivery App
You can develop the best app, but you won't be able to sell it until you're well-known and have your target audience. As a result, your business, efforts, money, time, and dreams will be in danger. The goal should be to target the audience and increase the number of downloads and users of your food delivery app. Explain why people should use your service and how it is different from the rest. The greater the response, the more credible your consumer base will be.
14. Hire a Maintenance Support
There is no such thing as an ideal app. When you're updating an app, another thing to keep an eye out for is regression testing.
The doorway to ROI is continuous app updates. Bug fixes, new features, enhancements, re-design, and other program updates keep it up to date and relevant for your users.
Launching new versions of your application is important, therefore don't overlook it.
15. Hire 24/7 Support Providers
Customer service is the act of assisting and advocating for customers during their product or service discovery, usage, optimization, and troubleshooting. Food delivery giants all thrive because they give end-to-end assistance.
You must have customer support available 24/7 to give uninterrupted service to your consumers.
The Cost to Develop a Food Delivery App
It all depends on the complexity of your food delivery app. The thorough estimates comprise functional breakdown, UX/UI estimate, the number of third-party integrations required, developer rates, Quality Assurance Specialist, and Project Manager Engagement in the project. As you can see, several factors influence the pricing.
So, depending on the intricacy of your project and the location and hourly rates of the developers, the ultimate cost to develop ranges from $300,000 to $700,000.
Revenue Model for the Food App Development
Let's talk money. Money is the most powerful motivation to grow. There are many revenue models you can integrate to make successful modern food delivery applications. Once you have completed the food delivery app development process, they will help you choose the appropriate revenue model to generate more revenue.
You might think about an on-demand food delivery app development process using a commission-based approach. Under this technique, the portal owner will get a commission from restaurants for each order placed through their site. When customers place an order at a restaurant, the business pays a commission to the aggregation platform.
You can charge a predetermined commission in the form of a defined sum or percentage on each order placed on your platform as the platform owner of food delivery marketplace applications.
The admin charges the merchant a monthly or yearly membership fee for advertising his restaurants on the food delivery platform in the subscription model.
You will have two subscription-based revenue models as the proprietor of Ready On-Demand Food Delivery Marketplace solutions. Create several plans for a restaurant company to restrict the number of food menus, food orders, placements, highlighted listings, distinct branding assets such as mobile applications, social media marketing, and so on
Third-Party Advertisement
Because of the significant exposure to your traffic on your platform, you may charge associated companies substantial advertising fees to display their banners or listings on your web and app platforms.
Customers pay delivery charges to the proprietor of the portal. If the administrator uses his logistics network to deliver the meal, he can charge the client a delivery fee.
Surge pricing during busy hours is one approach to earning income. Restaurants must pay a higher fee to the app for it to fulfill their requests more quickly. It is also possible to charge a hefty amount to clients in exchange for speedier order fulfillment.
Tips for a Successful Food Delivery App Development
In the competitive market, it is very crucial to out-market your competition. To make your business thrive, the following are the tips you may follow.
You may offer a lower-cost service than food delivery giants since they pay much in marketing, but you could start with your existing clients and become a food delivery hub in your region before gradually expanding to become the big game
User Interface is critical since it has the power to create or break your consumer base. It reduces difficulties, enhances user interaction, improves functionality, and establishes a strong connection between your consumers and your website. It must stand out from other on-demand food delivery apps. You must identify your unique selling point (USP) and make your app the best app for online ordering for your target demographic and audience.
One of the most crucial aspects of any business is customer feedback. It helps in your growth. However, it is one of the most crucial components of running a business that is sometimes overlooked.
Allow your restaurant partners to go into the order history before delivering it to the clients. You may want to incorporate an in-app camera so the delivery person can transmit a snapshot of their package and address the users for picking it up and inspecting it. The end-user will be satisfied with these cross-checking strategies; they will rely on your services for precise order delivery.
Final Words
It's critical to determine the food delivery market segment you want to target, what problems you'll face, and how you'll overcome them during the process of a food delivery app development.
A meal delivery app should provide customers' freedom of choice, fit into their schedules, be user-friendly, and benefit restaurant owners.
Food delivery apps perfectly fulfill the expectations of the present scenarios, allowing you to develop a profitable business in the market. You should, however, be aware of what distinguishes you from your competition.