Building an On-Demand Taxi App can help you raise a powerful business model to deliver to modern customers. These apps are doing exceptionally on app stores and the mobile app market. In the US alone, there are more than 100 million taxi app users and this number is consistently increasing since the inception of smartphones. So,taxi booking app development services are also getting popular worldwide.
If you're planning to start a corresponding business, you've made a perfect decision. You can approach taxi booking app development services locally or globally. Moreover, you can build an app by yourself in case experienced in the relative field. Businesses are setting up a separate department for executing such operations. But, if you're initiating a start-up firm, we recommend you hire an accomplished app development company.
You can also connect with experienced freelancers and freelancing agencies and share your app-building requirements. You can regulate your project budget better by approaching such freelancers. A good mobile app development company can nurture your online business popularity like fire. But there are certain things you should know while building your tax booking app.
In this post, we are going to talk about that checklist you should follow amid developing your on-demand taxi booking app. So, let's proceed.
Classification of Taxi Booking Apps
First, we need to know about the different types of taxi booking apps in the market. Every on-demand taxi app has two versions- First for passengers, Second for Drivers. So, these apps are classified into Passenger and Driver apps. Likewise, the app company gets a chance to target two different audiences. Consequently, the app traffic and usage increase. Most taxi booking app development services are based on this classification.
1. Passenger App
The passenger app is specially designed for a perfect customer experience. From booking a cab to paying for the ride, passengers can do everything easily. The interface of the app is also made simple to help users book their rides without any confusion. Moreover, they enjoy features like- Notification alerts, Track Driver Location, Giving drivers Feedback, View Trip History, etc.
2. Driver App
Drivers also need a separate version of the app for doing their work effectively. They need to pick up a passenger from a particular location and drop him at another location. This takes a specific amount of time and effort for the driver to do his regular job. The drivers' app makes things easier. Advanced taxi app development solutions are accompanied by AI features that help drivers reach their destination safely and timely.
The taxi app developers need to work on both versions and therefore use top app development frameworks and tech-stack to submit the project timely.
Things You Should Remember While Developing your On-Demand Taxi App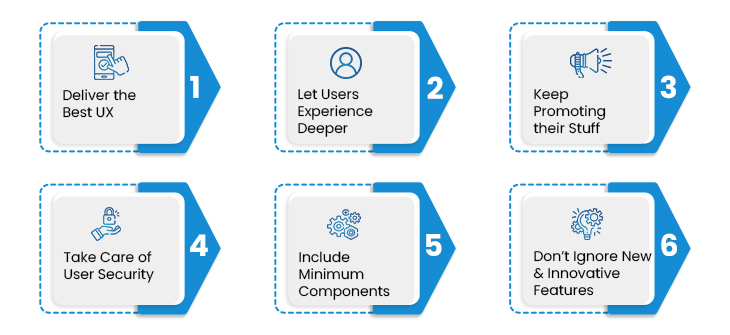 First of all, you should decide whether to start with a passenger or drivers' app. Developing a corresponding app can be time-consuming because you need to work on two different versions. So, either you should consult an app development company or a freelancing agency for an effective outcome. Proficient taxi app developers always remember the given below points while building a perfect on-demand taxi booking app:
1. Deliver the Best UX
User experience is the heart of every mobile app. Even if you don't have enough products and services to showcase in your initial business lifecycle, you can retain user traffic by offering a great user experience. For this, you must make sure that your mobile app has got a simple UI and total accessibility. You can make certain things accessible only for subscribers and members but do this thing later. Initially, let everyone use your app without any issue.
2. Let Users Experience Deeper
Uber's app business model focus on touching the passenger's emotion. They tell them stories about the drivers so that they could start trusting their ride even before pick up. Taxi booking mobile app development is all about building such a strategy and getting higher user attention. People don't just want a ride or travel to places, they want to experience their journey.
3. Keep Promoting their Stuff
App developers also focus on promoting what they're going to launch on the app stores in the future. The app company and clients also encourage pre-app-launch marketing and promotion of their product on social media channels, YouTube, app stores, and other platforms. You should make sure that the app is deployed on the stores as per the pre-determined date.
4. Take Care of User Security
A taxi booking app has got a huge database of user information that must be protected and maintained against cyber-attacks. These cyber-attacks not only impact the users' personal life but also the entire country. Good quality taxi booking app development services include relative security measures and restrict various types of external disturbance. By building such an app, you can raise your business reputation among both drivers and passengers.
5. Include Minimum Components
While building a fresh on-demand taxi app, you need to follow a minimalistic approach and don't overstuff your app with features, functions, and content. Keep it simple and autonomous. New users take time to get used to the app UI if experience too many elements and components in one app. It can make them uncomfortable about your app and they might switch over. So, a minimalistic approach is really important for launching a new app.
6. Don't Ignore New & Innovative Features
Being minimalistic doesn't mean you shouldn't be innovative. New features attract more user attention, but, make sure that the features suit your taxi business model perfectly. You can add separate features related to passenger and drivers' apps. First, conduct research regarding the contemporary features of other taxi booking apps available.
Final Thought
You can further personalize your app development project as per business demand. Getting the right taxi booking app development services is crucial for different types of projects. You should confirm what type of project you're going to undertake before initiating the project. Taxi booking business has great potential and you must start your business journey right away.