Mobile app businesses represent various types of niches. App companies keep introducing new ideas and strategies to deliver to the audience through a mobile app. Therefore, mobile apps have brought new start-up culture worldwide. Emerging entrepreneurs want to transform their vision into reality and for this, they require a reliable mobile App Development Service. Some app development companies are devoted to start-ups and SMEs.
New businesses approach the relative App Development Service providers. Mobile apps can optimize the online presence of such businesses and raise their popularity among customers and users. The start-up culture is continuously growing in different parts of the world. So, many new companies are expected to incorporate in the future. However, the competition is also increasing for such start-ups.
Nearly 60% of start-ups are failing worldwide annually. A wrong and impractical business idea is the biggest reason behind it. So, the businesses must reach out to an accomplished Start-up App Development Company before initiating their app-building plan. App development companies employ skilled and experienced professionals who provide the best suggestions regarding your app business idea.
In this article, we'll highlight the top 10 start-up app ideas that you can review and make your decision for incorporating a company. Let's get started!
10 Best Start-up App Ideas in Demand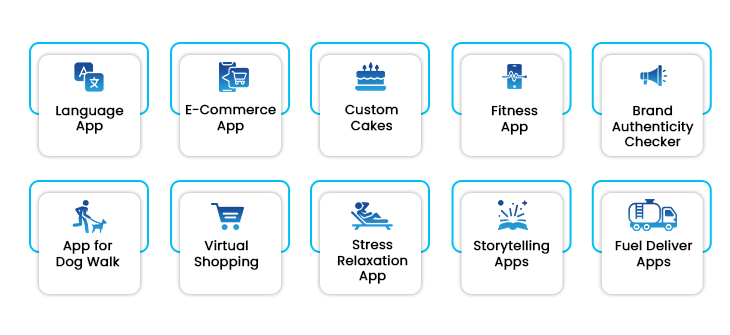 A good app business idea can bring exceptional outcomes against your business investment plan. Approaching a Start-up App Development Service, the client must decide on a rational business idea. Or else, the developers can face problems in the future to submit the mobile app project in time. Mentioned below are the 10 best ideas for building a start-up app:
1. Language App
AI technology is currently booming worldwide. You can use an AI integration technique to build a language recognition app that doesn't let people learn new languages a waste their time. The app will work as a translator listening to someone else's language.
2. eCommerce App
eCommerce is an evergreen sector and will remain in the world until people use smartphones, tablets, or PCs. You simply need to decide on the right online store that you want to open. You can consult a Start-up App Development Company and inform them about your products and services before getting started.
3. Custom Cakes
Custom cakes inspire to initiate a unique food delivery app development service. If you have got so many custom cake parlours in your city, this app development idea is surely for you. The demand for such cakes is incredible in big and small cities and even in some small towns.
4. Fitness App
Adding advanced features like wearable integration, you can run a successful fitness app in the coming years. Work professionals and old age people usually search these fitness apps on Google Play and Apple Store. So, it is a perfect Start-up App Building Solution that you can adopt for your business plan.
5. Brand Authenticity Checker
It seems a meaningless app but is truly very essential for general people, especially customers. The customers find many attractive goods and products on eCommerce stores but are unfamiliar with their brands. They need to confirm the brand authenticity before making a purchase.

6. App for Dog Walk
You can also create a mobile app to check a pet's daily fitness level by introducing a Dog Walk app. It will check if you and your dog walk bring you a certain level of health benefit or not. You can also stay healthy by taking your dog on a walk regularly.
7. Virtual Shopping
The advanced AR and VR devices are encouraging many eCommerce app companies to come up with a touch of uniqueness. A Start-up App Development Service can become more profitable for a virtual eCommerce shopping business model. People don't need to visit such stores physically but get the same shopping experience.
8. Stress Relaxation App
This mobile app idea can get a huge user response and traffic for your online business. Relaxation apps have a high demand on the app stores and can also be created in the form of a video game. These games work as the perfect stress buster and also improve user concentration.
9. Storytelling Apps
These apps are very easy to create and have got a specific content to entertain the audience. You can convert your blog into a web app also. These apps tell stories related to reality and fiction as well. You can use a web app-building framework like Xamarin to create such apps easily.
10. Fuel Deliver Apps
These apps can surely help people who are out of fuel while traveling to places. It can help in various emergency situations and that's why attracting huge user traffic. Your Start-up App Development Service can suggest you many things regarding such business plans.
Final Words
Before getting a Start-up App Development Service, must think about one of the above-mentioned app business ideas. A mobile app business can bring you exceptional profit against the development cost if you're sure about your vision and objectives. Initiate your mobile app business today!