Are you planning to build a highly customized mobile app from scratch? Then think again because it can cost you immensely high. There's a lot of competition in the market today. The start-up culture is approaching in various parts of the world. If you're also reaching out to the market as a start-up, you must go for a white-label app with can relative business model. It will help you save money and get user attention very soon.
Moreover, building a custom app from scratch also requires extra effort and expertise. It doesn't mean you can't go for a custom application but a white-label app brings you more advantages over the same. Most entrepreneurs and new businesses adopt such models to overcome competition and faster user recognition in the market.
In this post, we'll have a detailed discussion regarding white labelling and the various pros and cons of white-label app development. Keep reading!
Meaning of a White Label App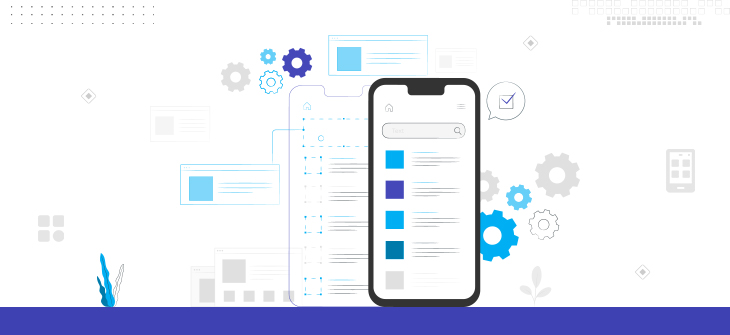 App companies often choose among two types of app structures- Either a Custom App or a White Label. So, what's the difference between the two? Custom apps are a symbol of originality and the developers have to start from scratch to build such applications. Additionally, custom apps are very unique and customized for a special user group.
company is often involved in app creation and re-branding. Further, the app is sold to someone else for editing and recreation. Your app developers can also purchase such applications on your behalf and with free consent. Now you can advise the developers to make changes as per your requirements or get some advice from them. So, that's how white-labelling works.
Advantages of Launching a White-Label App
To make a good decision while choosing between custom apps or while-label, you must go through the benefits and drawbacks of white-label. For some app companies, the white app doesn't prove to be a good option because they want to focus on a specific audience and do not care about traffic generation. They focus on bringing customer loyalty and have a single or 2 to 3 products to offer.
Similarly, some start-ups want to go with white-label applications. Given below are some benefits they get from launching a white-label App:
1. Lower Investment
The project investment related to such a mobile app is comparatively lower. That's because the developers are just required to make changes to a pre-built app that's sold online. They can provide it with a new appearance as per client preferences and likes. An economic investment can help the app company do more with its business plan.
2. Lower Marketing Time
Getting ample time for promotion is also an important factor. The developers have to manage the time accordingly and finish the project on time. The launch date should be delayed either. Therefore, app companies prefer to go with a white app and are often able to invest adequate time for promotion. Developers partner with a digital marketing team for a good promotion.
3. Customization
Though white-label applications are not as personalized as a custom application, they're still edited considering the client's prerequisites. The app company can suggest adding many personalized functions for user convenience in the future. A mobile app development process never ends, not even after the app launch.
4. Better Turnaround Opportunity
Capturing the market attention is the foremost objective of any mobile app business. No matter whatever niche you select, you have to face a fine competition these days. So, considering a ready-made product can help the developers save a lot of time and still come up with a great application.
5. Effective Maintenance & Support
Maintaining a white-label app is also an easy task. The developers don't need to do an in-depth analysis of the information structure and don't need to build one from start. So, the post-app launch maintenance efforts are also limited and time-friendly. Management support is also very good for such applications.
In this way, launching a white-label app becomes very affordable and time-friendly. The developers can devote enough time to run marketing and promotional operations for the application!
Disadvantages of a White Label App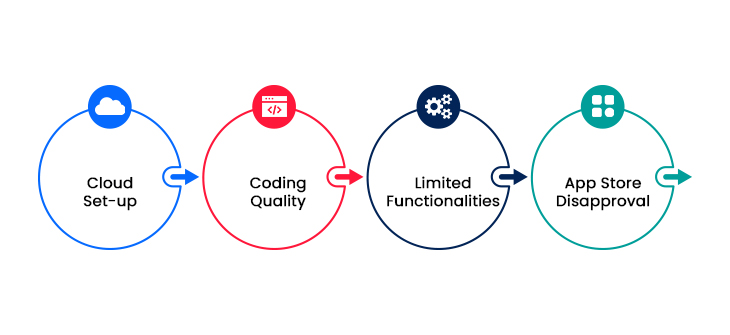 There are also some drawbacks of developing such apps that you must be aware of. Having full information on the benefits and disadvantages of these app-building styles is crucial for making a good decision. So, let's have a detailed discussion considering the leading drawbacks of a white-label app:
1. Cloud Set-up
Though cloud setup is considered an advantage for data management, it can disturb the associated clients and customers. The customers have to transmit their information from one place to another and the app company has to deal with the client issues accordingly. It can raise problems for your mobile app after the launch.
2. Coding Quality
This is another hurdle in the way of building a white-label application. The developers have no control over the old codes and can't make dedicated changes in the app backend if not familiar with the programming language used. The app company has to compromise on the code quality and make changes to the front end.
3. Limited Functionalities
The developers can add new functionalities depending on the existing database. So, most of the time app companies refuse to add the latest functions to the mobile app and rank lower on the search results. The users keep looking for the latest technologies and features deployed.
4. App Store Disapproval
A white label app can be disapproved for an app store deployment considering various factors. The app stores are consistently updating and resisting the availability of clones and spam applications out there. Developers much make perfect changes in the app to make it unique for a 2nd launch and should select the app store carefully.
Closing Words
Hence, it is up to you if you want to go for a white label app or not. A while-label mobile application can bring several benefits over custom and personalized applications. We hope this article will make you understand about white lable app to Build your white-label application easily.