Start-ups are bringing highly innovative business solutions for new-age customers through mobile applications. Most of the start-up businesses are based on some form of a mobile application. That's because mobile apps are getting very popular day by day among smartphone users. Likewise, the importance of a start-up app development company is also rising. Very few app businesses incorporate their separate app development department.
Start-ups often don't have that much investment amount. So, they simply reach out to a freelancing agency or an app development company. As such, a start-up app development company is the best option available. App development companies provide top-notch app-building solutions considering the latest trends and customer preferences.
Mobile app development is aimed toward facilitating a specific customer group. Every mobile app represents a business model, product, or service. Companies that provide mobile app development services need to know about the client's objectives and requirements. If you're initiating a start-up business, you also need to share your business plan with the app developers.
In this article, we'll highlight the various reasons why start-ups should invest in a mobile app development plan. Let's proceed!
The popularity of Mobile Applications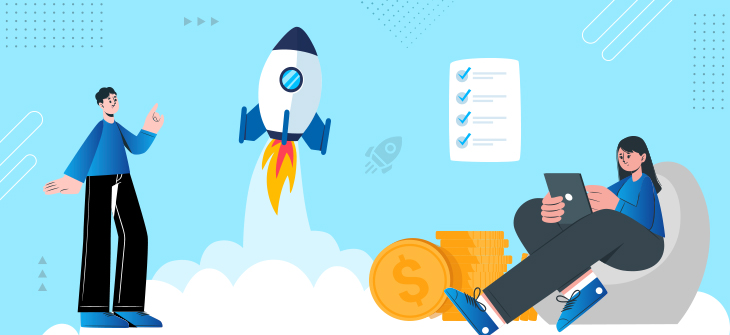 Before 2011, mobile applications were not so much popular among users and entrepreneurs. Because the smartphone market was in a growing age. Millions of customers were still satisfied using keypad devices, but then, things started changing drastically. The smartphone market started growing immensely and so was the app development service providers. Today, finding a start-up app development company has become the new norm.
The mobile app market is anticipated to grow by $311,200 million in 2023. It is one of the fastest-growing industries in the world now. Likewise, competition between various mobile app companies is also growing drastically. Therefore, if you want to incorporate a start-up in the future, you must plan for mobile app development. You can find multiple mobile app development services and choose according to your business strategy.
The emerging popularity of mobile applications has encouraged many start-ups app companies to introduce their revolutionary business ideas before modern customers. Now, that's your turn to introduce such business solutions!
Reasons for Start-ups to Invest in Mobile App Building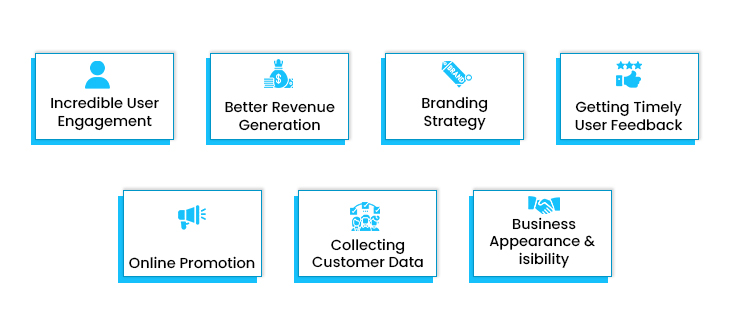 A start-up business has its standard and a unique corporate model. It doesn't work as a well-established mobile app company. The team and workforce are also limited. That's why start-up app companies are looking for budget-friendly business investments. Many companies provide start-up app-building solutions to emerging entrepreneurs. But, why do they invest in a mobile app? Enlisted are some essential reasons that you must review as such:
1. Incredible User Engagement
Users often don't like to engage on a new mobile app as they've got ample options on Google Play and App Store. But the app companies are required to raise as much engagement as possible. The more users engage on your mobile app, the better experience they are going to get. Mobile apps are a great source of user engagement and recognition for online businesses.
2. Better Revenue Generation
A start-up business is always concerned about better ROI. New app companies don't have an exceptional budget for the app generation. Such companies require a perfect return on investment (ROI) against their project budget. A mobile app can help them do so. A mobile app is a virtual product and the developers must make sure that the product is perfect as per client and customer expectations.
3. Branding Strategy
A mobile app can work as your best branding strategy and could help your start-up business grow efficiently in the market. You can promote your top products and services easily through your mobile app. So, you need to visit a start-up app development company and share your business model with them. You can also request them to design a logo for your mobile app to improve your branding.

4. Getting Timely User Feedback
Getting user and customer feedback is very crucial for all types of businesses. Even if you're incorporating a start-up firm, you need to update yourself regarding user opinion about your online business. That's why businesses need to invest in app development. Mobile apps are coming up with revolutionary user feedback options these days. A start-up app development company can surely help you deploy such features on your app.
5. Online Promotion
Online promotion is very important for your new business. Moreover, it is way cheaper than generating media advertisements for your brand. Some app development companies also provide digital marketing services for free for a specific period after the app launch. So, create a mobile app and get started with a cheap promotion and marketing strategy right away. You can also get separate mobile app promotion services from digital marketing firms.
6. Collecting Customer Data
That's another important reason why you should invest in mobile app development. Being a start-up, you need more and more information about the customers and their tastes and preferences. By building a mobile app, you can collect a find data about your customers and app visitors. You can target them in the future in case they don't purchase anything from you currently.
7. Business Appearance & Visibility
Mobile apps are the best source of business visibility that you can use. Visibility is everything for creating a good first impression for your business. Mobile apps consist of various types of content and advertisements representing a particular product or service. A start-up app development company can suggest multiple ways for projecting the app content and business offers. As such, you can easily upgrade your business appearance and visibility.
Final Words
Mobile app development has multiple opportunities for your business growth. Reach out to a perfect start-up app development company and share your business plan with them for generating a stunning mobile application representing your top products and services today.