Netflix is among the top 5 OTT platforms worldwide. Mobile apps are a great source of entertainment and OTT platforms are a good example of it. These platforms provide video content in the form of movies, music, TV serials, and documentaries having great demand in the market. As such, many start-ups and new businesses are concerned about the Cost to Build a Video Streaming App like Netflix. They see a great opportunity in developing such apps.
Film industries are releasing their stuff on such streaming apps because of the Corona virus pandemic. So, in the past 2 years, the demand for online streaming apps has increased exceptionally among the users. Consequently, new companies are emerging with their video content which is free as well as paid to access. They want to know the Cost to Build a Video Streaming App to manage their app development project effectively.
In this post, we'll review the average cost to build a corresponding Online Streaming platfom such as Netflix and also discuss various factors affecting such cost. So, let's proceed
About Netflix App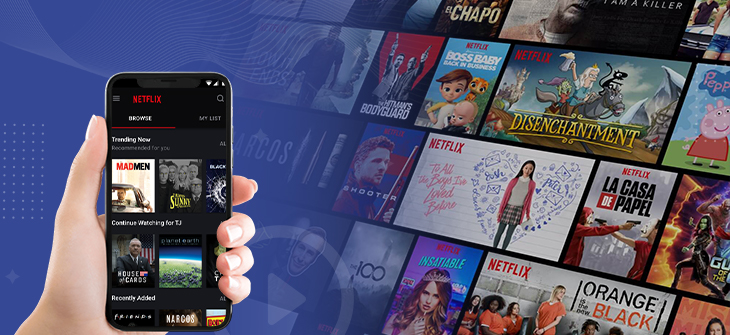 Netflix is an American online video streaming app that consists of world-class Movies and TV content. The content is available in different languages depending on the region of use. The content is available to access on various subscription plans. The company was founded in 1997, however, introduced its mobile app in the early 2010s. Therefore, the Cost to Build a Video Streaming App like Netflix goes higher.
However, initially, the Netflix app and website were not so popular and didn't have very advanced features. Building a mobile app for the first time requires you to follow a minimalistic approach. That means you should deploy as minimum functions as possible to raise user interest and participation in your app. You can further invest in your On-Demand Video Streaming App to raise its level as compared to Netflix.
Netflix is providing online streaming services in more than 100 countries worldwide. You can learn many things going through the company's biography on the internet and get inspiration for your app growth even after the launch.
Factors Affecting the Cost to Build an OTT Platform like Netflix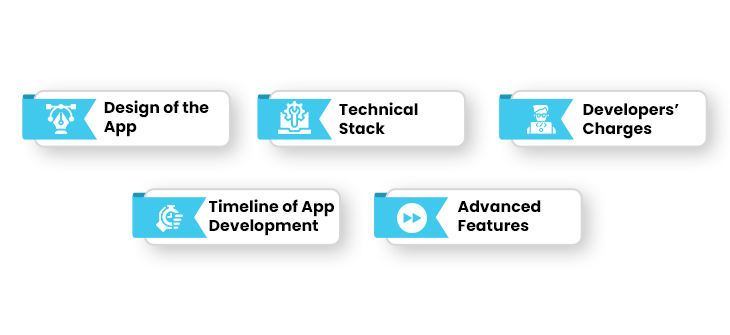 OTT App like Netflix are made up of many important components that are based on advanced technologies and innovative approaches. To build an app with the same features you may have to undergo the certain cost and investment plans. Mobile App Developers can suggest to you a perfect budget that you need to create a new OTT platform.
Before choosing the best app developers for your project, you should review their service charges as well. They charge separately for investing their time, effort, and expertise to create a competent online streaming app. You can request them to add advanced features and make sure to introduce a simplistic design in the beginning.
Moreover, enlisted are the different factors influencing the cost of app development for such business model:
Read Also – Top 10 Start-up App Ideas
1. Design of the App
To compete effectively in the market, the Video Streaming App Developers should come up with a unique design. But uniqueness doesn't mean you should make it complicated. You must promote simplicity through your OTT platform. Moreover, designing a complicated app can increase the development cost drastically. Whether you build the UI or UX design of the app, you need to follow the minimalistic concept for better results.
2. Technical Stack
The technical stack comprises different tools and frameworks used to develop an app. Some of these tools and components are very expensive to use, and some are budget-friendly. Building a technical stack can take time in the beginning, however, you can expect the best results as per your business model. A technical stack consists of- Programming Languages, Front-End Tools, Back-End Tools, Databases, and Frameworks.
3. Developers' Charges
Developers' charges contribute effectively to the Cost to Build a Video Streaming App. These charges vary among different app development agencies and freelancers. These can charge on an hourly, monthly, or milestone basis. Going for a Freelancing agency or an app development company is a perfect decision if you don't know how to create a mobile app. They charge the best rates in the market as they face competition from other companies too.
4. Timeline of App Development
Some projects take longer than usual to complete. The clients want their mobile app to be highly futuristic and filled with innovative features. Such clients are already running a large-scale business and want to expand their business model. They initiate a mobile app company as their new subsidiary. Such app development projects often take longer than usual to complete and have a long timeline. Consequently, the cost of such projects increases effectively.
5. Advanced Features
If you want to add highly innovative features to your streaming app, prepare for a high investment plan. Advanced features improve user experience on the app, especially accessing the relative OTT platforms. Netflix offers highly advanced features to their audiences that consist of- Parental Control, Big Content Library, Original Titles, HD Plans, Multiple Device Streaming, Create Different Profiles, and more. The company is looking forward to adding AR/VR features for an even better user experience.
Final Words
As such, creating a competent OTT platform like Netflix can cost you anywhere between $30,000 to $200,000 depending on the app components and features you want to add. You must start with a small budget and spend further when your app starts generating good revenue for your business. That's what a Cost to Build a Video Streaming App is all about. I hope this informative helps to starting a streaming service.