Smartphone users typically use popular e-commerce app like Ajio, Flipkart, Snapdeal, eBay, OLX, Zalora, and Amazon to browse and purchase items. Online shopping applications are immensely addictive, and users might spend hours browsing them. Everything for all genders and ages, from fashionable jewellery and fashion accessories to apparel and footwear, may be found on Ajio-like popular online shopping applications.
One of the major corporate groups in India, Reliance Industries, was drawn to the e-commerce sector by its enormous development potential.
On April 1, 2016, at Lakme Fashion Week, Reliance launched AJIO.com, an e-commerce portal with a focus on fashion.
The popularity of online apparel shops like AJIO.com and Myntra has attracted a lot of aspiring business owners to the sector. The cost to develop an app like Ajio is a frequent question that baffles many aspiring entrepreneurs.
Here in this article, we provide essential information on the leading mobile app development company for online shopping, Ajio. To give users of the app world-class shopping experiences, our team of mobile app experts has also developed a list of the greatest features of Ajio.
How E-commerce App like Ajio Work?
The business model devoted to offline firms is called the O2O business model or the online-to-offline business model. The primary objective of this business strategy is to promote establishments on internet marketplaces. Any e-commerce company that wishes to employ the O2O business model must create a website to promote the products.
The name AJIO, a Reliance Industry Limited subsidiary, was inspired by JIO, the most popular mobile network in India. The company's business strategy is to use JIO's extensive digital network to offer a range of services from its 4000 retail locations, much like Walmart.
A broad selection of AJIO products is offered by AJIO OWN. The company collaborates with several logistical partners to deliver things to customers' homes. Numerous logistics partners ensure that you receive your purchase on time. In addition to that, the business offers COD and has a return policy.
The AJIO Business Model's advantages
The benefits of the O2O business model utilized by AJIO include
Expands the business's reach.
If the platform chooses in-store pickup, the cost of shipping is reduced.
The strategy provides customers with ample time and options to shop online. The local merchants can control their sales as a result of the decreased in-store visitors.
Customers who choose in-store pickup have a fair opportunity to sample things before making a purchase, which lowers the percentage of product returns.
Services Provided by an e-Commerce App like Ajio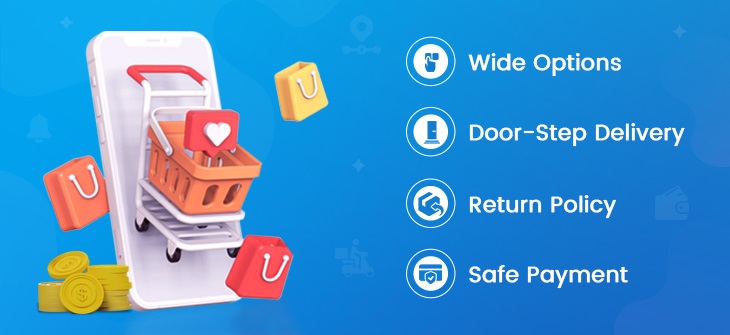 First, let's take a quick look at the services that AJIO offers.
Wide Options:
There are many different fashion alternatives available at AJIO, which has a huge selection of brands and styles.
Door-Step Delivery:
AJIO's tens of thousands of logistic partners are dispersed throughout the nation and ensure that customers receive their orders at their homes promptly.
Return Policy:
If a consumer is unsatisfied with an AJIO product, they can return it to the company within a given period.
Safe Payment:
To ensure that consumers have a hassle-free shopping experience, AJIO offers a variety of secure payment methods to its clients.
Features of e-commerce apps like Ajio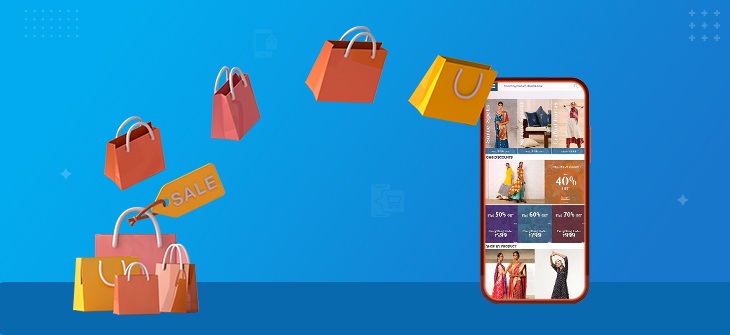 To develop a successful e-commerce app like Ajio, it is crucial to discuss the feature. Make sure it has the features an eCommerce program can provide. You must not neglect any of these.
Secure Profile Creation
To use the app, users must first sign up. By using their social media accounts and email addresses to sign up for an app like Ajio, users will be able to log in after completing the authentication procedure.
If users have previously signed up they may log in to the app using their login information. The user data must then be established in a user profile.
Home page
The primary component of your app that draws users' attention after onboarding is the homepage. To increase its effect, make sure it contains the facts that your readers will find most interesting. You may, for instance, mention lucrative offers, discounts, or the newest software updates.
Search
The search feature is essential since it enables customers to easily locate the item they're looking for by putting its name into the search area. By using filters, users may search for goods by colour, size, price, and other characteristics.
Notification
Notifications are a useful tool for businesses to reach out to app users with alerts, offers, and promotions. Users will stay up to date on fresh content if this functionality is added to the eCommerce app. The main objective of the app must be to warn users, not to disrupt them.
Customer support
It enables the user to contact the business if there is an issue with the order. If the delivered order is incomplete or damaged, customers can always contact customer service for assistance.
Product Catalogue
The product catalogue for your app is its beating heart. Clear images, product details, names, and pricing are the most generally used manner of classifying items.
Reviews and ratings
One cannot stress the value of reviews and ratings. Products in the app must allow for ratings and reviews. When a customer buys a product, they may rate and review it on the app to provide feedback. This feedback will help other users understand the items better and make buying decisions.
Multiple payment options
If you want to build an Ajio-like eCommerce app, this functionality is a must-have. Quick and effective payment processing is required for your app. Your ability to offer a faultless checkout experience can be aided with a multi-payment gateway. Payment options for users should include credit or debit cards, online banking, Paypal, eWallet, and others options. Client loyalty will be aided by it.
Order status, monitoring, and summary
Users who place orders must always be updated throughout the delivery process. Add this feature to ensure real-time order tracking because it will indicate when a delivery is anticipated. The interaction between users and the program is enhanced by this feature.
Scheduled Deliveries
Users have the option to plan a delivery window using this tool, depending on their availability and appropriateness at the destination.
Cost to Develop an eCommerce App like Ajio
The price of e-commerce mobile app development depends on several app development process variables as well as the app development business you choose.
To ascertain the exact cost of developing an eCommerce mobile app, such as Ajio for an online store, a detailed examination and analysis of the factors stated below are required.
The price to create an app similar to Ajio will depend on the parameters listed below. Let's Find it now.
Complexity of Features
According to the convention, your mobile app development business will bill you more money the more features you wish to include in the application. Because they involve cooperation with external companies or agencies, security and payment features, in-app purchases, and database features are more expensive than certain other features.
Platform for Launch
The greater user base of Android's Play Store increases the likelihood of user engagement and success. However, Apple has a market share that is twice as large as the Google Play Store in terms of money earned. Additionally, if you want apps for both of these platforms, I advise using the React or Native platforms because they let you use the same code for both platforms. React and Native are popular choices among Top Rated Mobile App Development Companies since they are less expensive for the consumer.
Company Demography
It is a good idea to look at the prior clients, success rate, prototypes, reviews, brand value, and user engagement of your mobile app developer. If your customer satisfies all of these requirements, go ahead and work with them.
On their portfolio, which lists their prior achievements, you can also see the current state of their apps.
Developers Costs
Your need for hosting and ongoing maintenance for your mobile app will be met by the app developers. However, you may request that your mobile app developer offer app support for a specific time, much like we do.
The cost of developing an app like Ajio can vary. The typical price to design an e-commerce app like Ajio is between $15k and $50k.
How does an App like Ajio Make Money?
For the purpose of covering the whole cost of development, app monetization is essential. The purpose of an e-commerce app is to generate revenue and build a successful company. So creating a reliable source of income is equally crucial. Even after the app's release, the cost of developing one like Ajio remains. As the mobile application requires maintenance, the cost keeps rising over time. Such future expenditures may be under control with a sound monetization strategy.
Here's how E-Commerce apps like Ajio Monetize:
Sign-Up Cost
These e-commerce applications offer new users who sign up for a discounted membership package. Although there is a little sign-up charge, consumers anticipate more benefits than non-members of the E-Commerce organization. The combined revenue from this paid sign-up might be significant for your mobile app.
Subscription Fee
Some e-commerce applications provide a subscription plan in place of paid sign-up since they do not favour paid sign-up. In addition to the advantages listed above, members of these memberships also receive discounts and other appealing offers not available to regular users. You must come up with such alluring strategies if you want to make an app like Ajio.
Commission
E-commerce applications are widely used for everyday product sales and purchases. E-Commerce applications like Ajio receive a commission for each sale. These apps are monetized and a new business opportunity is therefore created. You shouldn't miss the commission-based income at all while developing an app like Ajio.
You may use your commission to pay for more than the cost of developing your software, and you can even put more money into the expansion of your company. Increase user recognition in the industry by monetizing your e-commerce app!
Words to Wrap Up
The e-commerce sector offers so many options for development, making now the ideal moment to launch your business and spend money on an app like Ajio to aid in expansion.
To get your app idea off the ground, you will need to work with a mobile app development company that has expertise in converting app concepts into live mobile applications by integrating cutting-edge technology and demanding features.
The easiest method to keep such expenditures under control is to work with an e-Commerce app development business or a team of developers with years of expertise working on e-Commerce projects. To work more effectively together, the team has to possess client-facing and managerial abilities. Similar to Ajio, you can project and manage the cost of app development for your e-commerce firm.