The users are fortunate to be living in this decade. Nowadays, anyone can get everything they desire with only a few suggestions. Users receive availability information for food delivery or ride-hailing services in minutes. People in the 21st century have access to whatever they need with only a few clicks, whether they need medical assistance or to order dinner! With this feature, they also aim to be able to order a cab using their mobile device. Gett was the first to advance toward the app-dependent cab opportunity in this competition. Gett has inspired hundreds of aspiring entrepreneurs to consider it a role model.
The growing dependencies on mobile apps are not an exception for mobile taxi apps like Gett. The market for taxi booking applications is the epitome, and many more businesses are planning to dive into serving the market and generating revenue. Moreover, considering the Covid outbreak, cab booking services are the safest mode of transportation.
What is Gett?
Gett, formerly known as GetTaxi, is an Israeli B2B marketplace and platform for ground transportation management and a B2C ride-hailing application with headquarters in London. GT GetTaxi Limited owns it.
The creators had been waiting for a taxi for more than 30 minutes in 2009 when they had an idea. Introduced in London, they ultimately realized their vision and established Get Taxi in the summer of 2011 despite their low financial and resource resources.
Gett had grown significantly since its 2010 introduction when its full-fledged plan stunned the Israeli transportation industry. Let's examine the Gett business and revenue model to learn how it functions and how they have been generating significant money.
How Gett Works?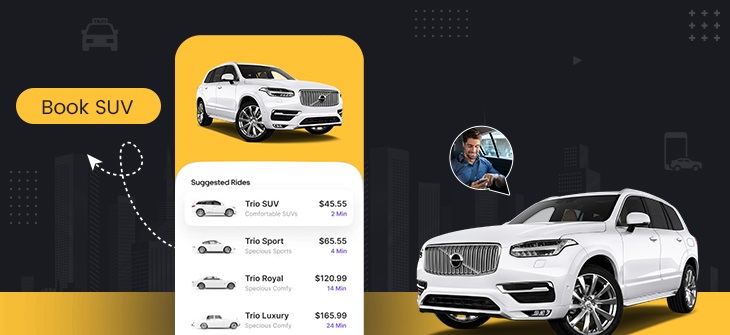 The Gett workflow is simple. You need to follow a few simple steps to finish.
Step 1: Riders can use a specialized app or website to request a cab.
Step 2: Nearby drivers are informed about the ride (name, location, etc.)
Step 3: The drivers arrive at the user's location.
Step 4: Customers choose a payment method from those available.
Step 5: The driver and the consumer can grade the service based on their interactions.
Why develop an App like Gett?
To help with daily travel, businesses rely on ride-hailing apps. An easy-to-use assistant for controlling corporate travel expenses is a Gett-like taxi app. With firm ground transportation solutions, there is no need to stress picking up clients or making it to meetings on time.
To fully understand why it is an inspiration for individuals thinking about digitizing their taxi operations in the UK, look at the market statistics to obtain insight into the numbers.
In 2020, the UK's taxi app business generated €1.3 billion in revenue.
Approximately 17.8 million drivers have signed up for the platform.
The market expects that there will be 18.8 million users by 2026, with a volume of $13.81 billion.
See how the Gett app has contributed to completely changing the face of the taxi industry by looking at the pie chart to understand its market share.
Essential Features in an App like Gett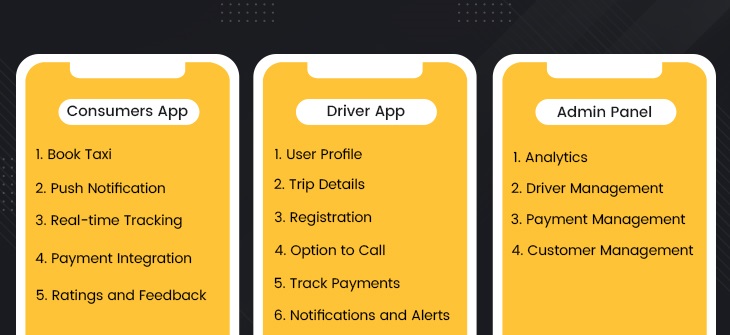 Consumers App
The Consumer App is the soul of a ride-sharing app. It's the most-known app, designed to ease the transportation process.
Book Taxi
With Taxi booking app solutions, customers can hire a taxi and get fare estimates, an ETA, and the right features in just a few taps.
Real-time Tracking
Customers may use a geolocation map to track their ride updates. It contributes to the growth of trust and confidence in taxi services.
Payment Integration
Users may pay for their ride-booking using Debit/Credit Cards, Internet Banking, and other means due to a seamless integration for payment gateways.
Ratings and Feedback
At the end of each trip, passengers may assess their ride experience with you by offering star ratings and feedback.
Push Notification
Users may engage with the app and its alerts without opening the app by using push notification actions.
Driver App
The driver-centric app is designed to simplify the secure ride-sharing app process quickly.
Registration
Drivers may log in or register for the app using their phone numbers, Gmail, or other social media accounts, which is a simple operation.
User Profile
Permit the delivery person to edit and add personal information to their user profile. Only when the ID verification has been presented should any alterations be allowed.
Notifications and Alerts
This function alerts drivers when a new ride knocks.
Trip Details
Drivers have access to user trip details and built-in navigation, allowing them to provide an excellent pick-up and drop-off experience that builds client trust.
Track Payment
The taxi driver app allows drivers to manage their daily earnings, see pending payments, and gain valuable information about their performance.
Option to Call
The driver can contact the consumer through chat or phone if they have a problem.
Admin Panel
We provide you the ability to observe and handle all parts of taxi booking operations from a simple browser-based interface, packed with sophisticated features, including a built-in taxi dispatch system, and open to custom integrations based on your individual needs.
Driver Management
View and approve new driver signup requests and manually add new drivers as needed.
Customer Management
View a list of all users who have signed up for your platform and their comments and tailored offers.
Payment Management
Transaction records are kept thanks to automatic billing settlements for your driver-partners and complete trip histories easily.
Analytics
Get insights into your business's performance with key metrics to uplift the industry.

How to Develop an App like Gett?
Step 1: Find your niche first
Find a taxi booking app niche with little competition and a distinct value proposition.
Step 2: Investigation & Audit
Plan and gather the technical requirements and advancements needed to create a smartphone app for taxi booking.
 Step 3: Create Taxi Booking App Documentation
Create specific technical specifications for the service's features, the software's architecture, and the technology stack to be used.
Step 4: Develop the App
Divide each project component into specific jobs, prioritize each task, and conduct unit testing to find logical flaws.
Step 5: Deploy Your Taxi-Booking App
To ensure the app functions well on all devices, taxi app developers release the app to the respective app stores.
Cost to Develop an app like Gett
Developing a brand takes a lot of time and work. A white-label solution will cost the least, up to $10,000, because it is the easiest and fastest choice a customer has available. However, even with this minimal version, users could discover that their needs are satisfied.
But the company will surely want to make itself more functional. This expansion will increase the cost of developing fresh, cutting-edge features and technically keeping software up to date. In this case, the customer should be ready to invest up to $25,000. Although challenging, this is the most expensive investment one can make. The maximum cost is $100,000. Several factors include:
The hired development team.
The complexity of the project.
The time taken to develop the app
Final Words
The broad acceptance of on-demand transportation services is one of the many changes resulting from the advancement of information and communication technologies. However, the development of an independent app like Gett takes time. As a result, it is essential to consider white labeling before choosing one's job within the for-hire transportation sector.