iPhone apps are generating ample revenue for start-ups and experienced corporations. iPhone is among the most purchased smartphone devices in the world. In the North American and European region, the sale of iPhone is the highest. Likewise, the iOS operating system is the 2nd largest mobile OS in the world. So, hiring an iPhone App Developer can be the best strategy for your mobile app business. However, you must make sure if you want to build a native or a cross-platform app.
If you're interested to serve Android users as well, you must approach a developer having expertise in cross-platform apps. Every mobile app requires specific tools and techniques to be created and deployed over app stores. You can find separate tools and frameworks for creating native and cross-platform apps. iPhone App Developers have to decide among such tools considering the client preferences.
Some clients demand native apps for their business. They want to target online iPhone users in the market. They think about Android users in the future. So, they need a proper iPhone Development Service for their app building project. In this post, we'll discuss the various points to remember while hiring dedicated iPhone App Developers for your business. Let's get started
Things to Consider While Hiring iPhone App Developers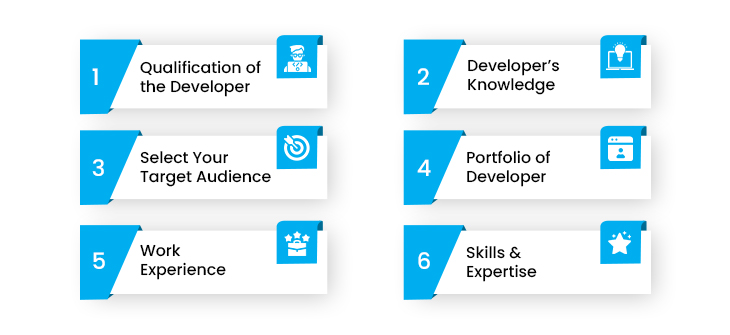 So, you need to remember a few points while getting started with your iPhone app building project. First, make up your mind about an iPhone app. You may not earn impressively in the initial period but iPhone apps can bring brilliant ROI in the future. The competition is also high on Apple Store but if your business plan has the potential to facilitate enough users, you can surely steal the show. iPhone App Developers can help you get an idea for your app business.
When you've decided on a perfect idea, you can proceed with your iPhone app development project right away. Enlisted are the points you have to remember hiring an iOS app developer:
1. Qualification of the Developer
The developer must have a qualification justifying his expertise. He should be at least a graduate in computer science and technology. A special course in web/app development is a plus point though. You can't totally rely on a school kid even if he has the talent to create a stunning iOS app for you. A certificate of basic knowledge is a must.
2. Developer's Knowledge
The story shouldn't end up on a certificate. You should make sure that the developer you're hiring thinks out of the box. An iPhone Development Service must focus on the latest updates and technology. The developer should also know about the latest updates in the iOS app development sector. Knowing something depicts your interests.
Read Also – which language is more suitable for ios app development?
3. Select Your Target Audience
Your target audience is going to be your ultimate goal. Besides selecting mobile app developers, you must make your other app-building decisions regarding the target audience. By hiring an iPhone app developer, you can facilitate a specific smartphone audience. So, iPhone developers know what the audience is looking for. They also keep updating their services accordingly.
4. Portfolio of Developer
No matter if you're hiring an app development agency or a freelancer, you should demand a dedicated portfolio representing the past work of the developer. The portfolio shows many things about the developer's experience and specialization. You can match the portfolio with your expectations before assigning your app-building project.
5. Work Experience
Work experience includes everything along with the developer's portfolio. It represents how many different types of projects the developer has provided for and also the number of years in service. The higher the experience, the better work quality the developer is capable to deliver. Apple App Developers should have years of experience in creating profitable apps.
6. Skills & Expertise
An iPhone app developer has to do so many things. He should have multiple skills to build a competitive app for clients and audiences. The developer should know either Swift or Objective-C for iOS app programming. Moreover, he should have knowledge and experience of- XCode IDE, Apple Human Interface Guide, UI/UX Design Strategy, Core Data Framework, Open GL and Metal, and different APIs.
Final Thought
Additionally, the developer must have proper communication skills to understand the client's requirements and suggest the best solutions as per his knowledge and experience. Hiring an appropriate iPhone App Developer could be a time-consuming process but you can get a favourable outcome of your investment plan in the future.