Businesses can stay afloat in the pharmacy industry's congested environment thanks to innovations, marketing initiatives, and company growth tactics. People all around the world may now get prescription drugs online and have them delivered to their homes thanks to the development of prescription delivery services. E-pharmacies are now breaking the internet to assist patients who couldn't visit a pharmacy in person due to a chronic disease or transportation concerns. Customers may access your services with just a single swipe, all thanks to an engaging and user-friendly app.
This article will explain why it is worth investing in a prescription delivery app today and the process to bring the best out of it. Now let's get into this.
What is a Prescription Delivery App?
Similar to other online delivery apps, a pharmacy delivery app offers the same services. It is a fact that barring our ascension to eternal life, neither the medical nor healthcare sectors will ever face inflation. They make access to numerous new options possible, are easy to use, and are available whenever and whenever.
Such on-demand pharmaceutical delivery systems provide the user with savings, prompt medicine delivery, secure payment, and, in some circumstances, the choice of a virtual consultation with a pharmacist. It's hardly surprising that they are so in demand!
The user can inquire about the cost of a medication process, confirm that it is in stock, and make an order even if the pharmacy's operating hours have ended. With 24/7 availability, these apps are transforming lives over a few taps.
Is it Safe to invest in an ePharmacy App?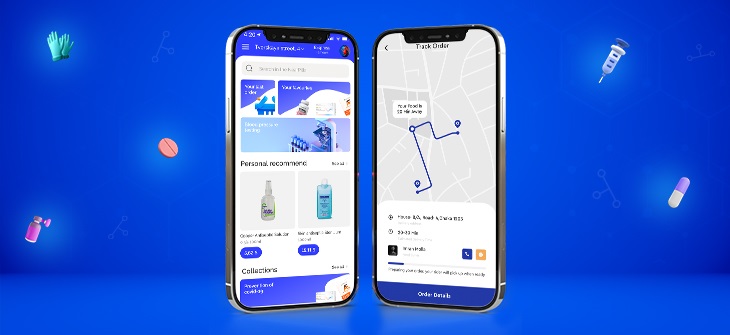 ePharmacy App or Prescription delivery app is redefining on-demand services. After the Covid-19 pandemic, we have seen a whopping growth in mHealth App users. The most promising study projects that the worldwide e-pharmacy industry has crossed $68 billion in 2021. At a CAGR of over 16,8%, the market is anticipated to reach $206 billion by 2028.
Benefits of investing in an ePharmacy App
Undoubtedly, the development of apps for prescription delivery is a growing industry. An ePharmacy app helps both users and pharmecies as well. Here's how:
The following are the principal advantages of prescription delivery applications for users: 
Ordering of medications from the comfort of their homes
There's no reason to go outside.
A variety of medications
Access to information about medications
Discounts & exclusive deals
The ability to follow commands
Quick comparison of prices
Pharmacies can gain from using prescription delivery applications as well: 
A larger consumer base
Modern analytics
Dependable marketing tools
More active consumer participation
Easier customer retention
Also Read – How to Make a Telemedicine Application in 2022?
Business Models for a Prescription Delivery App
Two business models are often used by prescription delivery services to operate and make money. Choose the business strategy that will work best for your company before you start developing apps.
Dedicated Prescription Delivery Business Model
Businesses create a drug delivery app to move their offline operations online and traverse international borders. Using this business model has several benefits; you can build your brand recognition and earn a lot of money by implementing various monetization techniques. You can opt to sell directly to customers or through pharmacies in various countries. To get started, you'll need a sizable inventory and financing and often deal with their respective taxation process.
The second model is conducting business using a market-based strategy. You may start your business with the aid of this tactic without even having any inventory. All you need is a collection of nearby brick-and-mortar pharmacies ready to use your platform to sell their products. You act as a liaison between drugstores and customers under this arrangement.
How to Develop a Robust Prescription Delivery App?
The start of any business is penned with proper planning. Decide on your market pricing after conducting extensive market research. Medication prices from online pharmacies depend on the market and the locality. Avoid fixing prices hastily in order to avoid being the target of client resentment. Take into account a novel name for a drug delivery business. Get that business name scanned by a chartered accountant or company registration agency to ensure that you are the only one using it. Additionally, register your domain.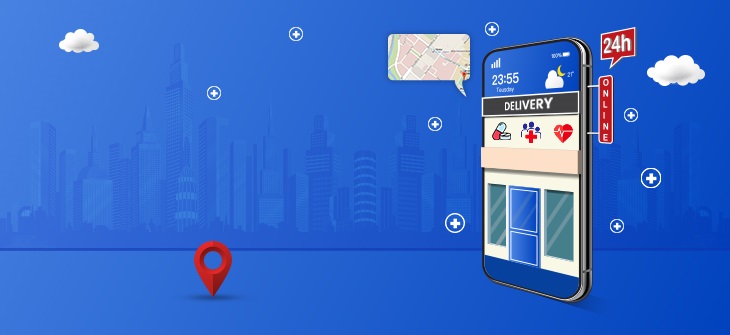 Find A Mobile App Development Company
Finding a reliable pharmacy app development company is as overwhelming as deciding the USP of your brand. You can dive into the sea of app development vendors, but trusting them is a bit of a task. You can outsource your healthcare business ideas to any vendor, but the European market always stands out thanks to its staggering vendor list, and tech expertise, available at competitive prices.
Develop On Prescription Delivery App Functionality
Based on the previously selected business model and monetization strategy, you need to decide on the functionality of your future application.
You can start development with the first version of the application that contains only basic functionality. Choose wisely not to mess with features your users don't need.
Additional functionality may be added to the app after successful validation of the app idea and further development stages.
Test And Launch A Medicine Delivery App
Prescription delivery application development should include a testing phase where QA engineers test all parts of the application, from UX and UI to code, front-end, etc.
Deployment
Once the development and QA process is over and the app is now bug-free. It is the time when your prescription delivery app is good to go to the market. Strategize your deployment planning and choose the desired app stores to shoot the app, to its targetted audience.

Plan For Ongoing Development & Support
Deployment is not the point to finish the process. No app is perfect and hence needs timely maintenance and support. Many app development companies provide such services, or you can ask your vendors to provide these at additional costs.
Marketing & Partnerships
In addition to developing the software, you need to spend time promoting the app and finding partners, suppliers, couriers, etc. You can ask partners to promote your app to attract new users.
Words to Wrap Up
As more and more organizations move their operations online to create new business opportunities, pharmacists need to take advantage of this lucrative industry. Online pharmacies, telemedicine services and remote consultations have become increasingly common ways for users to receive medical services in the Internet age, making queues to buy medicines obsolete.